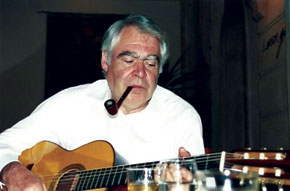 Page 80
By Anne Thompson
The British community in Azerbaijan has lost a stalwart with the passing of Robin Bennett, OBE. Robin came to Baku in 1995 as one of the first managers of Ernst & Young in the city. He went on to set up the Baku branch of the Moore Stephens accountancy and consulting firm and was the driving force behind the creation of the British Business Group in Azerbaijan.
The astute, convivial Robin Bennett was much more than that summa- tion of career statistics. He was an unfailing source of help and advice to friends, colleagues and visitors, even those just passing through Azerbaijan, and always excellent company.
When a group of students at Baku State University wanted to set up the Azerbaijan-Great Britain Youth Society to help bring the two countries closer together, Robin Bennett offered guidance and encouragement. He was made an honorary member of the society in 2003 and continued to provide support as the society went on to produce Visions magazine and a range of publications.
Robin's personality could be seen in his vision for the British Business Group, which he chaired for 10 years from its inception in 1997. Under his guidance, it became a forum where business people could discuss the latest developments, find advice and support but have a good time too. That the British Business Group Christmas party has set the standard for Yuletide celebrations amongst the ex-pat community in Baku is in no small part down to Robin.
Robin was active in other Azerbaijani-British forums over the years, among them the Azerbaijan-Britain Chamber of Trade and Commerce and later the Anglo-Azerbaijan Society. He was much sought after for his understanding of the business world in Baku.
But perhaps his greatest legacy in Azerbaijan is to his staff, current and former. At both Ernst & Young and Moore Stephens Robin provided invaluable guidance to his team, nurturing colleagues as they established careers in finance and accounting, and setting tough standards too. He would always listen, even to the younger members of staff, and explore our ideas, Kamilla Qayibova of Moore Stephens recalled.
Robin started out in life wanting to be a musician and even had his own band, but his parents convinced him he should get a 'professional' quali- fication. He took an apprenticeship as an accountant and later joined a small firm called Whinney Murray, which through various acquisitions and mergers is now Ernst & Young. But this was no ordinary accountancy career - it was as though he said, "well if I'm going to have a career in accounting, it's going to be a rock and roll one," Robin's son James said in the eulogy at his father's funeral.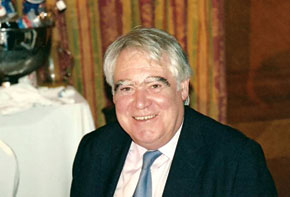 Robin Bennett
Robin's rock and roll accounting career took him from Ethiopia to Aden, Saudi Arabia to Libya, Athens, Zurich, Lagos and finally Baku. Along the way, he collected an OBE in Libya, got to know the Bin Laden family in Saudi Arabia and played bridge with Omar Sharif. Robin was only 37 when he received the OBE for his work in Tripoli– although he always insisted that he didn't know what he'd been given the OBE for.
Robin's modesty cloaked a keen mind, exercised away from work on bridge and the Telegraph cryptic crossword. Many are the bridge players in Baku who learnt the game from Robin. Friend Dave Shaw recalls him as a hugely patient teacher: Though if you bid wrong, his eyebrows would go.
Robin's eyebrows, bushy and out of control, were his trademark. Although the cancer treatment took its toll in many ways, the Bennett eyebrows remained unchanged. Robin's daughter Nancy made sure that they got a special mention even at his funeral.
Family and friends from many of his postings attended Robin's funeral in Bath. Bakuvians past and present were out in force, including many of the directors of HSBC in Baku, mine host at the erstwhile Lord Nelson Pub, Charlie Christmas, and former British Ambassador Roger Thomas.
Ambassador Carolyn Browne, who has just completed her Baku posting, spoke warmly at a memorial to Robin held in Baku. His advice had helped the embassy become a model in financial administration for other medium-sized UK posts.
Other speakers at the memorial had a wealth of anecdotes involving Robin – one from his early days in Baku when he managed to get locked out of his room at the Hyatt Hotel in nothing but his birthday suit.
Robin could be persuaded to put his best foot forward in a good cause. A thespian highlight of his Baku years was an appearance as one of the Four Degrees at a charity function at the Crescent Beach Hotel, alongside Bob Raisin, Charles Lonsdale and Mike Sullivan. A bad bout of flu couldn't keep him from the stage, his partner Esther Gaedecke remembers.
Robin made a tremendous contribution to the British community in Baku. He will be sorely missed by colleagues and friends alike. His son James summed him up in his eulogy:
Dad made many, many friends. He was always the last to bed and liked nothing better than putting the world to rights through the small hours with good company, a good cigar and a bottle of 10-year-old Macallan.
Robin Thomas Hendley Bennett, 1942-2011. He leaves a son and daughter and four grandchildren.