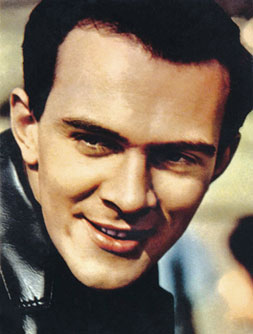 Pages 28-33
By Fazil Rahmanzadeh
Childhood choice
I remember that there was a fine-arts club in the gardens near the Baku Philharmonia around 1955-56. Among the children involved in the club was a tall, skinny boy, who really stood out. We learned later that he also studied at the Bulbul Secondary Music School. The club was led by painters Ziya Karimbeyli and Ismat Safarov. Both of them were full of praise for the teenager and had high hopes for his future. Within a few years our classmate became famous for his artistic talent even beyond our borders; not as a painter or sculptor, but as a vocalist.
Many years later Muslim Magomayev said:
My 'transfer' to a different branch of art shouldn't be seen as a betrayal of painting. I still love sculpture and fine art. I paint portraits and landscapes in my free time.
A piano and sheet music on one side and brushes, easel, canvas and tubes of paint on the other… It is hard enough to make your way as a painter or musician; but in him the two worlds combined, producing musical landscapes…
In Muslim's Khazar (Caspian) it seems the sea is jealous of the people on the beach, it attacks noisily, but then calms and falls onto the sand, singing its lullaby to the coast and caressing it lovingly.
A lily, geranium, rose… a posy. Take one, breathe in its scent and then place it in your beloved's tresses. The power of his Still Life.
Here's our Baku. Was the city created to the melody of the well-known song that begins Baku, Baku, My Native City? Buildings and streets, colourful on the canvas, are the rhapsody and expression of a painter in love with his native land.
The stones, trees and people – the whole city singing. That is Muslim Singing Baku.
Let me talk again about my spring,
Return to my homeland in a melody…
The singer performs Joyful Azerbaijan in such a clear and powerful voice, with his own stance and style. Muslim had a clear vision of himself. His Self-portrait transports us to his concert hall performances.
I asked him:
- Do you want to exhibit these works?
He replied:
- I wasn't brave enough before. But my artist friends are encouraging me. I'd like to participate in an exhibition of amateur painters. We've discussed it several times in Moscow.
- Do you think painting can detract from your singing?
- Definitely not. My life is totally dedicated to singing.
So be it. The world of colours itself is music.
Muslim would always sing while working on his paintings at the art club and Ziya Karimbeyli told him one day:
- I can't see why you want to be a painter so much; you've got a great voice. Listen, think carefully and decide what is really best for you before it's too late and you don't excel in either.
Like grandfather…
The young boy didn't think for long and made his decision on the spur of a moment; singing was how he would express himself. It seems that Muslim already envisaged his majestic future as a vocalist, as he wrote in his memoirs:
I was a child and, like everyone else, we weren't so passionate about tracking our ethnic heritage. I, Muslim Magomayev Jr., was hearing about my grandfather, Muslim Magomayev Sr. (1885-1937, from older people who had known him well. I'll say now that I'm proud of my Motherland and I love it. I've never been ashamed to say that. Azerbaijan is my native land. I was educated here and here I took my first successful steps into the world I had chosen. After growing up in this land which has given the world Nizami, Fuzuli, Hajibeyov, Niyazi, Garayev, Behbudov and Amirov, and while still young, I moved to Moscow and achieved fame. Of course, I still think of our house in Baku, our yard, shore and the glowing waves of the capricious Caspian. I've been to many of the world's great cities, but I would not trade Baku's warmth and beauty for any of them. Baku is an irreplaceable hearth for me. Baku is the city of my childhood and youth…
But I'll return to my grandfather. When I'd matured a little more, my desire to learn about my grandfather's life and works grew stronger. I turned his archive inside out, read his letters and, most importantly, listened to his music over and over again. Of course, I could talk about his life before that. However, after going through his archives, historical sources and documents, and after talking to people who had known him well, I had assembled detailed information about him. Therefore, I can say with conviction: Muslim Magomayev Sr. was a great composer and conductor.
…I was supposed to follow in my grandfather's footsteps; I was to be a composer, a conductor and a pianist, all at the same time. Apparently, this was exactly why my parents had given me my grandfather's name. So I am his namesake and fellow artist in the fullest sense. By the way, I never saw him alive; I couldn't have. He died of tuberculosis in 1937; five years before I was born.
My grandfather Muslim and my grandmother Baydigul had two sons; my father Muhammad and Jamal. My dad was the younger…
Let's return to Muslim Magomayev Junior. He never thought of being a singer in his childhood. As he said, he wished to follow his grandfather as a composer and conductor.
He created his first melody when he was five years old. He remembered that melody for the rest of his life. A song he issued later Bulbulun zamani (Nightingale Time) was based on that melody. When he turned seven, he went to a music school attached to the Baku Conservatoire. This was an elite school at that time, for children with special talents. Entrance followed a rigorous selection process and the school produced some prominent musicians.
When and how did Muslim's love for singing develop? Firstly, he was stirred by watching the film The Young Caruso, with the great Caruso's vocals sung by the young Mario Del Monaco. It made an indelible impression and Muslim began to dream of singing.
The breakthrough
Another landmark was the summer of 1962. The Azerbaijan Television and Radio Variety Orchestra led by Tofiq Ahmadov was playing at the 8th World Youth Festival, in Helsinki. Muslim was the only soloist representing Azerbaijan.
The artistes from the USSR who were to visit Finland assembled in Moscow just prior to the festival. The young singer went through a few of the songs in his repertoire with the orchestra. The main ones were: Do Russians Want War? (lyrics by Y.Yevtushenko, music by E.Kolmanovsky), Buchenwald Alarm (lyrics by A.Sobolev, music by V.Muradeli), and Look at that Moon, Just Like Before and other Italian songs.
These rehearsals attracted much interest. Muslim's performance style, his talent and powerful voice were much to the taste of the commission chaired by the famous conductor I.Tumanov. The singer was pleased but naturally nervous about his first tour abroad and his first examination by an international jury.
Tofiq Ahmadov's orchestra gave several concerts a day in the streets and squares, salons, and stages. They were well-received and Muslim Magomayev was among the festival's laureates. All the Azerbaijanis were happy, especially a young singer who had passed his first artistic examination and returned home with a gold medal.
A few days later the new edition of the Ogonek (Light) magazine was published, with Muslim on the cover. He was soon the talk of the country, with an ever-growing number of fans.
The following autumn saw him back with the orchestra for a special concert programme on Moscow Central Television. This was the springboard for consistent screen appearances, with millions of viewers longing to see him.
In March 1963, days of Azerbaijani culture and art were held in Moscow. The best music groups, prominent artists, and young talents all went to Moscow. Concerts were held in the Kremlin's Congress Hall (currently the State Kremlin Palace). Muslim recalled, To be honest, there were no nerves before the concert at all. I was young. Fear and anxiety prior to a concert caught up with me in later years. Now, despite having so much experience, I feel a great responsibility prior to every concert. When you are successful and well-known, the demands are a hundred times greater, you may sing less well today than yesterday. But in my youth, I did not feel any of that.
Understanding art
After Shovkat Mammadova (1897-1981) and Bulbul (1897-1961), Muslim Magomayev was the next to undergo training at the famous La Scala.
On his return from Italy, he sang the parts of Figaro and Scarpia from the operas The Barber of Seville and Tosca, on the world's great stages. These roles gave a huge stimulus to a great career. Invitations flooded in from many cities to perform the roles. Muslim, as a young and energetic performer, treated as many of his fans as he could. It may be important to mention that he sang both parts in Italian, the result of his practice in Milan; indeed all his rehearsals were conducted in Italian. This was not welcomed by the authorities, as he remembered:
One day, Zaven Vartanyan, head of the Control of Music Enterprises in the USSR's Ministry of Culture, called me into his office. He immediately went on the attack: why did I sing these parts in Italian! He told me that people had written letters of complaint. He said that working people could not understand what I was singing about.
I asked why then had they sent me to train in Italy? I had studied in the classes of world famous teachers and they were happy with me. I'd learned the parts by heart in Italian, did I now have to deal with translating the whole text into Russian and develop a different style and approach to the phrasing!? What about the soul of the opera? Did I have to change that as well? Did I have to forget everything they had taught me? If someone going to the opera, really didn't understand everything, why should the artists be held responsible? Opera was not a movie. One should go prepared to an opera performance. Besides, special programmes about the operas were sold in the theatres.
Vartanyan didn't know what to say:
- You have to change, have to change… Anyway, you have to do something…
- There is nothing I can change. One must sing the libretto. Foreign audiences understand the meaning of our operas, performed in Russian, by reading their programmes. Can you imagine Boris Godunov in French?
- No, I can't imagine that…
- That is exactly why Russian operas are staged in Russian. Because, if Boris Godunov was sung in another language, it would be a different performance, have a different nuance. The time will come when everyone will agree that an opera should be presented in the original language. This is one of art's main responsibilities.
- My dear sir, we are not the ones to decide on art's main responsibilities.
Then he pointed to the ceiling with his thumb. But the time has come. Nowadays, our theatre tries to perform every opera in the original language.
I've learned a few folk songs…
Even though Muslim was a classical singer, he was very aware of Azerbaijani national music: mugham and ashug and there is a remarkable sweetness in his performance of Sevgili Janan (Dear Beloved) and Sansiz (Without You), and the songs of Azerbaijani composers.
I was able to attend one of his solo concerts, by chance, when I was in Paris,. There were other Azerbaijanis, living in Paris, in the auditorium. They asked Muslim to sing an Azerbaijani folk song. Muslim sat down at the piano. I was taken by surprise when he started singing the folk song Evleri var khana-khana (There are Houses with Many Rooms) in such a clear, ringing voice that I was transfixed. Over dinner in a restaurant the same evening, my first question was about that song:
- Muslim, what was that all about? Did you include it especially for your Paris tour, or what?
- I've learned a few folk songs. Rashid Behbudov (1915-1989) encouraged me. Firstly the Azerbaijani folk songs I'd heard him sing. I'm a fan of his and he always gave wise advice on my artistic career. He always suggested that I add a couple of folk songs to my repertoire, just in case. On my foreign tours, Azerbaijanis always want to hear those songs. So, I learned a couple on his advice. And how was it?
- Brilliant! I'm glad I was able to witness your first performance of that song. Well done, Muslim!
- I have just thought of something. I'm having a solo concert in Baku; we still have time. Besides this song, I want to prepare a few more from Rashid Behbudov's repertoire and perform them for the Baku audience.
Muslim talked lovingly of our compatriot. Many years later, he wrote in his memoirs:
The irreplaceable Rashid Behbudov! A great personality in every respect! In his time the microphone was not fashionable, they used to sing live onstage. No matter where you sat, you could hear every tone in his voice clearly.
The movie "Arshin Mal Alan", in which he starred, was a window to the world of art; a wonderful artist and such beautiful voices. I was a child then, and was too young to think about performing. But after seeing that movie, Rashid Behbudov's marvellous art was engraved forever on my mind. Who knows, perhaps my passion for singing emerged from just that experience?
Without Muslim.... always with Muslim
25 October 2008. Apparently just another day on the calendar, but no! That day, crushing news was received with deep sorrow in many countries. All Azerbaijan was in mourning; it had suffered a great loss; one of the era's great musical figures, a unique performer and composer, our People's Artist Muslim Magomayev, had passed away in Moscow.
The 20th century was Azerbaijan's second renaissance, inspired by our wonderful artists. One of whom was Muslim Magomayev.
Obituaries, memoirs, and recollections of unforgettable moments reflected the whole nations' sorrow for the death of the great performer:
Muslim Magomayev was a great artist and he played an exceptional role in the progress of Azerbaijani culture. His beautiful voice of rare temper, brilliant stage presence and unique ear made him the favourite of millions. He was declared a People's Artist of the USSR at the age of 31, clear evidence of his reputation and popularity. He worked constantly to develop himself and advance his art and he represented Azerbaijan on the world's greatest stages. Every concert was a major cultural event.
Muslim Magomayev's work was the unique symbol of an extended period of our history. Over half a century he helped establish a new face for Soviet variety music and he strongly influenced the musical tastes of millions of people; he brought the treasury of Azerbaijani and European opera into the cultural heritage.
The Azerbaijan State Variety Symphony Orchestra, created and led by him, was instrumental in preserving and furthering the country's rich musical traditions. His love of life, affection, humanity and benevolence were the essence of Magomayev's creativity, which was able to cross borders of time and place.
Innovation and patriotism were combined in the songs he composed. His Azerbaijan stirs pride in the heart of every compatriot.
A performer who always stayed true to the art of his choice, he won the love of the whole nation: independent Azerbaijan awarded him the orders of Shohrat (Glory) and Istiglal (Independence). He will live forever in the hearts of the Azerbaijani nation.
About the author:
Fazil Rahmanzadeh is a commentator, prize-winning journalist and author of more than 30 books about prominent cultural figures. Author of the book, If You Weren't There about Muslim Magomayev.
Go to http://is.gd/iRvfEK to hear Muslim Magomayev singing his Azerbaijan. You will find other links there to his renditions of classical, popular and folk songs. More information is on his website at http://magomaev.info/en/index.htm