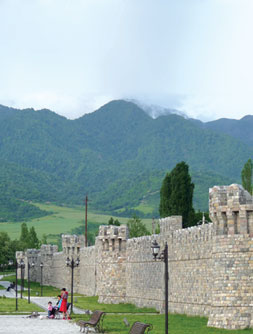 Pages 18-23
By Mark Elliott
Tasting our way around Ivanovka
Around 150km west of booming Baku, the verdant Ismayilli region is one of Azerbaijan´s most beautiful, encompassing rich rolling farmlands, thick deciduous forests and backed to the north with spectacular mountains. For the trickle of foreign tourists who venture into this picturesque area, Ismayilli region is usually associated with just one place - the timeless mountain village of Lahij. Famed for its hand-beaten copperwork, dramatic Caucasian backdrop and linguistically unique population of Persian descent, Lahij is certainly worth a visit (see Visions´ 2008 winter edition 3.1 for more). But the region has plenty more to uncover. Central Ismayilli town is shadily pleasant and anyone who hasn´t been there for a year or two will be astounded to see the crenellated ´fortress´ wall that now parallels Heydar Aliyev St for around a kilometre. Complete with central gateway and a series of semicircular ´towers´, it´s all faced in apparently authentic grey local stone, yet only dates from 2010 and is still under construction! Construction is also afoot two kilometres east where the big new Javanshir Gala hotel is rising near the turn off for Talistan village. The hotel is named after an ancient castle whose very sparse ruins lie behind that village, making for a fun ramble.
Proletarian welcome to Ivanovka
But today we were heading southeast, 11km from Ismayilli, to the hilltop village of Ivanovka. The road sweeps up through vast fields of sunflowers, their heads demurely drooping in anticipation of the oil harvest. The northern horizon is barricaded by a hazy parade of muscularly high mountains, some still snow dappled despite the scorching summer sunshine - even at this ´lower tail´ the Great Caucasus peaks top 3600m.
As soon as you come into Ivanovka it´s clear you´re in somewhere ´different´. Many of the locals are blond haired and blue-eyed. Many homes are built in old Russian village style with timber-sided uppers and red-tile roofs. The town´s recently repainted welcome sign is in Russian, still proudly adorned with a CCCP (USSR) logo. Around its hammer-and-sickle, the classic Soviet era slogan "Proletarii Vsekh Stran, Soedinyay tyes!" means "Proletariat of all countries unite". And it´s not just words. Unique in Azerbaijan, and pretty rare anywhere, Ivanovka retains a working Soviet era kolkhoz (collective farm). And the population is indeed a curious mixture. Increasing numbers of Azerbaijanis and Lezgians live here but the core population are ethnic Russians from several protestant Christian sects whose forefathers arrived here in order to avoid persecution in the mid-19th century. Most notable are ´Molokans´, whose nickname literally translates as ´milk drinkers´. This was originally an 18th-century term of insult over the fact that they would drink milk in Lent (when Russian Orthodox Christians were fasting).
"The streets are always empty because everyone is working from dawn till dusk. One neighbour told me: ´If the sun would shine 24 hours we´d work all 24´. It´s lucky they believe so fervently in Sunday as a day of rest or else they´d work themselves to death! "
Ivanovka´s mixture of puritanical work ethic, Molokan honesty and Soviet collective organisation has led many Bakuvians to rate Ivanovka produce highly for its freshness and purity. The Ivanovka cooperative maintains a grocery in the capital. It recently moved (to Tolstoy 155, behind ISR Plaza) but was for years a curiously utilitarian contrast to the smart boutiques of Nizami St, its aproned babooshkas using abacuses to calculate the prices of muddy potatoes, delicious honey, fresh vegetables and wheels of white cheese pulled from unsophisticated barrels of brine.
Wine in Azerbaijan
According to numerous sources, wine probably has its most ancient origins before 6,000 BC, somewhere in the Caucasus (http://www.independent.co.uk/news/science/now-thats-what-you-call-a-real-vintage-professor-unearths-8000yearold-wine-577863.html). Bacchus was far too drunk to remember what happened next, but some would have you believe that the European wine industry got its first impetus from vines imported from this region. In Islam, the Koran strictly guides against drinking alcohol, while numerous references to ´wine´ in Sufi Islam are essentially metaphorical - for the euphoria of proximity to, and knowledge of, the ´beloved´ (God). In pre-Communist times, Azerbaijani wine production thus tended to be in the hands of non-Muslim immigrant communities who arrived here after the start of the Russian era (mid 19th century). Particularly notable for their wine and brandies were the German community at Helenendorf - a cute hillside town south of Ganja. Although Stalin deported the ethnic Germans in 1941, their wine legacy remained and at one point Helenendorf (since re-named Khanlar and recently re-renamed Goygol) was producing 7 per cent of the USSR´s brandy.
Wine in Ivanovka
Ivanovka might seem an odd place to come wine hunting. After all, the Molokans´ puritanical streak extends to a forbearance of alcohol much as you find in strict Islam. There´s also a potential confusion - one of Azerbaijan´s more drinkable mass market wines is called Ivanovka but, although the grapes are grown here, they are shipped all the way to Ganja for the vinification process. Nonetheless, local grocery shops stock an under-the-counter supply of lively home-made red in recycled plastic water bottles and many homes can supply you with a similar drop - typically with the flavour of a heavier Beaujolais, sometimes plummy and slightly sweet, even mildly effervescent. For something rather more refined, however, continue 15km further to Ismayilli Wine´s remarkable new operation in the rural settlement of Hajihatamli.
Shato Monolit
Known as Shato (ie Chateau) Monolit, Ismayilli Wine´s Hajihatamli winery is a state of the art complex which aims to set new standards in Azerbaijani wine making. Manager Elchin explained how his team had toured Europe visiting wine fairs to learn about the processes, realising that simply resurrecting Soviet-style wine making would be pointless in today´s interconnected world.
Around 360 hectares of vines spread across the territories of three local villages. Already the winery´s production - some 300,000 bottles - is virtually of Azerbaijan´s national consumption so unsurprisingly the focus is on exports to Russia and Belarus. The grapes of choice are mostly Cabernet Sauvignon, along with Georgian favourites Saperavi and Rkatsiteli, all grafted onto phyloxia-resistant American rootstock. There is also a test plot of archetypal native Medrese grapes. So far these have only produced a small batch of some 300 bottles, but management are happy with the experiment and plan to expand to make a quality wine that is more truly Azerbaijani. The equipment to do that, however, is certainly not local. The winery uses high tech French and Bulgarian vats and - unusually - has its own integrated bottling plant using empties laboriously transported all the way from Moldova. But what makes this plant unique in Azerbaijan is that it doubles as a tourist attraction.
A different kind of tourism
International tourists´ growing appetite for industrial excursions, factory visits, farm-work holidays etc is often overlooked in Azerbaijan - notable missed opportunities include the potentially fascinating Sheki Silk Factory and the remarkable off-shore oil town of Neft Dashlari (Oil Rocks). The Shato Monolit complex breaks this mould by not only produces great wines but also incorporating a hotel, with two swimming pools, sauna, tennis, a 180-seat banqueting hall and a disco whose glass dance floor is laid above display bottles full of wine. Management insists that while the facilities are all modern and comfortable, they are happy that it remains a ´hidden gem´, that reaching the winery feels like happening on an oasis of modernity within a typical, truly rustic region. The scenes between here and Ivanovka are certainly that - cows dawdling across the road in front of the pond at Ustal, the scenically overgrown war memorial at Soltankend, the once grand shell of an ´Albanian´ church hidden amid the barns of Qalagah. To make more of your stay there are fishing opportunities a short drive from the winery by 4WD and when weather conditions are ideal, the ´Chateau´ even has its own hot air balloon from which to admire the mountain horizon - though you´ll need to make advance arrangements as the balloon pilot isn´t regularly in residence.
Practicalities:
Tanya and John Howard´s Guesthouse in Ivanovka
tel 050 377 1273, 050 225 8861, per person AZN15/25 without/with a very generous breakfast. You can expect a superb, family-style welcome, English is spoken, rooms are very comfortable set in a great vegetable garden with a communal kitchen. Pets welcome.
Shato Monolit in Hajihatamli
contact Tarlan 050 3064252, www.ismailliwine.com. Tour with wine tasting cost AZN10 per person, hotel rooms are AZN50 per person.
Ismayilli Wine in Baku
The winery has its own shop on Zarifa Aliyeva St close to the Ministry of Telecommunications. Open 10.30am-8.30pm.
Transport From Baku to Ivanovka
allow around 3.5 hours driving via Shamakhi, another 45 minutes´ bumpy ride to Hajihatamli. By bus, go first to Ismayilli (AZN5, hourly) from which a taxi to Ivanovka costs AZN5. One daily bus, at 7.30am, runs directly from Baku to Hajihatamli, taking nearly five hours. Both buses from the new international bus station.
About the author:
Mark Elliott is a travel writer and tourism consultant. He is the author of the popular and definitive Trailblazer guidebook "Azerbaijan with Excursions to Georgia", written following the first of many visits to the country in 1995 and now in its 4th edition. Its enthusiasm and detail have enticed many an expat into exploration of the regions.