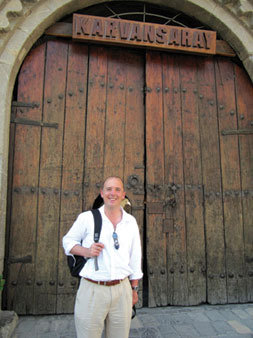 Oliver Condy
Pages 16-17
Fiona Maclachlan meets Oliver Condy
Back from the 3rd Qabala International Music Festival, I can hardly believe that all my memories are real. Fortunately I have photos as reminders, and this time I even made a few videos with my ipad, but the best reminders of all are the discussions I´ve had with others who were there, because in this way I can really confirm that yes I went, yes I saw it, and furthermore these people were every bit as impressed as I was.
One guest I met at the festival was Oliver Condy, editor of the UK´s BBC Music Magazine.
Inspired by the adverts the festival had run in his magazine, Oliver asked Dmitry Yablonsky (Festival Director) about coming and when I met up with him, he had clearly been having a whale of a time.
I met Oliver again at his base in Bristol, UK.
I can´t believe it´s already three weeks since I came back from Azerbaijan. I bought the book you recommended and I´m really enjoying it. You´re right, it´s a really interesting book. (Mark Elliott´s ´Azerbaijan with Excursions to Georgia´ ISBN 978-1-905864-23-2.) Yes I travel a lot, even in this country. I´ve just come back from diving on the wrecks in Scapa Flow and this weekend I am off camping in Cornwall.
But Azerbaijan, that was amazing. We had run the advert for the music festival in the magazine for the last couple of years. I know France, love France, and I know and love Germany; Germany is really my sort of country too.
But I wanted to go somewhere different, somewhere unusual, and I went to Azerbaijan because, well it´s a bit of a crazy thing, it´s an unusual place. You know, I had heard about it on a radio programme, about the oil, and so on. And when I told my friends I was going to Azerbaijan they were really, really impressed. Nobody goes there.
The people are so generous
I arrived in the airport in Baku after dark and left soon after in a Mercedes driven by a driver with no English. I should have been scared really. The journey to Qabala was really arduous, some three and a half hours after the long flight. I could see nothing because it was night time so I had no idea what sort of landscape I was travelling through.
When I arrived at the hotel I thought I had arrived at some Middle Eastern Palace; I was so surprised. The hotel was beautiful, all crystal chandeliers and marble.
Tired, I went straight to bed and to sleep, and next morning when I woke I pulled back the curtains. I nearly fell over. The view, the mountains, the trees, such a lush green, and then the searing heat. Absolutely breathtaking, the scenery was absolutely extraordinary.
I went down to breakfast and met up with some British musicians who were there to perform at the festival; Simon Blendis, Timothy Gill. They explained where everything was and what happened where and so on, so I didn´t feel lost for long.
I guess I could´ve sat by the pool all day but I wanted to see something of the area. I found myself in a white Lada, the car to travel in if you don´t want to be noticed, and went to all sorts of places. No seat belts, such fun.
I went to Lahij, the road there is so scary. The village of Lahij was quiet, sort of closed feeling, and on the way back I managed to communicate to the driver that I was hungry.
So we went to Ismayilli, the nearest place of any size, and I guess word got out that I was from the BBC, I don´t know, and I was treated to the most amazing meal by, I think, the Mayor of Ismayilli. He was so hospitable, and the food was so, so wonderful. I´ve never had anything like it. The sweet red wine, the home made vodka. In truth I was totally bewildered by everything, the amount of food; it was so good and there was so much. I don´t mean this in a bad way, it was just, well, can you imagine turning up in Birmingham or somewhere as a tourist and being given this sort of hospitality?
What a country!
The people are so generous and so warm hearted. I really felt that they wanted to show me their homes, their country.
I went to see Old Qabala, the ruined city, and was really impressed, you get to see so much, look at my photos aren´t they amazing (-Oliver shows me his photos-). All this history, from the 12th century, just ´there´ and you can see it all. And then I was invited for tea, which was so kind, and we went into the woods somewhere to drink tea and there was no one else around. I wondered if I should feel nervous – there were four guys with me, all total strangers. And yet I didn´t, we chatted as best we could given the language differences, and they showed me more interesting archaeological finds, they were so enthusiastic. I felt really welcome and we chatted for ages.
I made it to that evening´s chamber music concert only just in time for the beginning. I was really relieved to have made it, and glad to be able to slip in, sit down, and enjoy the performances. The Azerbaijani audiences are quite relaxed, it doesn´t seem to matter if you disturb them a little.
I love the Azerbaijani mugham music, especially the crossover with jazz, the improvising. I enjoy music by Aziza Mustafazade particularly; she´s really good. Did you make it to the mugham concert at the festival, wasn´t it just so good? So many people there, amazing.
On the way back to Baku I left about six in the morning so it was daylight for the return journey. The landscape was always changing, mountains, fields, rivers, a very beautiful route, a bit like in South Africa. The bit about Azerbaijan having nine out of the world´s eleven climatic zones, it´s true, you see the changes as you travel. Yes I saw a bit of Baku, it was very busy. I don´t think my driver liked it much, I guess he was from Qabala.
I´ve been raving about Azerbaijan ever since I returned. I tell all my friends about it.
I would love to go back. I think it´s the country with the most variety that I´ve ever visited. The food, those red tomatoes, the purple basil, so much and you can just help yourself from all the food on the table, the fresh produce, all of it, fantastic.
The flora and fauna are supposed to be special too, and if I went back I would like to go hiking.
I would love to visit Baku, too.
And the music festival, would I recommend it to music lovers? Absolutely. Performers like Sergei Leiferkus? Just great. It´s pitched right, the stars are recognised. Each soloist does a few pieces. The British musicians loved it, they had a terrific time.
And the weather´s good.
Four days, that´s all I had. What a country! Vodka at lunchtime. My sort of place.