world famous musician and the man fronting the Gabala International Music Festival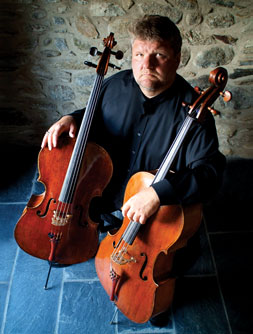 Pages 14-17
by Fiona Machlachlan
Azerbaijan is about to host its second International Music Festival, set to become an annual event.
And what a treat it promises to be, showcasing not only some of the world's most fabulous music and musicians, but also some of the world's most fantastic scenery.
Set in a stunning location near Gabala, with the majestic forested and snow topped Caucasian mountains as a backdrop, this event simply has to be attended by anyone who both loves music and appreciates the natural beauty of our world.
Gabala's five star Qafqaz Resort Hotel & Spa complex provides perfect facilities for the musical event and, as well as the possibility of staying here, there are other accommodation options nearby, from international standard three and four star hotels to much simpler home-stays. You will experience a real Azerbaijani welcome wherever you stay.
Much of the concept of this festival is down to the affable and gracious international musician Dmitry Yablonsky. Son of the renowned pianist Oxana Yablonskaya, Dmitry plays the cello and is also a conductor.
A few years ago, on a musical tour which included Baku, Dmitry Yablonsky came to know Azerbaijan and also Farhad Badalbeyli, the Director of the Music
I tracked him down to his home near Andorra, high in the mountains, on the border of France and Spain.
I asked him some questions:
Dmitry, you are bringing an International Music Festival to Gabala in Azerbaij an for the second year running. Please describe yourself.
As you know I am co-artistic director of Gabala festival with Farhad Badalbeyli, the director of Baku Academy of Music and a wonderful pianist. There are many festivals in Azerbaijan, but only in Baku, and the idea was to start a festival in nature, away from the city.
Now the idea is to make the Gabala International Music Festival part of Azerbaij ani culture.
You have run international festivals successfully in other countries. What is your secret?
We musicians are always looking for a home away from home and for us to spend 10 days or 2 weeks making music with friends is a wonderful experience, not to mention organizing these festivals all over the world. One tries to be very hospitable and to make sure everyone, including the public of course, has a very special time.
Why did you decide to bring an international music festival to Azerbaijan?
Can you explain why Gabala is such a fantastic venue?
Gabala has 5 star hotels now, a spa with outdoor and indoor swimming pools, an ice skating rink, amusement park, a Greek-style theatre, built especially for outside concerts; there is also a wonderful chamber music hall inside the hotel with 350 seats.
When is this year's festival?
The festival starts on July 23rd and will run until August 6th. This year, we will have: the Royal Philharmonic Orchestra from London as a resident orchestra, Yuri Bashmet, Boris Berezovsky, Chloe Hanslip, the Ysaye Quartet and many more wonderful musicians.
Here are 2 photos; one is with 2 of my cellos, the Joseph Guarneri fi lius Andrea of 1726 and the Matteo Gofriller of 1700, and the second photo is with Farhad Badalbeyli in Israel after a concert in March 2010.
For further details of the festival, including how to get tickets, see www.gabalainternationalmusicfestival.com
For information on the Royal Philharmonic Orchestra and its tour of Azerbaij an see the events pages of www.rpo.co.uk For more information on Dmitry Yablonsky, check out www.dmitryyablonsky.com and www.naxos.com.
Just be aware that our dynamic Dmitry spends more time on his music and his olive farm than on updating his own website...