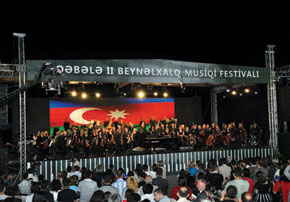 Pages 20-22
Come and be WOWed in Qabala says fiona Maclachlan
If you love the best in music and want to escape the planet, then come to Qabala for our 3rd International Music Festi- val. Organised by internationally renowned musicians Dmitry Yablonsky and Farhad Badalbeyli, you will be in for nothing less than the most wonderful experience. I simply can't rate it highly enough. We are all reaching out, these days, for that extra special experience, for that unusual holiday, for something that zaps our jaded lives onto a new technicolour and auditory level. Come, see and hear for yourself.
Following on from the phenomenal success of last year's event, headlined by the UK's Royal Philharmonic Orchestra, this year's line up is led by The Orchestra of New Russia and features Russian performers who are internationally acclaimed to be amongst the world's best.
'Absolutely extraordinary!' was my favourite quote from last year's festival (the wife of the UK's Tony Adams, footballer and manager of Qabala football club).
The festival has three main parts, a piano academy, a piano competition and, finally, a series of concerts (July 30th to August 5th) opening with a Gala concert. The piano connection is particularly strong because of Qabala's increasingly well-known Beltmann piano factory, of which Dmitry Yablonsky is Director.
Although a little off the beaten track, Qabala is fast emerging as a wonderful cultural centre in Azerbaijan.
Come and enjoy its:
• intimate atmosphere
• stunning countryside at the foot of the high Caucasus peaks
• welcome from the locals who can't quite believe what is happening right on their doorstep
• varied accommodation options from 5 star resort hotels to, well, maybe you could bring your tent and camp in the forest.
All of these come together to provide a magnificent venue. You will feel that you are in different world.
Dmitry has been keeping me up to date with the organisation for this year's event. He explains that they are trying to make the programme 'musically interesting'. The main festival is aimed at a wide audience with a varied programme. This year there are 'many more chamber concerts, some- times two per day', introducing celebrated chamber music to the Azerbaijani public for the very first time. Dmitry explains that one concert, on 1 August, includes young soloists, which ...'gives them a chance to be seen, heard, known'. I gather that Azerbaijan's rising star, Javid Samadov (Visions, Sept-Oct 2010) will also sing in concerts.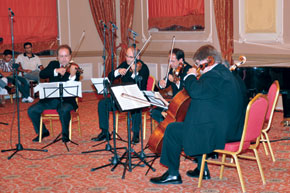 Dmitry Yablonsky with the Ysaye Quartet
Most of the concerts are held at the Qafqaz Resort Hotel complex in Qabala. Some are indoors and, more excitingly, some are outdoors. The organisers are looking to take some smaller concerts to other villages in the area, such as the aforementioned young soloists concert, which is planned for the village of Agdash.
Why Agdash?
Agdash has a very nice music school and it gives a great chance for people in Agdash who cannot make it to Qabala etc to hear musicians from other countries...
So the music festival impresses both locals and international visitors, performers and guests. Last year we welcomed Yuri Bashmet, who many consider to be the world's finest viola player, to our festival. This year he is bringing his whole orchestra, the Orchestra of New Russia.
You can expect to hear The Orchestra of New Russia perform music by Mendelssohn (Italian Symphony and Violin Concerto) and Liszt (Concertos 1&2, Les Preludes) as well as some well-loved Azerbaijani composers. Conductors include Dmitry Yablonsky, Azerbaijan's own Rauf Abdullayev, the Italian Claudio Vandelli and Norwegian Terje Mikkelsen.
Performing musicians include Alena Baeva on violin (a Russian prize winning performer in her mid 20s), Sergei Leiferkus, again from Russia (baritone), Oxana Yablonskaya who now lives in Qabala (piano), Anna Samuil (Russian soprano), Sergei Krylov (violin), Shlomo Mintz (violin), Massimiliano Pisapia from Turin (tenor), Boris Berezovsky (piano) and also the Terem quartet (I'm particularly looking forward to their performance at the opening Gala concert).
Of course our own Dmitry Yablonsky and Farhad Badalbeyli will also be taking part, notably with Sergei Leiferkus to perform Rachmaninov romances. We will also welcome the Jacques Loussier Jazz Trio from Paris, well-known for their jazz arrangements of classical works. How many of you in the UK remember 35 years of the Hamlet advert with Air on a G String, one of the best ever TV adverts? (Indeed, how can we forget, such is the power of advertising and, in this case, Jacques Loussier's arrangement of Bach's great work?)
Last year we welcomed the UK's Royal Philharmonic Orchestra. Afterwards they said they were 'blown away' by Qabala, and that best of all for them was listening to a concert of Azerbaijani mugham music – 'We simply can't do what they do', was the enthusiastic response from Andy Sippings, chairman of the orchestra.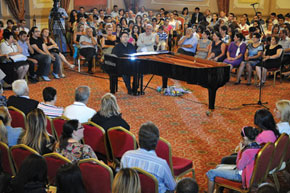 ... with chamber concerts indoors
Dmitry explains that Azerbaijan was a 'major musical centre in Soviet times' and that many of the older Russian generation, who will be performing at the festival as part of the Orchestra of New Russia, will undoubtedly have been to Azerbaijan before. But with the changes that have taken place in Azerbaijan in recent years, they will certainly feel as if they are somewhere new. The Gala concert last year was a truly wonderful event and this year's promises to be as good. If you get an invitation to the Gala concert then do accept - it's a great occasion.
However, failing that, turn up for any other concert - there is no ti cketing and entry is free. This is a festival in the truest sense of the word, a sheer celebrati on and sharing of international musical culture, where Azerbaijani people share their best music, their best musicians, and their best countryside with some of the world's best musicians. The resulting atmosphere is nothing short of magical. Sitting outside in balmy temperatures in the mountain valley, surrounded by emerald green forest, listening to live world class music as the sun sets - that's my great memory from last year. (Just a few notes of Rachmaninov can take me back….)
The big hotels do get booked up, so if you can't find a room, bring a tent and a samovar and have a classically great ti me.
BMI and Azerbaijan Airlines both fly direct from London to Azerbaijan's capital, Baku, in around five hours, and there are other options. (You'll need a visa from the Azerbaijan Embassy.) From Baku you'll need to fi nd your way west to the mountainous and forested Qabala region. Hire a car or jump on a bus and be prepared for a few hours' drive through desert scrub then along the forested Caucasian foothills, passing over the wide river beds that carry snow melt from high mountain peaks. (Gilan tourism can help. Email: info@gilantourism.com.) You're entering another world. I've tried to prepare you for some of what to expect, but 'Wow' might be your first response.
See the festival program online: http://www.gilanpianos. com/4.html