Pages 10-12
Victory in 2011


First-ti me visitors to Baku must have thought the world had gone crazy in the early hours of Sunday 15 May 2011. Pandemonium broke out at around 3am., as cars suddenly roared onto the streets with horns blaring, fl ags and balloons waving and, somehow, the song 'Running Scared' appearing as a theme through the din. The partying reached a further climax 24 hours later when two singers, Eldar Gasimov and Nigar Jamal – Ell and Nikki – arrived at a besieged Baku airport on a special Azerbaijan Airlines flight.
The reason, as you have surely guessed, was Azerbaijan's victory in this year's Eurovision Song Contest in Düsseldorf. The ecstati c celebrations were not such a shock to longer-term observers of what happens when a local football team beats another European club. After all, the country's second round of independence is barely out of its teens and has the exuberance of youth in asserting its identity – especially when it has the chance to do so with the world (well, 70 million TV viewers) watching.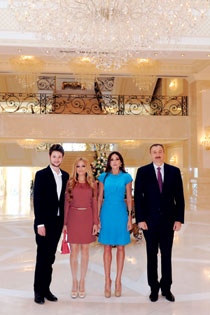 President Ilham Aliyev and First Lady Mehriban Aliyeva receive Eldar and Nigar after their Eurovision triumph
So, in only its fourth tilt for the crystal microphone - previously coming 8th, 3rd and 5th - Azerbaijan has already established itself as a country to be reckoned with in the contest. And, with victory this ti me, it has earned the right to host Eurovision 2012. Planning meetings have already been held with Eurovision and a ministerial level organising committee has been established, led by First Lady Mehriban Aliyeva.
Hosts in 2012
If you are planning to be in Baku from 22-26 May next year, then cast aside any expectations you may have of a dull, grey, former Soviet republic. Baku is booming, and not only from the sound systems that all self-respecting youthful drivers have installed in their cars. The capital is changing and modernising its appearance at an astonishing rate. You will find hotels of all rati ngs to suit your prioriti es, and fashion-conscious Bakuvians are catered for by all the major clothing brands. There are restaurants and bars to suit all tastes.
As the city hurls headlong into European mode, however, it also retains its pride in the mystique of an anti que Eastern culture. By all means succumb to the infectious local enthusiasm for a good party – as demonstrated on 15 and 16 May - but also take the opportunity to dig a little deeper, to enjoy the difference that Baku has to offer. Difference in music – take the chance to hear the distinctive and heartfelt mugham music, the local jazz, or visit the classical Philharmonia for one of the excellent orchestras.
Assuming that the Eurovision will generate enough excitement over that week in May 2012, you may be looking for somewhere to relax and ease yourself back down to earth post-party. Right in the centre of the city are two ideal spots to do just that.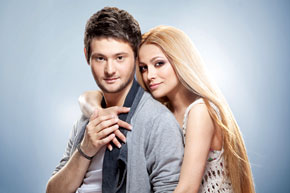 An early morning walk to the gently lapping waves of the world's most expansive lake would be the perfect way to clear ears ringing from the night before – and in the late evening, moonlight lends a more romantic atmosphere to the Boulevard that stretches along the Caspian shore.
If it's ti me rather than space that you want to explore, then Icheri Sheher is the place to go. The fortress-walled, medieval heart of Baku is also a haven from the city bustle and has plenty of historical nooks and crannies to explore. You could probably walk round the walls in under 40 minutes but there are any number of restaurants, including at least four based in old and very atmospheric caravanserais; coff ee and tea houses aplenty, at least four art galleries and, after working up an appetite with your early morning stroll along the Boulevard, try an Azerbaijani breakfast: herb-flavoured tea, with fresh eggs, butt er, cheese - and honey and cream on bread, hot and straight out of the tandoor oven.
If you stay a litt le longer, then the country off ers a huge range of experiences: nine climate zones: across the snowy Caucasus, to Quba's orchards, Absheron's beaches, the mid-land desert, to the lush, tea-growing regions of the south; buildings from petroglyphed Stone-Age cave walls to khan's palaces and the latest 5-star hotel; naturally burning mountains (and water!), mud volcanoes; mosques, churches and synagogues.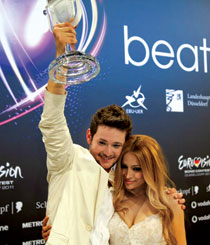 And in May, the fresh, luscious, seasonal fruit: strawberries, cherries, apricots, mulberries.... See htt p://www.visions.az/travel_tourism or Mark Elliott 's guidebook, Azerbaijan, with excursions to Georgia for more suggestions and information.
Enjoy the party!
But, of course, the main focus of your visit from 22-26 May next year will be the 57th Eurovision Song Contest. Azerbaijanis are already planning work and holidays around the event; they can't wait to welcome so many visitors, to show off their country and culture and to display their traditi onal friendly hospitality. To see what all the fuss was about on the night of 14/15 May, watch Ell and Nikki singing Running Scared here:
htt p://www.eurovision.tv/page/multi media/videos?id=36563