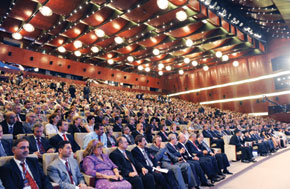 The 3rd World Congress of Azerbaijanis, Heydar Aliyev Palace, Baku
Pages 8-9
800 representati ves and guests assembled in Baku in early July for the 3rd World Congress of Azerbaijanis. President Ilham Aliyev was in attendance to congratulate members of the diaspora on their progress since the congress was established in 2001 and to urge them on to even greater efforts to make the country better known in the world.
As well as exchanging experiences in developing and promoting information, opportunities and culture abroad, delegates discussed ways to achieve even greater impact. For Nazim Ibrahimov, head of Azerbaijan's State Committ ee for the Diaspora, the development of structures to coordinate the work of the different diaspora organizations in different countries was most encouraging and this process was being continued to ensure a globally coordinated Azerbaijani presence.
President Aliyev signed a decree to recognise the contributions made by Azerbaijanis and friends to advance the cause of the country and its people. Notable recipients of the Order of Friendship were Joseph Chagall, President of the Israel-Azerbaijan Association and Mehmet Akkan Suver, head of the Marmara Foundation in Turkey.
Leading recipient of the Progress Medal was Leyla Aliyeva, daughter of the President and Vice-President of the Heydar Aliyev Foundation. The Foundation recently completed a joint project with the St Petersburg authorities to establish a memorial park to the poet Nizami Ganjavi and has plans to establish a culturaleducati on centre at a school in the city. Leyla Aliyeva's work as head of the Justice for Khojaly Campaign has produced imaginative campaigns to raise awareness of the horror inflicted by the invasion of Azerbaijani territory and the urgent need for a peaceful settlement of the long-stalled negotiations.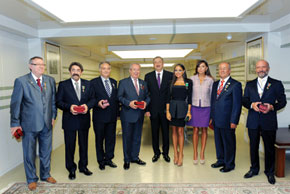 President Ilham Aliyev and First Lady Mehriban Aliyeva with those honoured for their work in the diaspora
She has been Chairperson of the Azerbaijani Youth Organisation of Russia since its inception in 2009. At its 3rd conference, held recently in St. Petersburg, Mrs. Aliyeva outlined the work done to promote the language, history and culture and reported that the organisati on had expanded beyond Russia's two main cities to Arkhangelsk, Tver, Ekaterinburg and other regions. Continuing her interest in youth work, Leyla Aliyeva is also Coordinator of the Islamic Conference Youth Forum for Dialogue and Cooperation.
We add our congratulations to Tale Heydarov, Chairman of The European Azerbaijan Society, who was also awarded the Progress Medal by President Aliyev.