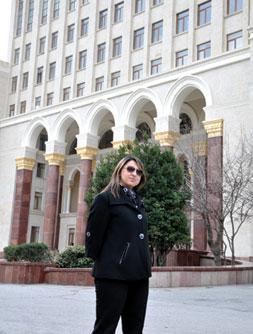 Pages 70-72
by Ian Peart
Visions of Azerbaijan will follow developments in all creative spheres of the country's life and will focus especially on priority areas. the contribution made by scientists is sometimes overlooked and we are keen to ensure that due recognition is given to their work.
Science nowadays is the driving force of progress and, historically, Azerbaijan has contributed much to scientific advance. the tradition has been maintained and the country's academic and educational institutions continue to conduct research in a variety of areas. Scientific innovation is crucial to the modernization and renewal of many sectors of industry.
In future issues we will feature articles about the younger generation of scientists and the fundamental research on which they are working. We hope that this project will help to forge relations between young Azerbaijani academics and specialists from different countries, encouraging professional scientific integration.
Our first guest is Narmin Babayeva. Born in Baku in 1980, she graduated in 2001, was awarded an mSc from the Azerbaijan State Oil Academy in 2003 and in 2007 she completed a PhD in Engineering Sciences. She is currently working as a senior researcher at the Institute of Physics of the Azerbaijan National Academy of Sciences (http://www.elm.az/physics) and is engaged on a project to develop alternative ways of protecting devices and networks against surges of electricity.
As Azerbaijan is in the process of upgrading its electricity grids from Soviet to 21st century standards, there are still problems with inconsistent power supply; voltage surges can result in anything from the annoyance of yet another light bulb blown, to serious damage to computers and other electricpowered equipment. We will get a little more specific and technical later, but we were also interested in the woman behind the science and asked Narmin khanim about her path towards potentially pioneering discovery. Despite all the progress of recent years, there is still, especially in the west, a feeling that engineering science is a mainly male domain, so...
-Where did your interest in physics come from?
- My coming to the world of science was not really accidental; the family that I was born into influenced my choice: my father's first profession was as a physicist, my mother graduated from the Oil Academy and has worked for nearly thirty years as a computer specialist, and my sister is also a physicist. Naturally I was interested in every area of science as a child. After graduating and getting my Master's degree in the Faculty of Energy, I began working in the Institute of Physics of the Azerbaijan National Academy of Sciences.
-Is your life entirely bound up with science?
- My work and research for it takes up a lot of my time, and I teach part-time at the Polytechnic, but I have other interests, too, and one is another inheritance from my father, Ramiz Babayev. In fact, although he was a physicist, he also had a career as a cinema camera operator and he worked on many Azerbaijani films. So, as a kind of hobby, I make short films for myself and for friends. I am also one of a group of friends and we organise together to do some voluntary work with orphans and the elderly.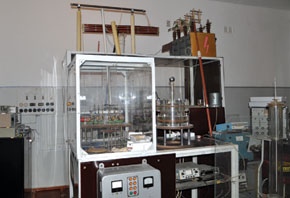 -And how did you become involved in your current project?
- My head of department suggested that I work on the problem. One of the major challenges facing Azerbaijan's energy system is to ensure the reliability of network equipment, high-voltage electricity transmission lines and their effective protection against external natural impacts and failures. These failures occur largely as a consequence of the aging of electrical equipment etc. High-frequency and super-high-frequency overloading of power systems may, in a worst case scenario, damage high-voltage power lines, puncture electrical insulation and cause failures in switching systems and electrical equipment.
Conventional methods cannot provide effective protection for power systems against high-frequency overloads. A new direction of research, which emerged in the 1980s, investigates the possibility of using the skineffect to create a resistive structure for cabling.
This field of science is developing rapidly at research centres in Russia, Ukraine, Japan, the USA, Poland, Finland and other countries and similar studies have been conducted at the Institute of Physics of the Azerbaijan National Academy of Sciences. However, the idea of using skin-effect to create a frequencydependent resistor has only developed recently.
-Skin effect?
- Yes. It is well known that the skin-effect in an electricity conductor manifests itself in variable densities of alternating current distributed over a cross-section of the conductor. In cylindrical conductors, a consequence of this uneven distribution is that alternating current passing through the central part of the conductor has almost zero density. There is a potential difference between the surface and the centre. One particularly promising direction of research into frequency-dependent resistors is being explored at the Institute of Physics. It concerns the distribution of current over the cross-section of a conductor with a shell made of ferromagnetic material. The relationship between the magnetic permeability and electrical conductivity of the shell and frequency enables scientists to apply the skin-effect phenomenon to the frequency range in which most overloads take place.
Existing protection devices mainly solve the problem by eliminating high-voltage surges. They change the effective value of the voltage, while the interference itself is not removed and the devices do not last long. The new structure we are working on is a much more efficient and long-lasting way of dealing with the threat of power surges.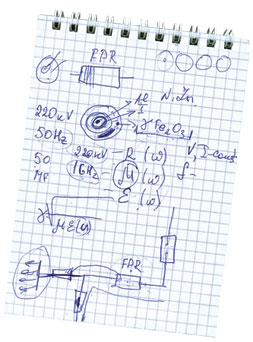 Supporting Science
Important work it is but, in the developing conditions in Azerbaijan, no easy task to carry through, and the story is almost as much one of grant applications as it is of scientific persistence.
In 2003, Narmin khanim sent out an application for a grant to help her pursue her research, and she received a response from Poland. She has made annual trips there, especially to the Modern Electric Power Systems Conference, to do laboratory work. She has entered competitions for young scientists and for innovations to get further grants and to cover expenses for conferences and has, in the past, received recognition and support from the World Federation of Scientists. Presentations of her work have been given in Spain, France and Iran. In 2010 she was declared Young Scientist of the Year by Azerbaijan's Minister of Youth and Sport, receiving a small award to help a little more. All this quest for funding is, of course, time consuming - time away from the job at hand.
She now needs to apply for a patent to further validate and progress her work. This, too, is a lengthy and costly business. Thus once again she is looking for financial support to take this next crucial step towards the practical implementation of her research and development.
Having witnessed at first hand Narmin Babayeva's remarkably dogged determination to see through a project with so much practical potential, we wish her every success in her search.