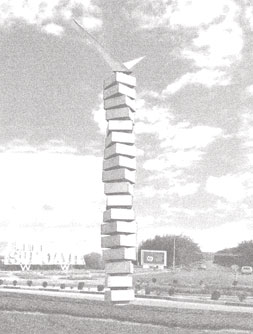 Entrance to the city of Sumgayit
Pages 42-44
by Shirkhan Salimov
Armenians in Sumgayit's ethnic landscape
According to official statistics, as of 1 January 1988, Sumgayit had a population of 258,200 people, including 14,208 Armenians. The figure shows that, as was the case elsewhere in Azerbaijan, Armenians featured significantly on the ethnic map of Sumgayit, a city established only in 1945. In fact, their role went far beyond the bare figures. Advanced research shows that Armenians were active in Sumgayit's trade sector - especially in the Soviet period, there was a widespread 'hidden economy' (illegally operating workshops etc.) They were also well-placed in the police, health and culture sectors.
Armenians aware of clashes being planned
Professor N. Gahramanov, head of the State University of Sumgayit, said the following about events in the city: "Although the 27-29 February 1988 developments took place in Sumgayit, they were orchestrated from outside and had nothing to do with the people of Sumgayit. The city was chosen as a venue of clashes for various objective and subjective reasons."
Sumgayit was not the only Azerbaijani city with a sizeable Armenian population. Armenians also had a strong presence in Ganja, Sheki, Baku and other towns. But bloody clashes took place between Armenians and Azerbaijanis in Sumgayit in February 1988. Why then was Sumgayit chosen as the venue? Because compared with Baku, Sumgayit's location was much more favourable for orchestrating events, exercising control over access roads and keeping the overall situation under control. Further, Sumgayit's proximity to Baku made it much easier to stage clashes there and then launch anti-Azerbaijan and anti-Sumgayit propaganda from Baku.
Developments in Sumgayit unfolded according to a specific plan prepared by a Soviet empire already in its death throes, and the Armenian nationalists it was supporting. The Soviet government was behind Armenia's attempts to alienate Nagorno-Karabakh from Azerbaijan and annex it to Armenia. (see interview by academician Abel Aganbekyan, who was known to be close to the Soviet leadership, L´Humanité, 18 November 1987- author). With the plan about to fall through, the decision was made to resort to violence. By shedding people's blood in Sumgayit, the purpose was to show the world that Azerbaijanis would not leave Armenians alone and were trying to crush them physically and morally.
Soviet troops were in Sumgayit at the time of the clashes and could have prevented the stand-off. But they didn't, allegedly because the army was late. However, Marshall Yazov, former defence minister of the USSR, said in a subsequent interview that the army wasn't late at all and that it was waiting for an order from Commander-in-chief Mikhail Gorbachev (Sumgayit events. Conference materials, Sumgayit, 2010, p.42). Azerbaijanis had been systematically deported from Armenia and the Nagorno Karabagh region by Armenians. At the outbreak of events in Sumgayit there were many deportees there. Just before the Sumgayit events, on 22 February, two young Azerbaijanis had been killed in Askeran district by armed Armenians (see Herald International Tribune, 12-13 March 1988). But neither Gorbachev nor Armenian leaders were interested in preventing the massacre. Information available to us shows that even Armenians living in Sumgayit were aware of the clashes being masterminded and left the town in good time.
Getting out
Shahla Abishova, a doctor at Sumgayit maternity hospital No. 1 at the time, recalls Amaliya Arutyunyan, a cleaner at the hospital who had been at work on 26 February, calling her from the North Caucasus town of Mineralnye Vody on 27 February and asking for annual leave because 'you are killing Armenians in Sumgayit'. "I was very surprised because everything was quiet in Sumgayit. But when the events started unfolding the next day, I realized that this terrorist action had taken place a day late…" she said. Six months prior to that, Amaliya had taken the money out of her husband's bank account and told colleagues at the hospital that her husband had disappeared. When she left her job, it turned out that at that point she had secretly cancelled her Sumgayit registration. Subsequently, her husband had bought a house in Zheleznovodsk, Russia. This is further evidence that Armenians were aware of the impending massacre and were supervised from the centre.
Here is another example. Shortly before the events, driver Boris Sarkisyan told his friend Irina Shur to try to leave Sumgayit as soon as possible. When asked why, he said, "The USSR will break-up, both Gorbachev and Raisa (Gorbachev's wife – editor) are our people, America is with us, Karabagh will be ours, while Sumgayit will soon be ablaze. You should leave the place as soon as you possibly can. You will recall my words when this government falls apart and we take over Gold Mountain in Kelbajar and the copper fields in Qubadli, Shusha and Chayzami," he said.
The following is an extract from a statement by T. Mammadov, who worked as chairman of the Sumgayit City Executive Committee at the time of the events. "On the third day of the events we realized that Kharchenko (deputy chairman of the USSR Communist Party's Central Committee, who came to Sumgayit on 28 February) was aware of a certain plan. In a conversation at the Sumgayit Communist Party Committee's office (already occupied by the city's military commandant Lt-Gen V. Krayev) he said nonchalantly, 'Shusha is a small town, just let it go, it is no big deal'." Evidently, the developments in Sumgayit were part of a ploy intended to seize Azerbaijani lands.
The death sentences on the Armenians killed in Sumgayit were actually pronounced long before the events. Even the buildings and flats that would be stormed and broken into had been identified in advance. It transpired that all the Armenians killed had not been paying contributions to the 'Krunk' organization, although at that time, Azerbaijanis had no inkling of 'Krunk' or who was a member, who had not paid subscriptions etc.
To understand the background to the Sumgayit developments, let us review another example. Isn't it rather suspicious that Andrei Shelkov from Moscow's Glasnost magazine, founded by the Armenian Sergei Grigoryants, happened to be in Sumgayit around the time of these events and filmed the pogroms? The images he shot were shown on a number of international news channels the following day. Most importantly, if a journalist from a magazine was aware of the time and place of the clashes, how could the Sumgayit developments take place unbeknownst to the USSR security services?
But who was the actual killer?! Ethnic Armenian resident of Sumgayit K. Mezhlumyan said, "… I lost consciousness. When I opened my eyes, I saw Edik Grigoryan, also Armenian, standing over me and saying something in Russian."
Najafov:
"The crowd headed for the flat of Emma Grigoryan. We broke into it. Edik told us to take her out and torture her…"
Mammadov:
"Edik said he knew where the Armenians lived. We simply followed him..."
Grigoryan and his gang then broke into M. Petrosyan's flat. Petrosyan took a hammer to defend himself and succeeded in stopping Edik for some time. However, he was soon knocked over. In a subsequent confrontation at a police station, the victim of the attack recognized Grigoryan and said in his evidence. "Edik Grigoryan was at the centre of the crowd which was chanting 'Karabakh will be ours!' When the chanting stopped, Grigoryan said, 'Follow me…'."
Edik (Eduard) Grigoryan killed a total of six people during the pogroms.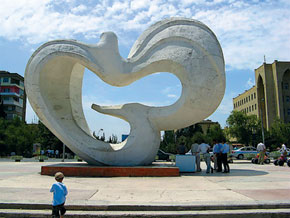 The Dove monument - a symbol of peace - by v. Nezirov and A. guliyev. 1978
Investigation and trial
To investigate the Sumgayit developments, the USSR Prosecutor-General's Office opened Criminal Case No 18/55461-88, in which a total of 444 people figured. Of these, 400 were sentenced to 10-15 days' imprisonment, several others were given long-term sentences, while one person, Ahmed Ahmedov, was sentenced to death. Taleh Ismayilov was sentenced to 15 years' imprisonment, while Elchin Ganjaliyev was tortured so severely by investigators that he committed suicide.
From the very first days in the proceedings it was obvious that the allegations levelled against most Azerbaijanis had been trumped up. The three individuals named participated in the clashes, but they did not commit any crime.
In an interview with Novoye Vremya magazine, the then chairman of the USSR Supreme Court, V. Terebilov, complained of the pressure being exerted on the court by senior party officials and demanded that the court should be independent.
The court failed to establish the identity of the person who killed many people in Sumgayit's Block 41a, while Ahmedov was branded "the mastermind of an unidentified killer". How can a mastermind be punished if the killer is not known? By putting all the blame on Ahmedov, the USSR Supreme Court continued the unlawful actions committed by the USSR Prosecutor-General's Office.
Two months later, Armenian television showed video footage of the sentence of capital punishment being pronounced on Ahmedov. Since then, there has not been a single publication about the proceedings and the death sentence for Ahmedov in the local or foreign media. The most mysterious feature, however, was the sentencing of Eduard Grigoryan.
Grigoryan was born in 1959. His two brothers were sentenced to various terms of imprisonment, while he himself had been in the dock three times (in 1976, 1981 and 1982) and spent a total of nine years, two months and 13 days in jail.
Proceeding from "irrefutable evidence, facts and witness accounts", the court sentenced Grigoryan to only 12 years' imprisonment for planning and perpetrating crimes, inciting ethnic bigotry, participating in public disturbances, rape, robbery and killing! None of the Soviet or Armenian masterminds of the Sumgayit developments were ever brought to book. If conditions had been deliberately created in the city for ethnic clashes to take place, if the police had been told not to get involved and if the order for the army to act was intentionally delayed, this means that developments unfolded in accordance with a plan approved by the empire and Armenians.
Years later, the writer Afgan recalled a conversation with Academician Sakharov. "I asked him if he thought the Sumgayit developments would ever be unravelled and disclosed. He paused for some time and then said slowly, 'We shouldn't allow that to happen'." (Andrei Sakharov, 1921-1989, was an outstanding atomic physicist and one of the first dissidents in the USSR. In 1975 he was awarded the Nobel Peace Prize. His father-in-law was Armenian and Sakharov was a strong advocate of the transfer of Nagorno-Karabagh to Armenia - editor)
P.S.
Today, Sumgayit is one of Azerbaijan's economically and culturally developed cities. Every year the city conducts remembrance ceremonies, stressing the need for disclosure of what actually happened in the city in 1988. Only then can an objective assessment of the events be given. Therefore, the monument to the 'Sumgayit genocide' erected by the Armenians in Khankendi on 2 March 1988 defies all logic. What happened after the events is yet another argument for an assessment of the Sumgayit events: Armenian armed forces launched a large-scale military offensive against Azerbaijan, committed the Khojali massacre etc.
The situational analysis by Azerbaijan's well-known historian Ziya Bunyadov called "Why Sumgayit?" (See Visions of Azerbaijan, March-April 2010) is still quite relevant.
References
1. R. Mammadov, H. Sadigov, The truth about Sumgayit. Vol. I. Sumgayit, 2010
2. Sumgayit events: the truth for the present and future generations. Conference materials. Sumgayit, 2010
3. Ziya Bunyadov. Why Sumgayit? A situational analysis. Visions of Azerbaijan. March-April 2010, p.58-63
About the author:
Shirkhan D. Salimov is a professor at Sumgayit State University, Doctor of History and author of a number of monographs and research papers on Azerbaijan's modern history.