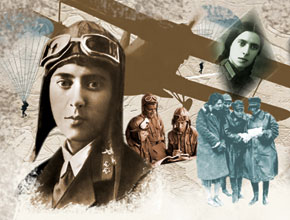 Pages 34-36
by Rovshan Didavari
Falcon in the Land of Fire
A human being flying in the skies! At one time it sounded like a fairy tale. Now thousands of people soar into the blue like birds. Mistress of the Skies – was how they described Leyla Mammadbeyova in her time. She became a living legend. In the mid-1930s the Moscow magazine Ogonyok put her picture on the cover and wrote: "Azerbaijani woman is the East's first woman pilot". Soon her fame spread across the Soviet Union. A woman who, only a few years before, had been an ordinary housewife, no different from any other, had stamped an indelible mark in Azerbaijan history with her courage.
She faced the ups and downs of life from childhood. Her youth coincided with the establishment of Soviet power in Azerbaijan. One day, when she was going to the women's club, her neighbour, Zibeyda Ahmadova gave her surprising news: "A flying club opened near here recently. In a few months, members of the club will be able to fly." Leyla smiled. Her imagination rose to the skies for a moment. What was that?! Was it a dream? How could a woman be a pilot?!
Not long afterwards they became the first Azerbaijani women to join the flying club. Leyla, as a mother of two small children, began to steal time from her household duties. Not a little embarrassed, she went to the club and learned to fly, and to bale out, together with the men. The reaction to her involvement in the venture was not without its ambiguities. There were those who loved and applauded Leyla and there were others who pursed their li ps in disapproval and even anger. But she did not deviate from her chosen path.
Leyla Mammadbeyova became famous as the first female flyer, not only in Azerbaijani history, but also that of the Caucasus, Southern Europe and the Middle East. In 1941 she attained the rank of squadron leader. Later, she continued with a career as a teacher for the Baku flying club.
I will definitely jump!
Leyla Mammadbeyova's life traced an interesting route. This heroic woman devoted all her life to Azerbaijani aviation. Her full life's journey wrote pages of glory into contemporary Azerbaijani history.
Her daughter Elmira's memories of her mother recalled that Leyla's first flight as a student of the Baku Aviation School took place in 1931. Later she made many more such free flights.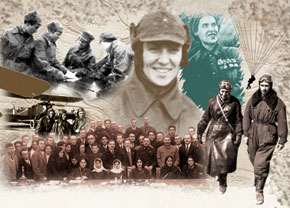 A collage of photographs of Leyla Mammadbeyova
She went to Moscow and trained in Tushino to further her progress. Elmira related that, in 1932, her mother was dispatched to advanced training courses at the Central Flight School of the OSOAVIAKhiM (Union of Societies of Assistance to Defence and Aviation-Chemical Construction in the USSR). Her intensive application to training and her successful execution of training flights set the course for her future career. She studied the properties, mechanics and flying methods of the multifunctional U-2 bi plane at the school and mixed with other famous pilots and the well-known aviation constructor A.Yakovlev.
Mammadbeyova parachuted from a U-4 plane at Tushino aerodrome in Moscow on 17 March 1934, to become the Soviet Union's second female parachute jumper after Nina Kameneva. At that time a parachute jump was not an obligatory part of the training. In fact her trainer, Pavel Golovin who later became a Hero of the Soviet Union, tried to dissuade her. But she was emphatic: "I will definitely jump!"
With this courageous decision, she was awarded a parachutist's badge - unprecedented in the Soviet Union. She was then a pilot instructor. In the same year, she took first place in a parachuting competition between the republics of the Southern Caucasus.
There is a picture in the family album recording a meeting between an English pilot and Leyla Mammadbeyova. Leyla's British colleague was in Moscow specially to meet her in person. Daughter Elmira tells another interesting anecdote about her mother. Our heroine had very distinctive and beautiful plaits. Usually before flights she tucked her plaits into her belt or into the radio safety helmet (combined headset and microphone). This was very uncomfortable. Thus the management of OSOAVIAKhiM Central Flying School was forced to contact Leyla's husband to get permission to cut off her plaits. They soon received a positive response from Baku.
Milestones in a different life
Mammadbeyova's flights to various regions of Azerbaijan and her many conversations with local residents are well-known. The U2 bi plane flew to such out-of-the-way villages that the plane's sudden appearance, with a woman in the cockpit, shocked people and made for an unforgettable event.
Excellent teacher and mother
The name Leyla Mammadbeyova is recorded in Azerbaijani aviation history as an excellent teacher. Over the years she worked as an instructor for the Baku aviation club she put a huge amount of work into the training of thousands of skilful flyers.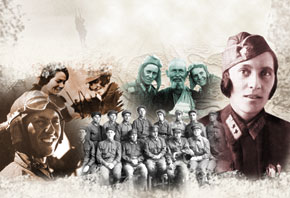 A collage of photographs of Leyla Mammadbeyova
In 1941, when the Soviet Union entered World War II, she vowed to create her own group of flyers in the shortest possible time and fly with them to the front. As a mother of four young children, Major Mammadbeyova was refused partici pation in World War II. As the flying club was closed, she got permission to lead parachuting courses. During the war years she trained more than 4 thousand paratroopers, hundreds of flyers and saw them off to the front. Two of them, Adil Guliyev and Nikolay Sheverdayev, achieved the award Hero of the Soviet Union.
Mammadbeyova ended her flying career with her last flight in 1949. She retired with an honorary pension in 1961. Doctors forbade her from flying, but saying goodbye to the sky was beyond the will of someone who had devoted her life to the development of aviation. She served long years as deputy chairman of the Baku Committee of DOSAAF (Voluntary Society for Cooperation with the Army, Air Force and Navy). Organising parachute jumps and glider flights, regular tri ps to the flying club and other activities were among her functions. The Maternal Badge she was awarded had a special place among the many she received from the government before and after the war years. Leyla Mammadbeyova was mother to six children. She had 7 grandchildren and 13 great grandchildren during her lifetime. Her eldest son, Firudbey Mammadbeyov , saw active service in World War II and her youngest son is a veteran of the Karabakh war.
A life reflected in art
This unique personality attracted the attention of creative people. Alexandra Yakusheva, famous Russian artist and close friend of Leyla, dedicated many works to her. Leyla's career was also the subject of attention from cinema directors. Documentaries such as Ismat (Honour), produced by the Azerbaijan State Film Industry and directed by Mikayil Mikayilov in 1934 and The Skies are an endless sea: Leyla. I Film, shot by Nazim Rza Israfiloglu in 1955 (Azerbaijan Television Film) were devoted to Leyla Mammadbeyova, the East's first female flyer.