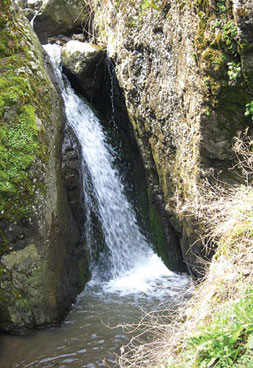 Pages 24-27
by Fiona Maclachlan
Then read on. I think this Azerbaijani based Community-Based Tourism initiative must be one of the most interesting eco-stay projects anywhere in the world.

Not only does it give the guest the opportunity to stay in stunning countryside in Azerbaijan and learn about a very different culture, it also supports two very special and distinct indigenous ethnic populations, the Lezghi and the Talysh people, giving brighter hope for their future.

Thanks to the efforts of a couple of particularly enthusiastic American guys, this rather special Eco-stay project in Azerbaijan is just about to welcome its first guests. Sign up soon for your own visit and have the time of your life.

I would like to say a huge well done to Micah and Mason!
What does this Eco-stay offer?
For you, the guest, it offers the opportunity to stay for one night or more in rural Azerbaijan with a local family, possibly a Talysh or Lezghi family, the choice is yours. For an agreed and affordable sum of money, enjoy a clean room to yourself or to share with your own family or friends, and get to know and understand something of the wonderful traditions and culture of your host family. Your family will be ready to share local knowledge about the area you are staying in, and you can take it from there, choosing what you would like to experience, and arranging to pay a little extra. Opportunities abound. Taste and enjoy – maybe even learn to cook – healthy, local, organic food. Watch local produce being harvested, join in if you like, and buy some to take away with you. Learn to recognise and locate the local herbs used in many aspects of Azerbaijani cookery and traditional medicine. Listen to - and try to take part in - local music, perhaps poetry too. Watch and learn some new dances. Try your hand at traditional crafts such as carpet making. Try horse riding or hiking on foot through flower-filled meadows or over craggy mountain passes with your host as a guide. Your time at the Eco-stay can be as hands-on as you the welcome guest wants - or you can just treat it as a B&B (bed and breakfast) and move on. Remember to take lots of photos and put them online for others to share, and blog away too – your very own (public as you like) travel journal.
For the host family it offers an income, first and foremost. But the cultural experience goes two ways and your host is as likely to be interested in your way of life as you are in theirs. For the host, this is also an opportunity to improve their home with the support of a loan (in the style of micro finance) which can be repaid from the income from the letting opportunity. So they get a better home for themselves as a result of it being upgraded to a higher standard for you guys.
Just how has it all come about?
Micah and Mason, our enthusiastic young Americans, came to Azerbaijan as Peace Corps Volunteers.
Azerbaijan particularly welcomes American Peace Corps Volunteers to come and help contribute to the future of the country. When volunteers first commit they don't even know which country they will be going to, let alone what project they might find themselves leading or assisting in. But personal preferences play a part and so the pairing is usually successful and mutually beneficial to both volunteer and recipient.
Sometimes the pairing is particularly successful and when speaking to Micah in Baku in January I really got the feeling that he had fallen in love with Azerbaijan and his host family, and I think they did with him, too. In fact Micah had extended his stay so that he could pursue and begin to promote the project he has been working on with his host family.
A bit more about Peace Corps Volunteers in general
Part of the Peace Corps Volunteers' code is that volunteers live with local people and adopt local ways of life where possible. This typically means travelling by bus (not having your own car), spending very little money, sharing domestic facilities (not sneaking off to a city hotel too often) and so on. They mostly learn the local language. They are even encouraged to survive on a similar income to that of their host family. This helps break down barriers and allows the volunteer to become far more integrated into his/her host community, and so be better placed to pass on helpful advice or a skill. Indeed, many successful pairings result in exchanges of skills – it's not a one way street.
And our guys, where have they been staying and what have they been doing?
Micah lives with his host family near Gusar in the north of Azerbaijan. It's a fantastically beautiful area near the high Caucasus mountain peaks, and it's popular with expats for weekends and short breaks away from Baku.
Micah has been helping his host family develop the skills and confidence to trade as a home-stay. He has helped his host family develop their own home into an Eco-stay, and hopes this will encourage other families in the area to do the same.
Mason is carrying out a similar project in Lerik, in the south of Azerbaijan. Lerik is also in a particularly beautiful part of the country and it, too, offers stunning mountain scenery.
Both places, in common with much of rural Azerbaijan, offer a wealth of possibilities for exploring, hiking, studying nature or whatever.
How are they implementing the project?
So, there are two aspects to the project. One is to help individual families to open up their homes for Eco-stay, and the other is to look at ways to network the projects together into a single Community-Based Tourism (CBT) initiative which can be used to market the concept.
Micah and Mason have no ownershi p of the project. In the longer term, they hope that the Eco-stay host families will collectively take care of the initiative. The guys have done their research, sending out a questionnaire about what expats might expect of an Eco-stay facility. This is how I found out about the project, because I was contacted for a response to the questionnaire. Which means that the questionnaire has acted as both information gatherer and advertising, well done guys!
To this end, Micah and Mason are setting up a website, cbtazerbaijan.com. Do take a look – I think you will be pleasantly surprised, and inspired too. Can I go to this Eco-stay?
The easy answer of course is yes, as a guest you are always welcome! The Ecostay project has broad appeal. Ecotourism and Community-Based Tourism are for everyone and are becoming increasingly popular concepts the world over. As well as expats in-country, guests can travel from outside Azerbaijan, making arrangeguys! To this end, Micah and Mason are setting up a website, cbtazerbaijan.com. Do take a look – I think you will be pleasantly surprised, and inspired too.
Can I go to this Eco-stay?
The stay project has broad appeal. Ecotourism and Community-Based Tourism are for everyone and are becoming increasingly popular concepts the world over. As well as expats in-country, guests can travel from outside Azerbaijan, making arrangements through the cbtazerbaijan.com website. And of course Azerbaijan's own people can go too; they are rightly very proud of their history and culture and might enjoy the opportunity to learn something of their own cultural heritage, especially if they have lived in Baku or even overseas. Maybe like a Londoner might go to the Lake District to learn dry-stone dyking.
Just what have our Peace Corps Volunteers gained from their time in Azerbaijan?
Micah explained to me that Peace Corps Volunteers can be involved in one of three main areas – English language teaching, youth development or community economic development, which is akin to small business development.
Micah, who selected community economic development as his first choice, told me that he wanted to be on his own as a volunteer, and is pleased to relate how he has felt welcome and accepted in the home of his host family. The people who live in the Gusar area are typically Lezghi, an ethnically distinct group of people who live in this area of Azerbaijan (and part of Dagestan in Russia). So not only has Micah got to know an Azerbaijani way of life, he has also got to know a Lezghi way of life. I'm not sure if he can dance like a Lezghi yet! His host family has become like his own family, so much so that they all welcomed the opportunity for Micah to extend for an extra year.
Mason, the other Peace Corps Volunteer involved with the project, lives in Lerik, again an area that has its own ethnically distinct population. These are the Talysh people, renowned as being excellent farmers and growers. Talysh people typically live in the south of Azerbaijan, and there are also Talysh people in the north of Iran. The lifestyle here, especially around Lerik, is so wonderful that it famously supports longevity. Take a look at this:
http://www.youtube.com/watch?v=4Hlmdc0TpzA&feature=related
Micah is particularly enjoying his time in Azerbaijan. We chatted at length about his time here, and about his project.
Living in Azerbaijan is exciting, Micah explains, the lack of certainty is fun, and not being kept 'safe' all the time is appealing. (A reaction perhaps to 'western' values which seem to wrap us all up in cotton wool these days.)
My own host family, Micah continues, will be hosting guests through the initiative, and Mason has five or six places lined up in Lerik. Access is mainly by road, but we really want places that you hike into, and we're working on that.
Much of the initial planning has been done now, and we'll be implementing the project during the spring, Micah explains, ready to open in June for the first guests!
So not only do you have the opportunity to visit and stay in a most beautiful part of the world, you'll be staying with indigenous ethnically distinct peoples. Learn from them and contribute towards their survival.
What are you waiting for?
Since writing this article earlier this year, the CBT initiative has reached out to other areas of Azerbaijan. In particular, I'm delighted that families from Sheki and Kish are joining the project, including Ilhama in Kish, a lady known to expats as the excellent keeper of the Kish Church Museum and who has long run her wonderful little home stay alongside the Church. I stayed with her in 2005 and would go back in a moment. See Mark Elliott's Azerbaijan book for details as well as cbtazerbaijan.com. Fiona