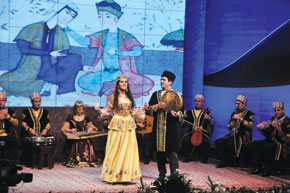 Pages 8-11
by Colleen MacDonell
The Second International Mugham Festival in Mid-March was dubbed Muğam Aləmi (The World of Mugham). And what a rich and varied world it is! The concert schedule offered everything from symphonic, classic, folk, opera and jazz mughams from Azerbaijan to related forms from across the Middle East and beyond. There was a Turkish melody, Iraqi makam, Raga from India, makam from Iran, nahda from Egypt, and shashmakom from Uzbekistan. There were verses from ancient poetry and contemporary compositions. Khanendes sang in a variety of languages and used gestures and performance styles particular to their region. In addition to all this musical performance, a second international symposium was held, with lively discussion by musicologists from around the world.
It is obvious that Azerbaijanis are very knowledgeable about mugham, which can make them a formidable (though appreciative) audience. As musicologist (and native Bakuvian) Inna Naroditskaya notes in her book Song from the Land of Fire, Baku is a centre of mugham. In former days, the most important gathering place for mugham was Shusha in Karabakh, where it is said that "every child sings before he learns to speak." (Naroditskaya, 31) She quotes the music scholar Rena Mammadova, who believes that mugham is so deeply Azerbaijani that it reveals the very "formula of Azerbaijanian creative thinking." (35)
What is a foreigner to make of this musical world? For those of us who have not grown up in the warm embrace of mugham, can it ever be understood or appreciated on an aesthetic or emotional level? Obviously there is an appreciative foreign audience for this music. Milling about in pre-concert crowds, I heard conversations in French, Farsi and English (with accents from America, the UK, Canada, India, and more). What is attracting these foreigners and many others across Europe to this music? Let's take a look at some of the concerts from the festival programme to find out. It was a busy week. One person could not take in everything, but here are some highlights, from one foreigner's perspective.
Concerts were held at Baku's impressive list of concert venues. The beautiful, state-of-the-art Mugham Centre, the lovely State Philharmonia, the stately Opera and Ballet Theatre, the intimate Jazz Centre and the modern Heydar Aliyev Palace. Smaller gatherings convened at caravanserais and music schools for competitions and presentations.
Symphonic
The symphonic offerings were a real treat. The first was 'Concert for Tar and Orchestra' by Mammadagha Umudov. Soloist tar player Sahib Pashazade is a consummate performer. I have seen him perform on many occasions. He never fails to impress with the precision and control of his playing, while still connecting with the audience with warmth and geniality. He was followed by Mehri Asadullayeva, who I saw performing for the first time. She was the soloist in 'Concert for Kamancha and Orchestra' by Haji Khanmammadov. I have to say, it was a revelation to watch this young woman perform. Her performance was a perfect amalgam of virtuosity and emotional depth. I was frankly astonished at the beauty of this piece. The audience was very appreciative. These performances alone would have constituted a perfect evening of music, but there was even more to come! The first was 'Shah Ismail Khatai Epic Symphony' (Şah İsmayıl Xətai Simfoniya Dastan), the martial yet fascinating composition by Azerbaijani composer Sardar Farajov. The inclusion of traditional mugham singing at the end of the piece had a haunting and somewhat melancholic effect. Next was a modern composition by a composer from Uzbekistan, the 'Nava Symphony' by Mirkhalil Mahmudov, followed by the '8th Symphony' of Azerbaijani composer Azer Dadashov.
Folk
When it comes to folk songs, or xalq mahnısı, the popular songs can never be sung too often. This concert, 'From Zerbi-Mughams to Songs,' included all the local favourites. There was a line-up of six singers, five of whom are well-known performers in Azerbaijan. The sixth was a young singer with a beautifully clear voice. The audience seemed entirely Azerbaijani, with the exception of myself, my husband and a foreign friend. Foreigners who make an effort to understand the lyrics will be rewarded! With clever internal rhyme and near rhymes, these passionate, witty and poetic songs of love and loss deserve a much wider audience.
Opera
Bakuvians and foreigners living in Baku are fortunate to have a full slate of operas to attend all year round. However, Azerbaijan's famous operas were performed on consecutive nights in honour of the festival. No mugham festival would be complete without Uzeyir Hajibeyov's mugham opera, Leyli and Majnun. Featured as well by this musical luminary, who helped explain mugham to the West, were Asli and Kerem and Arshin Mal Alan. Fikret Amirov's Sevil and Muslim Magomayev's Shah Ismayil were played as well.
Fusion
Two mugham fusions were on show. The first was the world-famous jazz mugham, with Isfar Sarabsky. Fans of this mugham form are the night owls of the mugham world. These concerts started late – too late for this concert-goer! So I interviewed a couple of night owls instead. Sandra Williams and Steve Hollier (an accordion player) both had rave reviews for the jazz mugham. Their impression? "One of the best things we've ever seen." "Electrifying!"
The second example of fusion was an entirely original idea – Altiplano, a group of traditional musicians from Ecuador were invited to perform their music with a group of professional mugham musicians from Azerbaijan. This fusion reminded me of the efforts by the Irish group The Chieftains to play with musicians from various traditional musical forms. Despite the very contrasting styles of presentation and mode, the infectious enthusiasm for musical exchange produced an astonishingly seamless blend of the Caucasian and Andean traditions. A local student who attended the performance thought the cross-cultural exchange worked. "Fabulous!" was his verdict.
International
The most delightful part of this second international festival was the high quality of the invited international musicians. It was my first time hearing Iranian makam, Indian raga, and Egyptian nahda. All three performances were remarkably good.
The most striking similarity between these variants of mugham and Azerbaijani mugham is that the singing style was immediately recognizable as mugham. The Azerbaijanis in the audience were obviously delighted with the singing, spontaneously clapping at particularly fine moments in each performance.
But there were interesting differences too. The languages of the songs were all different, each with a particular beauty of its own. The words sung by Indrani Mukherjee were simple and repeated many times. The Arabic, so similar in sound to Azerbaijani, was delightful to hear, as sung by Aicha Reduane in such a clearly enunciated style. The Farsi singing by the talented Salah Aghili put one in mind of what a medieval troubadour might have sounded like.
There were some surprising variations on mugham instrumental accompaniment. The Indian raga singer accompanied herself on a tanpura, a long fretless lute with a very round body. It was plucked for rhythmic effect. This was later exchanged for small harp-like instruments. All were electrified in some way to produce a fuller sound. Another musician played harmonium. This instrument is similar to an accordion. It is essentially a keyboard with free reeds and a bellows moved with one hand. The percussion was provided by tabla. These are two hand drums played with the fingers and rubbed with the palm of the hand. They were rope tuned with dowels and hammer during the performance. The Egyptian group – strictly speaking a French group with members from Morocco, Lebanon, Tunisia, and Egypt – used a gaval similar to that used in Azerbaijan, a traditional wind instrument, and a violin (where one would expect a kamancha). The Iranian ensemble featured a setar, which seemed very close to an Azerbaijani saz. The kamancha was just like those in Azerbaijan, but with a short wooden post instead of a metal shish. The wind instrument was an end-blown flute called a ney. The impressive frame drum daf, sometimes referred to as a dayereh, is huge in comparison with an Azerbaijani gaval.
Slight cultural differences in style of performance were apparent. The Indian raga singer gestured with her left hand toward the harmonium player as she completed each verse. The slight young woman playing the Iranian frame drum daf tossed the thing in the air while playing to increase the percussive effect. The sophisticated and graceful nahda singer from Morocco always stood and gestured to the audience while singing. The khanende from Iran played the setar (a four-stringed lute) as he sang, rather than a percussion instrument.
Azerbaijanis are sophisticated and knowledgeable spectators. It is a testament to the high level of performance that they responded with real enthusiasm to all three of these groups. The audience response was electric! Even when the words are in another language, the beauty of mugham is clear and ever-present. It was wonderful to see how deeply honoured the musicians appeared to be at this genuine and heart-felt response from the people of Azerbaijan. This, truly, is the world of mugham! A world where musicians and devotees of mugham embrace the richness and diversity of this complex and beautiful music.
About the author:
Colleen MacDonell is a kamancha-playing librarian working at an international school in Baku. She arrived in Baku in 2007. She has been studying the language and music in her spare time for the past two and a half years. Visit her language learning blog at http://speakazeri.blogspot.com.