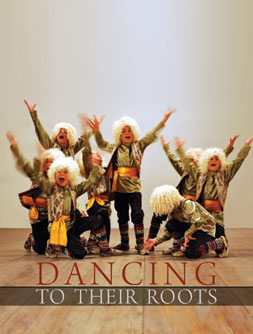 Pages 88-92
by Ian Peart and Saadat Ibrahimova
The best advice to a western visitor to Azerbaijan is to go with the flow. Things are a little different here, but patience is all you need to find yourself heading along the most intriguing byways. As happened a month or so ago when we met an Azerbaijani dancer from Iran who was stopping over in Baku after a European tour, before returning home to Canada – the background alone flicked the lights on, he must have a story to tell. Tell he did but, typically, the journey became even twistier, leading to a group of young boys – with international experience – rehearsing in a draughty hall tucked away in the middle of the Absheron peninsula.
Grandma's tales...and legs
Born in Iran into an Azerbaijani family, Sashar Zarif has very deep and personal knowledge of contact between cultures and his life has been a developing response to his experiences – expressed through dance.
He learned dance from a grandmother who had left her home in Baku after the Bolshevik Revolution pulled Azerbaijan into the USSR.
I opened my eyes to my grandmother transferring to her house in Baku – she remembered it as being a big house, with a balcony.... She was old then, and would sit and dance with her arms; she taught me to be the legs.
Physically, his grandmother's memories were held by a gaval (a hand-held frame drum used by mugham singers) and a Sheki carpet that she had brought with her.
Grandmother died when her protégé was 10 and it was soon Zarif's turn to flee a revolution. Helped by his parents, he escaped the rigours of life under the post-Shah Iranian regime and made his way to Turkey in 1985, aged just 13. He arrived in Canada, alone, as a refugee in 1988.
Roots rediscovered
Despite missing years of schooling, he worked his way successfully to university and towards a career in engineering, but then there was a visit to a friend of his father, in Baku, and life changed direction once again – Baku will do that, if you go with the flow, that is. His grandmother's early influence reasserted itself and Zarif spent a year in Azerbaijan studying traditional dance, as well as the language and the music.
He returned to Canada determined that dance was to be his life from then on. He continued his studies, at Toronto's York University, while teaching dance 'on the side', establishing the Sashar Zarif Dance Theatre and Joshgoon, the Canadian Academy of Azerbaijani Dance. The teaching progressed as he graduated to become professor of dance at the university.
A discussion with Zarif is as wide-ranging as his subsequent research and performances – which have taken him through the Americas and across Europe and Asia. The talk may start with dance, but extends into most aspects of life and his aims are practical in an increasingly fractured world:
Dance is not about gymnastics, it is about life....I approach dance as a tool to exist, to contribute.
Only connect
His contribution is increasingly focused on making connections across cultures and bringing them together; this includes the differences in ways of thinking that Zarif identifies between the East and the West;
Science and logic have developed so much that intuition and the senses have been compromised....In the East survival has been by the intuition and senses, and the ideal is a medium. I don't believe one way is better than the other; I want a meeting so that both benefit.
This approach informs his teaching of dance, now to mainly westerners in Canada:
The way to interest them is the same as my grandmother taught me – by telling real-life stories.
Thus eastern dance is not presented as something exotic, it is presented as part of the universal human experience. Zarif is still researching its roots; he is planning another trans-Asia journey, from Mongolia, and travelling westwards:
I want to start with Turkic shamanic dances originating in Mongolia. As dance progressed westwards, across the countries of Central Asia, it became more sophisticated.
He believes that Sufism had its origins in shamanism, was transformed by its contact with Islam, and became more widespread. Dance, particularly that of the 'whirling dervishes', was developed as a metaphorical expression of the path to divine love, but also as a practice towards that state, music and rhythm helping to bring the process alive. These dervishes originated from the 13th century Persian Rumi, best known for his mystic poetry but who also believed in the benefits of music and dance. Dance is not approved of by some Muslims, but Zarif points to the prayer performed five times daily, with its ritual movements.
However, as mentioned, intuition and the senses are not all for Sashar Zarif; for him traditional dance is not, by itself, enough and anyone who has seen his choreography will recognise it as perfectly at home on the contemporary stage. Indeed, in 2005, he worked with Alim Qasimov, Azerbaijan's most celebrated khanende, to produce a solo dance interpretation of the singer's soaring mugham. The two artists, both open to development of traditional forms, produced a mesmerising performance which was demonstrably rooted in the past, owing much to the Sufi tradition, while communicating clearly to the present.
Pearls in the oyster
As for the future, well, as far as Azerbaijan is concerned, Sashar Zarif thought we should take a look at a promising boys' dance group. And so we set off on a dull January afternoon, to the Absheron peninsula. The town of Mardakan holds the grave of oil baron and philanthropist Haji Zeynalabdin Taghiyev and is home to Dendro Park, the summer retreat of another 20th century oil baron Murtuza Mukhtarov and birthplace of Sergey Esenin's 'Persian Motifs' poems. On the main road, just past the park, a large, classical building is set well back.
As we climbed up to the third floor, the distinctive sounds of traditional instruments: the breathy balaban, plucked tar, the squeeze of a qarmon (accordion) and the tapping of a nagara grew louder – and they were clearly being played live. The thriceweekly rehearsal was already in progress and nine young boys (aged 8-10) were being drilled in their exercises by Honoured Artist Khanlar Bashirov and assistant Ahmad Ahmadov.
The very first impression blew away any idea that this was some amateur group designed to keep boys out of mischief. The drilling was serious: the boys were not asked to do anything that their teachers didn't – and they were expected to get as close to Bashirov's level as they could. For an hour and a half the pace was relentless as they ran, leaped and turned through all the energetic moves expected of the male traditional dancer: two-footed jumps back and forth over a rope stretched the length of the room were exhausting just to watch. The boys' concentration was perhaps even more impressive; there was no hint of a thought unconnected to the task at hand.
Dancing for life
After the 90 minutes of 'warm-up', they ran off to change their sweat-soaked white T-shirts and black trousers. This gave us 15 minutes or so to get some background from Khanlar muellim. Born in 1957 and 37 years a dancer, he was a soloist with the nation's beloved singer Rashid Behbudov and also with the State Dance Ensemble. Before starting the boys' group he had trained the dance ensemble at the capital's Philharmonia. It seems that the move to this group in Mardakan had been a way to get back to basics and the freedom to do it his way:
This art is part of the nation's wealth – it needs attention, dedication and preservation. It needs support without the imposition of limitations.
In 2007 he auditioned 37 boys and chose 8, another joined later. He selected according to two criteria: physical ability and, of equal importance, character. The boys are actually paid a nominal amount each month and in return they are expected to behave as professionals. What else do they get out of it?
They have the opportunity to preserve and present their country's culture.... Each dance incorporates the music and traditions from four or five different parts of Azerbaijan. There is no need for words, the music, movement, expression and costume are enough.... The boys learn skills and lessons necessary for life – dedication, concentration and a purpose in life. At the very least their bodies and posture will be in a healthy condition.
Motivation and understanding are an important part of the process. Khanlar muellim aims to develop a solid professional adult ensemble with these boys; he takes care of their physical condition, checking on diet and posture, but the moral aspects and knowledge are as important:
I don't want people to be ashamed of who they are; this comes from not understanding their heritage, who they are....To be able to communicate the emotions of dance and create the facial expressions, they need to be trained and they need to understand the concepts.
Bashirov's insistence on rehearsals being conducted to live music is part of the same spirit of professionalism and maintenance of the culture.
The group gave no public performances for two years:
They had to learn the alphabet before they could read the book.
Since then they have earned the applause of audiences in Luxembourg (2009) and Belgium (2010); they hope to be in Paris later this year and will welcome further invitations.
After their short break, the boys reassembled in the hall in their fresh dance T-shirts and, while waiting for their teacher to finish his conversation with us, they.... well what would you expect of boys aged 8-10, left to their own devices? – right!... they quietly checked with each other the moves they were to do in the second half of the rehearsal.
The eagles fly
So we sat back and watched as the 'Azerbaijan Qartallari' – The Eagles of Azerbaijan – took off. They showed us how all that rehearsal came together in dance; in fact in 7 dances. The second half was at least as energetic as the first, and was as entertaining as it was engrossing. To be honest, even after watching the rehearsal, the precision, concentration, expression, exuberance, pride and pleasure on display was still astonishing; it was sheer joy to be there. From the comradeship of the circle dance Yalli, the solemnity of the rites of passage in Qazakhi, the playfulness of Chobanlar (Shepherds) to the pride of Bayraq (Flag) it was clear that these nine boys knew exactly what they represented. Please take a bow Melik Hasanov, Rahim Aliyev, Huseyn Huseynzade, Kamran Hasanov, Kamal Ibadov, Akber Abdullayev, Semender Asadullayev, Abdulla Kazimzade and Rashad Huseynli.
No one who witnesses a performance by The Eagles of Azerbaijan will forget them, their culture or the pleasure in life they pass on. We will happily pass on contact details - book them, now!