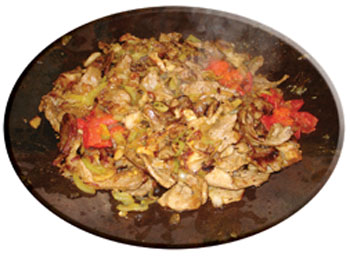 Pages 94-95
Azerbaijani cuisine is one of the oldest and richest in the world. Hemmed in on three sides by mountains and fanned on the other by the humid breath of the Caspian, Azerbaijan is a model of our planet's geography. The sea and diversity of terrain have created nine of the Earth's 11 climate zones here. This adds to the wealth of Azerbaijani cuisine, which has distinctive national traditions and techniques. The fragrances and fl avours of Azerbaijani food delight visitors from around the world.
The Azerbaij ani art of cooking is popular with other nations too. Azerbaij ani dishes, such as dolma, bozbash, bozartma, kebab, piti, plov, and saj govurma are popular amongst the neighbouring Caucasus peoples.
Azerbaij ani cuisine retains some of the old cooking methods. Copper or clay pots are traditionally used and give a distinctive fl avour to a meal. One dish which is always served in a special pan is saj.
Saj takes its name from a flat pan or griddle over hot coals.
saj can be made from sturgeon, lamb, veal or chicken.
Chef Ilkin Akper-zade shares the secrets of the dish.
For two portions: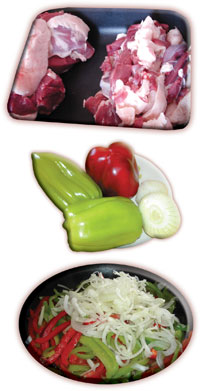 250 grams of lamb
300 grams of onion
saffron on the tip of a knife
half a teaspoon of thyme,
100 grams of clarified butter or ghee
two sweet peppers
one aubergine
one tomato
herbs
salt and black pepper to taste
Cut the meat into small pieces. Heat the butter in the pan and fry the meat for five to seven minutes until it is semi-cooked. Add the onion, pepper, saffron, thyme, salt and pepper, and fry everything for 10 to 15 minutes until done. Fry the aubergine and tomato separately. Place the ingredients on the saj with the cooked meat and onion in the middle and the vegetables at the side. In a restaurant the saj is brought to the table standing on a brazier. The hot coals in the brazier keep the dish warm for a long time.
Nus olsun! Bon appetit! Enjoy your meal!
If you would like to learn more about Azerbaijani food, call chef Ilkin on 050 403 07 01 or e-mail: ilkin930@rambler.ru