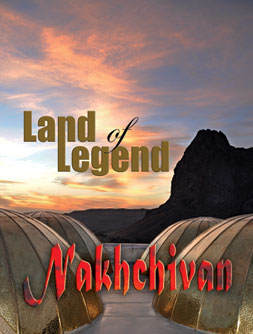 Pages 16-21
by Ian Peart
I really did not know what to expect when offered the chance to visit the Azerbaijani exclave of Nakhchivan. Cut off from the rest of the country by a Soviet decision to transfer the Zengezur region to Armenia in 1920, Nakhchivan was tucked away in a far corner of my mind's archive and so I supposed we would end up in a similarly dusty tail end of a place, probably withering away unexcitedly in enforced isolation. That was some failure of imagination.
If Azerbaijan's outline is an eagle flying beak-first to the Caspian Sea, then Nakhchivan is a fish swimming along the Araz river which separates it from the Iranian provinces of East and West Azerbaijan. The border with Iran is to the south and west; there is a small sleeve in the north-west, about 10 kms wide, the connection to Turkey. To the north and east lies Armenia. As for size, the republic covers about the same area as the English county of Norfolk, the metropolitan area of Rome, or the city of Istanbul. It has a population of about 400,000 – half that of Norfolk; Rome has 9 times more people and 13 million live in Istanbul. The variety – of everything - encompassed within the boundaries of Nakhchivan is little short of astounding.
Nakhchivan is an autonomous republic within Azerbaijan; it has its own Majlis (assembly), with 45 deputies, and sends 8 deputies to the 125-seat Milli (national) Majlis in Baku.
We were lucky in having a tour guided by the energetically helpful Gulbuta Babayeva, head of tourism in the Ministry of Culture and Tourism and thus we enjoyed certain privileged access. Such a small exclave, having a long border with a country with which it is still officially at war, is bound to be zealously security conscious, and tourists need to be aware of that. The wonders to behold surely make the occasional frustrations worthwhile.
Classical Capital
The capital is Nakhchivan City and first impressions were very different from the bustle of the Baku we had left behind. A population of 80,000, compared to Baku's 2 million or so, meant a great difference in noise levels – barely a car horn to be heard. The centre is modern in a largely understated way, with public buildings in the USSR version of monumental classical, and it is neat, tidy and compact, making it easy to get round the various sights. Those whose spirits are lifted by mountains will float through most of the republic and the capital itself is ringed by them; squint to the north-west on a clear day and the snow-capped cone of Agri Dag (Mount Ararat) floats as shimmery as its legend.
In the space we have, we can't do justice to the place, but hope to whet the appetite for exploration of an undeservedly little known fish in the great tourist ocean.
A carpet museum may be an unusual place to start, but an Azerbaijani carpet is not the kind you find in the usual western store; after all, it embodies the history, cosmogony and lifestyle of its practitioners, transmitted by them from generation to generation and providing them a collective cultural identity (UNESCO, see 'Snapshots' in our Nov-Dec 2010 edition).
The statement barely conveys the love and care woven into the material warming under your feet when you are welcomed into an Azerbaijani home. Nakhchivan's carpet museum has 3,000 of them. The homeliness of the exhibits contrasts with the squareness of their current accommodation, but choose one and gaze into the artistry of symbols that hold the history of a people's development. Or you can be academic about it and become an expert in the seven carpet schools. Anyway, you will understand why there were orders for Azerbaijani carpets from Renaissance Italy.
Leader's return
Classical monumental is perhaps more appropriate for the building which pays tribute to Nakhchivan's most prominent recent son. The Heydar Aliyev museum stands grandly before a square in which 80,000 thronged to welcome his 1990 return from Moscow following his split from, and condemnation of, the USSR leadership, particularly after the 20th January attack that Gorbachev launched against Baku. The museum tells proudly how this former high-ranking member of the politburo removed 'Soviet Socialist' from Nakhchivan's title and gave the national tricolour flag its second life.
The architecture most typically associated with Nakhchivan is, however, the Momine Khatun mausoleum. Its origins and occupant are not entirely clear, but it was probably completed in 1186 by order of either the Ildegizid Atabey [lord] Shamsaddin or his son Jahan Pehlevan in honour of a wife. This decahedral tower rises 26 metres in the west of the city; its brick-built construction, decorated with turquoise tile patterns and kufic script is characteristic of the Muslim architect Ajemi ibn Abubakr Nakhchivani. Originally part of a madrasa, it now stands in majestic isolation, some 8 metres shorter than originally constructed, with a reconstructed dome and a slight lean: the results of human conflict and subsidence. It is claimed locally to be the first mausoleum built for a woman in the east.
Ancient mariner
Our next stop was at an allegedly even older burial place – that of Noah? The site was traditionally a place of pilgrimage to honour the builder of the Ark and a turbe has recently been built there to replace one featured in a 1916 painting by local artist Bahruz Kengerli. There are many versions of the origins of the republic's name and one has it that it derives from Nuh daban – Noah's heel – where Noah first set foot on dry land after the flood. This is, for sure, a land of legends....
A receding sea would surely leave traces behind and so it was that the evening found us in a salt mine. Older western minds may weep pity here for our fate; such places were part of the nightmare stories told us about the Soviet Union. This salt mine, however is now a place of voluntary retreat. Duz Dag [Salt Mountain] is just that. Walking a passageway 360 metres into the heart of the mountain just to the north of the city, we found ourselves in a sanatorium: comfortably equipped private rooms (or dormitory for economy class), with natural salt crystal floors and salt-rock walls, temperature a constant 18o – what more could the asthma/bronchial sufferer want in the way of healing atmosphere for an overnight, or longer, stay? Accommodating up to 350 people, they say it does very good business in the summer (very hot in these parts) – a snip at 40 manats (10 manats if referred by a doctor) for 12 hours' peace, quiet and salt-air. Salt is still one of Nakhchivan's main exports; as we witnessed, there are literally mountains of the stuff.
Of snakes, fruit and a garden town
As Gulbuta khanim planned our itinerary, she had been extra considerate in treating our lungs on the first evening, as the second day was one of exclamation at breath-taking scenery. From the city we headed south-east to the fish's gills at Julfa and then east to its mouth at Ordubad. The drive to Julfa gives a closer view of the jagged mountains seen from the city. If Momine Khatun's mausoleum is the republic's man-made symbol, then Ilan Dag – Snake Mountain – must be its natural trademark. Its distinctive cleft peak, naturally, has legend attached to it: as the flood began to subside, Noah's Ark crashed through the surfacing summit on the way to Mount Gamigaya, east Nakhchivan, in a reversal of the route normally related in the west, which has Agri Dag as the final landing.
From Julfa to Ordubad, the road follows the borderline River Araz; on the left dramatic, dry, sharp-toothed rocks, on the right the flowing Araz and, beyond, the smoother, high mountains of Iran. It is a highly photogenic route. Ordubad itself has an end-of-the-line enchantment and rewards a sauntering walk through the winding streets. Wedged as it is between Armenia and Iran, the town's relative isolation leaves it with that unspoiled look so many tourists yearn for. It is a garden region - its main production is fruit and there is talk of reviving its previously renowned silk industry.
Unfortunately the Mark Elliott-recommended history museum was closed for refurbishment, so we headed for the house museum of Yusif Mammadaliyev, another of Nakhchivan's many eminent contributions to Azerbaijani history. Born in 1905 he spent his early years in this house until an Armenian attack drove his family across the river. He survived turbulent times to work as a highly creative petrochemist (synthetic rubber, explosives and aviation fuel) and teacher to finally become President of Azerbaijan's Academy of Sciences. The story is told simply and well and then you walk out onto the balcony and stand in awe before the view over the orchards and back along the Araz river valley. There was an immediate proposal to shift our magazine's office to Ordubad....
Mammad Said Ordubadi's house museum tells another fascinating life story. Born in 1872, the son of a poet and teacher, he also wrote poetry, contributed to the progressive satirical magazine Molla Nasreddin (founded by Jalil Mammadguluzade from Nakhchivan City) and wrote on the Armenian-Muslim clashes of 1905. He was in Iran (South Azerbaijan) during the Constitutional Revolution there, he wrote novels (Foggy Tabriz) and librettos (for Hajibeyov's Koroglu among others); he outraged the mullahs of Julfa who tried to have him killed and he was arrested in Baku and exiled by the tsarist authorities, before joining the communist party in 1918.
It is said that the first mosque in Nakhchivan was built in Ordubad, but on the back of the central mosque now there is a sun and lion symbol, which may be associated with pre-Islamic Zoroastrianism, but which somehow survived Soviet rule. You have the feeling that there is a certain independence of spirit about this town of about 10,000 people.
Scents and Sensibility
Strolling through the twisting streets, you notice that quite a few doors have two knockers on them – different in size. In former times a male visitor was expected to use the larger one; its tone would inform the women indoors to cover before he entered. Then you turn into a yard and notice steps going underground. They lead down to a channel of running water, above the channel are deep shelves hewn out of the rock – water supply and two-storey food cooler in one excavation. Of course we tested and tasted... cool and fresh, as you'd expect.
Even so, the best was still to come. Invited to eat at a local restaurant, we wondered if the boasts about Ordubad food could possibly be true – and the jokes, "if the lemon costs less than 2 manats ($2.5/ €1.8) it's not from Ordubad."
We had, in fact, begun to wonder about the joke, as an earlier stop at the chaikhana (tea house) in the shady central square had produced jam but no lemon with the tea – could the Ordubad species really be such a precious rarity?
Lunch began with mash bozbash – to describe this dish as bean and meat stew is almost an insult. I'm trying hard here to restrict the superlatives, but as a whole the meal was the freshest and tastiest I can remember, and every ingredient in the mash bozbash introduced itself individually and in the most delicate fashion to the tastebuds. Bread and herbs as new as tomorrow, crumbly sheep's cheese and aromatic honey... We were offered araq (home-made vodka-like spirit) and wondered why it was whisky-coloured. Distilled from mulberries (former staple of the silk industry), walnut membranes are soaked in it to give colour and flavour – another first, and highly recommended. Tea was introduced, inquiries made about lemons and finally they were produced. I hadn't actually sniffed a lemon before, and delicate again seemed to be the word for the fragrance of an Ordubad lemon.
We pulled away from Ordubad with extreme reluctance. As late afternoon shadows lengthened atmospherically across the clefts and folds in the mountains, our 'photo-stops' began to try the patience of our hosts, who were urging us on to one more site before darkness fell. In the end, the timing was perfect....
In our next edition: Sufis, shepherds and Sari Gelin; subotniks,spring and snow; sleepers,sulphur and separation - two more days in Nakhchivan