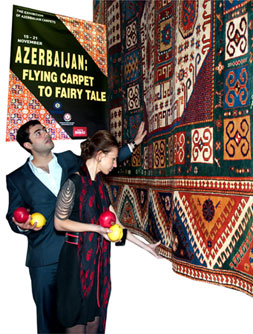 Pages 24-26
by Fiona Maclachlan
One particularly chilly evening in darkest mid-November, a rather privileged group of invited guests queued up in London to enjoy the carpet ride of their lives. The giant posters flanking the entrance to the experience said it all - Flying Carpet to Fairy Tale - and immediately on entry this carpet flyer knew the ride was going to be something rather special. Greeted by hosts and hostesses in gloriously colourful Azerbaijani national costume, I was offered a choice of champagne or the very enticing and much prettier sherbet drinks. I chose the rose sherbet and was immediately transported far away across land and seas to the exotic land of Azerbaijan.
Guest after guest passed through into a vast room lined with giant posters showing scenes from Azerbaijan, together with a rolling picture show at one end. Soon there was little room to move, but glimpses of famous faces indicated I was in the most excellent company. Kindly and enthusiastically, we were introduced to the event by the Azerbaijani ambassador to the UK; we were then treated to a relaxed and warm-hearted welcome from Leyla Aliyeva, daughter of the President of Azerbaijan. What a lovely lady she is, as she made it clear how comfortable and at home she feels in London. She even explained that she had spent her schooldays just around the corner.
In this atmosphere of relaxed bonhomie, guests mingled and chatted as we followed each other downstairs to the main exhibition area, and there I found myself immersed in all that is magical about Azerbaijan.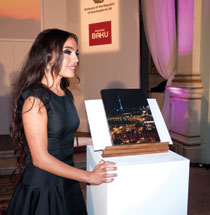 Leyla Aliyeva welcomes her guests
Take off...
Subdued lighting enhanced the atmosphere of luxury and opulence as we lined up for what turned out to be a magnificent feast of the best of Azerbaijani cuisine. Colourful carpets flanked the walls, and the displays of traditional, intricately carved and shaped copperware were eyecatching. Trays of caviar were passed around, and I chatted to guests – 'hi, I'm from BMI' (Fly me? I fly you), 'hello we work at Christies and we know all about magical carpets', and 'hello I'm from Azerbaijan, I work in the embassy here, I'm from Qazakh, you know it? You do?'
The dolma was the best, served with qatiq (yogurt) of course, but the sturgeon was tasty too, and the levengi was also excellent. The variety of national dishes, savoury and sweet, enhanced the illusion that I was in Azerbaijan.
Of course the music, traditional and played by a group, together with the beautiful and amazing singing, also made me feel like I was back there. The musicians were seated among us, and the chairs around were low, chaikhana (teahouse) style, and the beautiful Leyla sat before my eyes, listening to the music and visibly enjoying the journey.
Maybe, after many (including me) had left, and there was more room, the dancing would have begun.
...back to earth
The ending of this fairy tale ride for me was the seemingly abrupt exit out onto the dark, cold, hard London pavement and the tube home. Oh to be in the real Azerbaijan!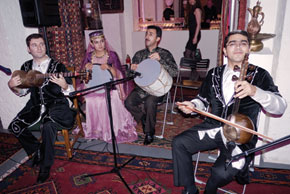 Tar, voice, nagara and kamancha serenade the flyers
I was accompanied on my carpet ride by my husband and my son Alexander, and also by my special guest Bronya Woodes Roger, who is currently studying International Relations in London. I think Bronya's most used word of the evening was 'amazing'.
The exhibition of Azerbaijani carpets, held at 1 Marylebone in London in November (15-21), was open to the public (free) for the week following this launch event. A new book, a stunning coffee table picture production, 'Azerbaijan' (in English) was also launched.
The event was spectacularly well organised by the Heydar Aliyev Foundation. For a glimpse of the sights you might see if you take a flight, carpet or conventional, to Azerbaijan, try this:
http://is.gd/ihOdb