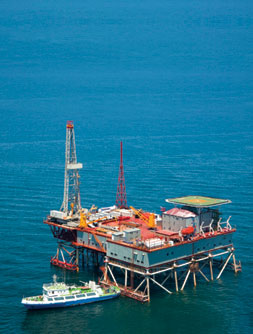 The Umid platform
Pages 14-16
by Murad Mehdiyev
Since the signing of the 'Contract of the Century' in 1994, Azerbaijan has achieved significant success from implementation of the new oil policy. A branched system of oil and gas pipelines was created to export the oil and gas produced to world markets.
Azerbaijan's oil is now carried west and north by the Baku-Tbilisi-Jeyhan, Baku- Supsa and Baku-Novorossiysk pipelines; its natural gas is conveyed via the Baku-Tbilisi-Erzurum main gas pipeline.
Once a recipient-only of investment, Azerbaijan has used its oil and gas incomes to become, itself, an investor. The State Oil Company of the Republic of Azerbaijan (SOCAR) has been investing in foreign investment projects since 2007 in order to establish greater involvement in world energy markets.
SOCAR representations have been opened in regional countries as well as in the heart of Europe, even in the Far East. Besides Turkey and Georgia, SOCAR is established in Romania, Great Britain, Sweden, Iran, Ukraine, Austria and Kazakhstan. In the long run, this will be a powerful means of increasing incomes from its oil and gas.
Head of State Ilham Aliyev has stated that SOCAR is now among the world's leading energy companies and noted that the consolidation of oil income will open broad opportunities for the development of other fields: "The State Oil Company of the Republic of Azerbaijan is now an international company. It has great potential and an extensive infrastructure. The State Oil Company of the Republic of Azerbaijan.... is going to expand its capacities in the future and implement successfully the new projects necessary for our country".
Umid - Independent investment and exploration
Investment in exploration of new promising structures in the Azerbaijani sector of the Caspian Sea is estimated at about 2.76 billion AZN, or approximately 3.5 billion US dollars. New wells will be drilled in the following fields by 2015: Umid, Babek, Absheron, Nakhchivan, Zafar, Mashal, Karabakh, Ashrafi and Dan Ulduzu. This investment will be from Azerbaijan's own resources. This means that the country will take greater profit from the operation of the new wells. It should be remembered that according to calculations, from the contract of the century alone, Azerbaijan will profit by 200 billion US dollars. However, if oil prices continue to rise, this figure will also rise accordingly.
In this context the Umid (Hope) field is something of a first. Azerbaijan, for the first time in the history of oil production, undertook exploration work in this field relying purely on its own resources, capacities, equipment and the work experience gained over many years. The Umid field is the second largest gas field, after Shah Deniz, to be explored during the independence of Azerbaijan - there are 1.2 trillion cubic metres of gas reserves.
This field is located 75 km from Baku and 40 kilometres offshore. The first geophysical work was carried out in 1953 and later, in 1972, some improvements were made. After that, between 1977 and 1992, 9 wells were drilled. However, none of them brought satisfactory results and it was not possible to work the field. In July 2009 SOCAR established the Umid Co Ltd to work on the offshore structure. SOCAR has an 80 per cent share; 20 per cent belongs to Nobel Oil Exploration & Production.
Oil production is carried out in three stages: exploration, production and processing. If there is no result at the exploration stage and the wells drilled are considered unpromising or the money invested in drilling wells is equal to or more than the expected profit, then all processes are stopped and exploration is terminated. For example, millions were invested in the Absheron field covered by the contract, but drilling turned out to be dry. Nevertheless, the field is thought to have enormous stocks. For this reason, other companies began to show interest and a contract was concluded on the Absheron field.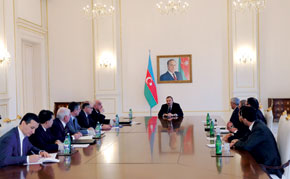 President Ilham Aliyev meeting SOCAR's leadership at the launch of the Umid Caspian Sea gas field. 24 November 2010
Shortly after the start of exploration of the Umid field, it was established that there was great potential for gas. Khoshbakht Yusif-Zadeh, first vice-president of SOCAR, notes that "the Umid field has 200 billion cubic metres of gas and 30-40 million tons of condensate. According to the latest information obtained from this well, together they constitute 250 billion cubic metres. At the same time, while there are 2.6 billion cubic metres of con- firmed gas reserves in Azerbaijan, for the future there may be at least 2 trillion cubic metres of potential reserves. It is believed that the Araz-Alov-Sharg field has 700 billion cubic metres of gas reserves, the Asiman-Shafag field has 500 billion cubic metres, the Babek, Nakhchivan, Absheron, Zafar and Mashal fields each have 300 billion cubic metres of gas reserves.
All wells in the Caspian Sea have been drilled by floating drilling units of the Khazar type. These units can operate to a depth of 60-70 metres. These floating units are usually removed from the site after drilling work is finished. At first SOCAR intended to use floating drilling units in the Umid field. Later it was decided to economise and drill from a platform. At the same time the installation of a platform, initially planned for 6 wells, carried some risk. By SOCAR's calculations, drilling the Umid field, including the construction of a fixed platform, would cost the company 60 million AZN (at current exchange rates –74.7 million dollars). Although drilling operations were carried out in complicated circumstances, the target was achieved, the fifth layer was opened. The presence of a fifth layer meant that there would be 6th, 7th and 8th layers. SOCAR is currently busy opening the 8th. Results prove that the Babek field is twice the size of Umid. As the Babek field is located lower in the structure, it has twice the reserves. In other words, if Umid holds 200 or 300 billion cubic metres of reserves, then Babek will have 400 or 600 billion cubic metres. It is believed that there are at least 7 gas reservoirs of large volume in the section of the Caspian Sea belonging to Azerbaijan. SOCAR currently has one well in the Umid field. It was drilled in sea depth of 170 metres. In all, the exploration well goes down 6500 metres.
Hope for a longer future
The success of the Umid gas field has increased Azerbaijan's importance for European energy security. Europe's desire to reduce its energy dependence on Russia has set its sights on the Caspian Sea basin. The West now expects much of Azerbaijan.
At current market prices Umid is expected to bring in 40-50 billion US dollars. This is three times Azerbaijan's state budget. The project also ensures dominance of the region's gas routes. This issue was on the agenda of the recent summit of presidents of the Caspian Sea littoral countries in Baku and the President of Turkmenistan supported the piping of gas across the Caspian Sea and through Azerbaijan to Europe. Azerbaijan has a leading position in the Nabucco and AGRI projects as well as in other export routes, including those through Russia and Iran. It will now be possible to export annually 10 billion cubic metres of additional gas for a period of 25 years. Additional gas exports of such volume would necessitate an additional gas pipeline after 2020. It should be noted that in terms of gas reserves, Russia is the leading country, Iran is second and Turkmenistan is third. However, Europe has limited access to Turkmen gas, Iran faces political obstacles in conveying its gas to world markets and Russia has a monopoly in European markets. So the Umid field is increasingly significant as Europe seeks additional suppliers.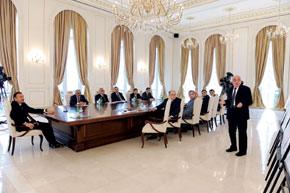 First Vice President of SOCAR, Khoshbakht Yusifzadeh, speaking at the meeting on 24 November 2010
Certain forces are trying to obstruct Azerbaijani participation in Nabucco even though it is crucial to its implementation. The Azerbaijan government is edging closer to securing transit of this pipeline across its territory. Turkmenistan and Kazakhstan will be interested in exporting their gas by Nabucco. It should be noted that the 200 billion cubic metres of reserves in the Umid field would be enough to cover the cost of the pipeline over 7 years. With other large gas fields like Shahdeniz and Babek, Azerbaijan will be able to export large amounts of gas to Europe. Azerbaijan produces 50 million tonnes of oil and 30 billion cubic metres of gas annually. According to the experts, if oil and gas production proceed at the current rates our oil and gas resources could run out in 30 and 66 years respectively. In this context, the exploration and operation of new fields means that the period before production peaks will be extended by more than a decade. Further productive fields will certainly be discovered.
President Ilham Aliyev said at the meeting devoted to the opening of the new field: "I am very glad that Umid has started operations during our period of independence. If it had been opened in the 1950's or 1970's the gas might already have been used. So this is historical justice. Azerbaijan has already contributed so much to the world's oil industry. If not for Azerbaijani oil during the Second World War, the consequences of the war would have been very different. Preserving these fields untouched is Allah's gift to us. Today these fields serve an independent Azerbaijan and will, over the coming decades, also strengthen our country."
About the author:
Murad Mehdiyev is a lawyer in SOCAR's Investments Division.