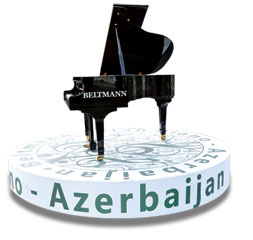 Pages 46-49
by Fiona Maclachlan
"Come and see my new piano factory!" isn't the usual chat-up line you expect when you're having a quiet, late evening meal in rural Azerbaijan, in Qabala, some hours from the capital city, Baku. This was summer '09, when I was there with my friend Judy. We had been out on the archaeological dig at the Old Qabala site and, somewhat exhausted from lots of travelling, were absorbed in chatting about the amazing time we had had there.
Taken aback, I remember thinking 'Are you serious, just who are you?' then, furthermore, we were assured that this was no ordinary piano factory, that it was going to make the very best pianos in the world. A bold statement indeed!
At the time this seemed incredible but hey, this was Qabala, and if you haven't been to Qabala and its beautiful countryside then it's time you did. Some amazing things are happening here. Investment is continuing apace and the commercial and tourism infrastructure is quietly, and largely unobtrusively, rolling ahead with added confidence resulting from the improved road links from Baku. Changing days.
Sadly, very sadly (I was quite gutted really), I simply had no time during that stay for a piano factory visit, but vowed to come back someday soon to see it.
You're going to be amazed
I've kept up with news of the factory through its director Dmitry Yablonsky (internationally renowned cellist and orchestra conductor), who helped instigate the whole idea, and who had so unexpectedly ambushed us in Qabala last year. (Furthermore, Dmitry had no idea then that he had stumbled upon someone who writes magazine articles about the good things going on in Azerbaijan….)
He collected me from my Qabala Qafqaz Resort Hotel during the 2010 International Music Festival there - thank you so much for that during such a busy time, Dmitry - and drove me down to the village and the factory. "You're going to be amazed", I remember him saying.
On arrival we found a hive of activity; a master class for young Azerbaijani music scholars, being run by London's Royal Philharmonic Orchestra and the British Council, was spilling over into the day to day life of the factory. I was introduced first to Franz and then Hans who would show me around - Dmitry disappeared to put in some practice for the following day's concert.
Through the factory we went and out the back to the 'beginning', where the steel was lined up. And Hans begins to explain the whole process, explaining all the while why he has chosen to do a procedure this way or that.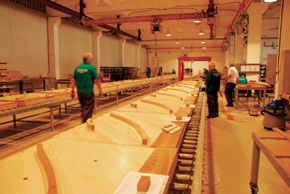 "An impressively tidy and well-organised factory"
Piano pedigree
Hans, of Dutch origin, has 100% piano making blood. Confident and energetic, he has worked in piano factories across the world from Germany to China, and one gets the impression that he knows absolutely everything about piano making, and a lot about working and living in different parts of the world as well.
This piano factory is currently his primary focus and he is tackling the challenge head on. The determination to make this project succeed has led him to seek and at times invent new and better processes and procedures, both to speed up the manufacture and to be certain of the quality of the finished product.
Hans does not accept that any task is impossible. Rather, he thinks of a way - somehow - to achieve his goal. As a result, he is immensely proud of the steps and stages of the piano-making process that he has designed himself. Some of this has to be seen, even experienced, to be believed, like the heat in the walk-in oven used in preparing the steel frames.
And so, from steel from a factory in Baku, wood from a carefully selected forest in Europe (Hans is particular about the characteristics of the wood he uses), first class felt from England, and so on, each piano is painstakingly hand crafted. Precision and accuracy are paramount, Hans demonstrates and explains this as we go round the factory, emphasising that "we use the best raw materials, the best available parts and the best mechanisms".
Pride in Qabala
Time and time again, as he explains each stage of the process, his enthusiasm for the way the local Qabala workforce has picked up the techniques is impressive and heart-warming. Men and women are treated equally, with girls trained as fork lift drivers for example. Just look at what they can do.
With pride apparent all the way, Hans showed me the complete process, through an impressively tidy and well organised factory.
Finally, in the show-room, Hams demonstrated the end product. It sounded great to me but, far more importantly, note that Dmitry's world famous pianist mother, Oxana Yablonskaya, is also involved with this venture. If the pianos are pleasing her (they are!) then they must be good. "We're not quite at concert standard grands yet," Dmitry had told me, "but we will get there soon."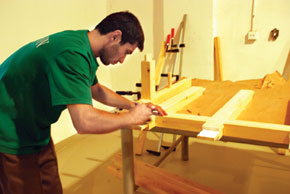 Each piano is painstakingly hand crafted
The piano factory is making a world of difference in Qabala. Young people are being trained for a fair salary and given opportunities for personal advancement in a way that was previously impossible here. They don't have to travel to Baku to find work, which means the family stays together – a matter of great importance to Azerbaijani people.
Finishing up in Dmitry's upstairs office, I laugh as I enter, seeing the rather vast floor space covered with a selection of beautiful Azerbaijani carpets, and our conversation is sidetracked into admiring and discussing how special Azerbaijani carpets truly are.
Maybe one day soon the pianos from this factory will also be widely admired and will be in many homes both in Azerbaijan and throughout the world. If you're in the market for one then take a serious look at what these guys are doing. I don't think you'll be disappointed.
Look out for marketing information and a website, currently being developed.
Key facts
▪ The pianos are manufactured under the Beltmann brand name – Johann Beltmann was a little known piano making perfectionist – and Hans' great grandfather.
▪ The factory is aiming to produce one thousand pianos in its first year, two thousand in its second year, three thousand in its third year and so on.
▪ Currently, 112 people are employed at the factory, carefully selected from the ranks of Qabala's unemployed, and all receive specific, on-the-job training.
▪ The factory is already expanding rapidly (doubling in size) and an extensive training facility is being installed.