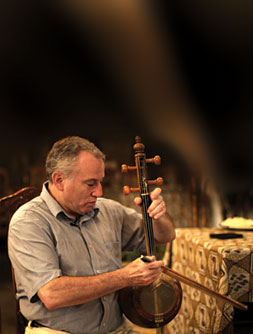 Pages 36-39
There is a sometimes elusive magic about Azerbaijan. We have known expats come here and leave unimpressed – usually those who explore no further than the nearest cafe or bar. Those for whom the unfamiliar is a source of excitement rather than fear or loathing, can get very enthusiastic indeed.
One such is Jeffrey Werbock; we have written before about his special talent, but we wanted to know more about how an architectural lighting specialist, originally from Philadelphia, came to be probably one of the best known Americans in Azerbaijan. We met up with him during his recent visit to help make a documentary film for The European Azerbaijan Society about the country and its culture.
Jeffrey has worked for over 30 years to study and perfect his skills in playing Azerbaijani mugham music; he delights even discerning locals with performances on the tar, kamancha and oud. But this time he was all fired-up about carpets, and just had to get this off his chest before we could get round to the music. This happens a lot in Azerbaijan; once the bug has bitten, just go with the flow and there is invariably a fascinating outcome – like the roads, rarely straight but usually with something interesting just around the next corner.
A surprise in store
So, Jeffrey took us back a few decades – already with an interest in the beautiful antique carpets from this region, he was puzzled as to why they were always called 'Caucasian', when the vast majority actually came from Azerbaijan. The story seemed to be that many of the carpet dealers in the past in the USA had been Armenian and had labelled the carpets 'Caucasian' because, for them, Azerbaijan was not a 'worthy' provenance.
"Then one day, four years ago, I saw this gorgeous Azerbaijani carpet in a storefront, not far from home in Philadelphia – and it was new, not antique. I was puzzled, because I knew that Azerbaijani carpets were magnificent until the Bolsheviks arrived, then the quality plummeted – I knew there were no post-Bolshevik carpets worth looking at."
He had a bigger surprise when he went into the shop to ask for more information. The owner, Richard Rothstein told him, "It's an Azerbaijani carpet."
Jeffrey did a little research and found that the carpet had come from the Azer Ilme company, founded in 1996 to revive and develop the country's tradition of carpet-weaving. He also managed to persuade Richard to describe the provenance of 'Caucasian' carpets a little more accurately on his website, as you can see on:
http://www.richardrothstein.com/caucasian-rugs-persian-rugs.html
We had to move onto the music which originally made such an impression on Jeffrey Werbock: this is a compliment he has repaid by learning, playing and promoting it to great effect. He has progressed sufficiently to impress home-grown practitioners, which takes some doing: the result of natural talent and sheer hard work – 35 years of practice. His father was a singer, his elder brother plays guitar and Jeffrey himself learned piano and flamenco guitar – he also liked singing for occasions like his bar mitzvah.
The elusive Mr Z
His introduction to the music of this region came after he had moved to Los Angeles. Once, some friends were listening to Jeffrey's own 'moody' music and one of them said that he just had to meet 'Mr Z', an old man who played an even older instrument. Intrigued, he wandered the streets of the neighbourhood inhabited mainly by Middle Eastern immigrants, asking if anyone knew a 'Mr Z' who played an old instrument. Finally he tracked down the man's English-speaking son and got permission to visit. The east began to work its magic:
"A mysterious feeling came over me. I felt time was slowing down as I walked to the apartment. I had a feeling that I was about to meet my destiny. I had no reason to feel that. It was a very modest residence. I felt I was entering a world of great antiquity – a live museum."
'Mr Z', a small, compact man in his sixties, with craggy face and sad eyes proved to be Zevulon Avshalomov, from Derbend in Dagestan. The 20 year old Jeffrey Werbock was impatient to hear the music that had been recommended, but was reminded by the son of the difference in cultures. Mr Z was, anyway, convinced that it would be a waste of time playing for the young American. However, after the requisite number of cups of tea and polite conversation,
"Mr Z got up with such reluctance and resignation...." Jeffrey imitates the weary shuffle over to the cabinet to pull out the 'old instrument'....
"It was a kamancha. I thought, 'This looks right, it's the violin that's weird'. Until then, I didn't know that I was a natural-born orientalist. He tuned up and dragged the bow across the strings. I was pinned to the chair, I couldn't move. He took me for such a ride – the sheer intensity!"
When the power of speech returned after this private performance, there was a brief exchange,
"Would your father be willing to teach me?" – pause, translation, reply – "Absolutely not!"
Regular social visits over several months brought no breakthrough,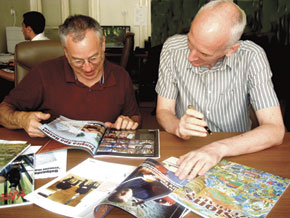 Interest in all things Azerbaijani
"Until I bought a kamancha, then Mr Z accepted that I was serious – the Eastern concept, 'Don't say - do!' Then he realised he wouldn't be wasting time."
It turned out that Mr Z was mostly self-taught himself – he had spent just one year in Baku – and he played a relatively simple version of Azerbaijani mugham,
"Thank goodness! If my first exposure had been to outrageous nuance, I would probably not have had the nerve to try to ascend the mountain."
As it was, while Jeffrey had a good enough ear to hear and replicate the microtones used in mugham, it took him 2 years to play with accurate phrasing, syntax and timing. One of the most important things he picked up from his tutor of nearly 15 years, was the emotional intensity of the music:
"I understood (later) that MrZ's music was an immature version of mugham, I could hear the gap between his playing and that on Melodiya records, but even some complex mughams did not have his intensity. I wanted authenticity – an intonation without 'accent'". Although his 'master' did not play tar, he encouraged 'disciple' Jeffrey to take up the instrument – the oud was to come later.
Coming home
The first direct musical contact with Azerbaijanis came in 1988, when singer Zeynab Khanlarova toured in the USA, with Zamiq Aliyev playing tar and Adalet Vezirov on kamancha – the musicians were invited back to Jeffrey's apartment and were somewhat surprised to walk into a room bedecked with Azerbaijani carpets and instruments. A year later the tour was repeated and featured the American devotee in two of the concerts. A few months later Werbock was in Baku, and surprised to find himself recognised – the Washington concert had been televised. An American singing the perennial Azerbaijani favourite 'Deli Jeyran' in duet with Zeynab Khanlarova was certainly something to be remembered by the still-Soviet audience.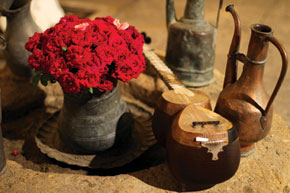 Apart from his original exemplar of mugham intensity, Zevulon Avshalomov, and Adalet Vezirov, who opened up the wider world of mugham, Jeffrey also learned much about kamancha technique from Imamyar Hasanov, an Azerbaijani now resident in the USA.
We could not let the chance slip to hear his music and went along to filming at Baku's Mugham Club. The converted caravanserai was the perfect setting: as always, a well-laid Azerbaijani table and walls redolent with the age-old passions being bowed from the strings of a kamancha.
Giving concerts and lectures across the USA and Europe, as well as Azerbaijan, Jeffrey Werbock is fiercely devoted to the promotion of Azerbaijan culture – including carpets, as we discovered! To see why, try this site for carpets http://www.azerilme.az/en/index.php For the man and the magic of Azerbaijani mugham on oud, tar and kamancha, try http://www.youtube.com/watch?v=rRS38BJ6ngg