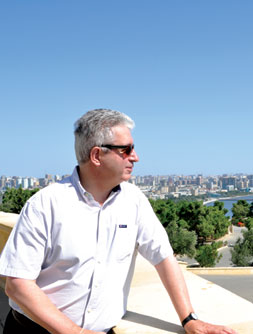 Pages 26-29
'Visions of Azerbaijan' and The European Azerbaijan Society were very fortunate to welcome a guest as experienced and entertaining as Patrick Jephson in the latter part of September. Patrick has been a man of many parts; certainly the one with greatest impact was as Private Secretary to Diana, Princess of Wales. Before that he was a navy officer and since then he has written books, written and presented television documentaries, contributed to current affairs programmes and contributed articles to a wide range of the European press.
He is certainly a man of the world, having travelled widely, but had somehow contrived to miss out on this corner of it. We were naturally keen to hear his views after he had covered all points of Azerbaijan's compass and he began with a summary, "Azerbaijan is a country for all the senses"
before reeling off a myriad impressions, including....
Ganja (West)
– "A fabulous variety of architecture – a mixture of Tsarist, Soviet and Post-Soviet. The hotel quarter is very romantic... and the central square. I went to a service in a Russian Orthodox church with its clouds of incense. It was an extraordinary testament to Azerbaijani plurality and was particularly heartening.... It also added to the texture of the country; there are layers of Russian culture within the Azerbaijani cake."
Qabala (North)
– "I remember trying to find Old Qabala along the country roads, then we saw the two ancient towers. Listening to the river and the scent of the herbs in the meadows; the orchards and the sheer variety of fruit. It was a place to think."
Lenkeran (South)
– "A low-rise, seaside town, with beautiful public spaces. A leisurely pace to life and an atmospheric museum. The tea factory is state of the art and uses the local crop and the skills of local people."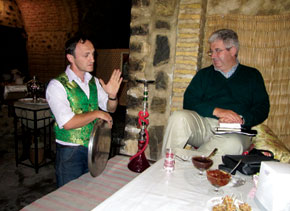 The tea house, Caravanserai Hotel. Sheki
Lahij (East)
– "I took a moment to sit in the main street and enjoy the tranquillity. An old man came up to me and chatted away. He was full of the wish to share his history. This summed up for me the dignity, hospitality and open-heartedness I met here.... As the school closed for the day and the children came along, smart in their uniforms, their friendship with the old man was clear. They seemed a modest generation and I can't help but be optimistic about them. This closeness between the generations has been lost in the west. As it moves forward, Azerbaijan must be careful to retain the best of its dignity, respect and the values held in common."
Baku (Capital)
– "As a writer, I was incredibly impressed by all the statues to the poets and writers. Fakhri Khiyabani (Baku's cemetery for the great and the good – ed) is a work of art for its monuments. The sense of national pride focused on creativity is very positive and good."
In Baku, Patrick also visited a school for 'Internally Displaced Persons'. These are people who were forced to flee from their homes in Karabagh and surrounding regions by invading Armenian forces – they are not recognised by the UN as refugees, because they are still in their own country i.e. they have not crossed a border.
"There were people from Khojaly (the site of the dreadful civilian massacre during the invasion in 1992).... I was intensely moved, they just want to go back.... I have enormous respect for the head teacher of the school...."
Returning to the theme of Azerbaijan's appeal to the senses, Patrick was also enthusiastic about the tastes to be experienced here. He had already mentioned the variety of fruit but as we sat down for a lunch in the atmospheric, open-air Karvansaray restaurant in Baku's Old City, he was quick to order a succulent 'lula' kebab – minced meat barbecued on a skewer.
"This" he said with obvious relish, "along with the fresh herbs and fruit, is my kind of food."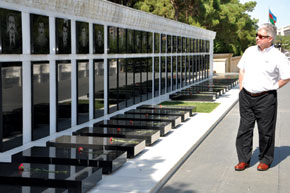 Avenue of Martyrs – the graves of those killed on 20th January 1990 and in Karabagh
Taste buds satisfied, he added that the eye was pleased, too....
"I would also comment that Azerbaijan is, shall I say, well-endowed with genes – I did notice some very beautiful women!"
.... as well as the intellect, via Kurban Said's wonderful historical romance, 'Ali and Nino', set in Baku almost 100 years ago:
"I'm hooked on it" he admitted, as we walked through the Old City speculating on which was Ali's house (we thought near the Double Gates featured in 'The Lions Guarding Baku', Fuad Akhundov's article in our last edition).
Azerbaijan itself may become an addiction for Patrick Jephson; we hear he's scheduling a return visit.