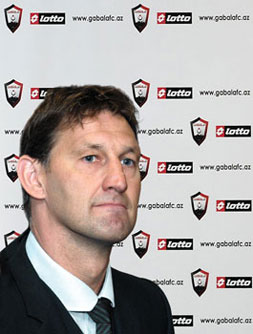 Tony Adams, English football legend and new head coach of Gabala Football Club
Pages 14-17
In May this year, Qabala Football Club caused something of a sensation in Azerbaijan and further afield by announcing the capture of English footballing legend Tony Adams as their Head Coach. With him as assistant came Gary Stevens.
Tony Adams played more than 650 games for his club, Arsenal ('The Gunners'), and was their captain for 14 years, four times as champions of England. He played for England 66 times. He has previously coached in Holland and managed two English football clubs. Gary Stevens was a player with Tottenham Hotspur and also played 7 times for England. He was recently a coach with English club Charlton Athletic.

Qabala FC was only founded in 2005 and finished 6th this year in Azerbaijan's 12-team Premier League, but there is already talk of targeting the group stages of the European Champions League (Azerbaijan's champions currently have to negotiate two rounds of qualifiers before that stage).

To accommodate this astonishing ambition, construction work has also begun on a new complex in Qabala comprising a 14,000-capacity stadium, training facilities including eight practice pitches, gym, swimming pool and indoor sports hall, as well as a hotel and shops. The complex is due to be ready for the start of the 2011 season.

Qabala FC President Tale Heydarov gave 'Visions of Azerbaijan' an exclusive interview, telling us why a celebrated former captain of England is now coaching in the foothills of the Caucasus, and about his aim to improve footballing skills and facilities across the whole of Azerbaijan.
What made you choose Tony Adams as coach for Qabala?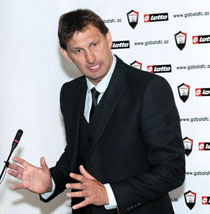 Tony Adams speaking at the presentation
The search for a new Head Coach was instrumental to our plans and vision. It was essential for the club that the person had almost "unique" qualities both on and off the field, including a stand-out European pedigree. Having decided what the criteria were we swiftly went about scanning the target market, filtering an initial shortlist of twelve possibles down to a strong list of three probables. Tony Adams was on the short list.
Tony was an outstanding candidate on many fronts, although he didn´t possess the coaching / managerial experience that others boasted. Tony oozes a passion for and knowledge of the game second to none, and his CV screams loyalty, dedication, leadership and a winning habit. He has never been away from football following his retirement as a player in 2002, and has had both good and bad coaching / managerial experiences since. Tony truly believes in building from the bottom-up and developing a dynamic and robust football structure that will deliver, first of all, success, but also longevity and sustainability for Qabala FC. He is young, enthusiastic and has everything ahead of him. He has excellent communications skills and is a living, breathing inspiration to all around him. He has achieved the highest coaching qualifications in football and his appetite to be the best in everything he does is clear to all.
What are the biggest challenges facing Qabala in its quest to be a top European club?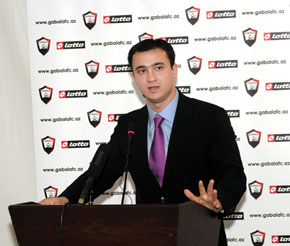 Tale Heydarov, President, Gabala Football Club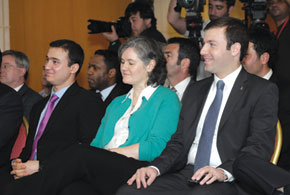 Left to right – Tale Heydarov, President, Gabala Football Club, Dr Carolyn Browne, British Ambassador to Azerbaijan and Elkhan Mammadov, General Secretary, AFFA
We have many challenges ahead of us, however the immediate challenge is to implement and develop a professional structure that will develop our own Azerbaijani talent, whilst attracting new international talent into the squad. Another significant challenge, that can only be influenced by our PL competitors, is the collective improvement of playing surfaces, training facilities and youth development programmes, which in turn will improve playing levels throughout the competitions. It is imperative that the playing standards across the Azerbaijani PL Season improves year on year, thus delivering higher quality football for stronger progress in the European competitions. We have a strategic plan to develop year-on-year through domestic and European competition, and although I have mentioned a few key influences that are beyond our control, the overriding key to European success lies firmly in our hands.
Qabala Football Club is embarking on a very exciting pathway, and I am confident that we are equipped with the right people to confront all challenges head on.
Who knows? - As fans of Italy, France and England rue the early demise of their national teams in this year's World Cup, perhaps the future of European football lies at the eastern end of the continent? We will be following up this story in future editions.