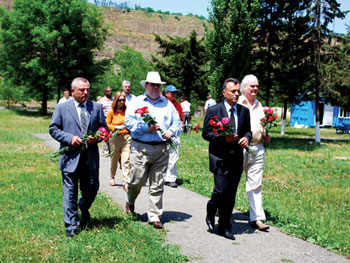 UK guests visiting the Genocide Museum in Guba, proof of a massacre by Armenian nationalists in 1918
Pages 8-13
The Lords Laird and Kilclooney, members of The European Azerbaijan Society (TEAS) Advisory Board, visited Azerbaijan in early June. This was Lord Laird's first visit to the country; Lord Kilclooney had been on several previous visits as a member of the European Parliament.

Visions of Azerbaijan met their lordships in Baku and asked them about their interest in the country.
You have been here for just a couple of days, where have you been so far?

Lord Laird: We have been round the city centre and yesterday we went to Guba, We went to the site of the massacre (the burial site of hundreds of Muslim and Jewish victims of a massacre carried out by Armenians in 1918 –ed.)– it was very interesting and extremely worthwhile. No matter what you see on television or see pictures of.... to stand there and look at the skulls of young kids.... makes it no longer a paper exercise.
How did you make your first connection with Azerbaijan?
Lord Kilclooney:
I first came here from Strasbourg,
The Lords Kilclooney and Laird during their 'Visions' magazine interview
as a member of the Council of Europe, but I had known about it before. In the European Parliament there were people from Azerbaijan who came to lobby and I got to know them and developed my interest in Azerbaijan. Then I came here several times through the Council of Europe to observe elections, one of which was in Guba, where I first learned that there was a Jewish minority there.
But my first time was on a European visit, when we went away out to the west to a town where all the refugees were. There was no running water, and a bucket in the middle of the floor; conditions were absolutely atrocious.... it had a lasting impact on me... they were refugees from Nagorno Karabbagh, of course, and the conditions they were living in were ghastly. Since then I've been back several times and visited refugee centres in Baku and conditions are quite superior. The last time I was here was 3 years ago, as part of a British parliamentary delegation.
Lord Laird:
I first got interested about 18 months ago. There was a meeting in the Palace of Westminster and there was a discussion about Azerbaijan. There were different factions there. Coming from Northern Ireland where we have been through a fairly vicious experience of civil unrest ourselves, a lot of what I heard chimed with what we had gone through in Northern Ireland, so I got interested.
You are members of the Advisory Board of TEAS, indeed Lord Laird is Chairman. What do you see as the function of TEAS and the Advisory Board?
Lord Laird:
We have a very import function: to interpret the moods and feelings in the UK and advise people from Azerbaijan to ensure that their case is maximised. We see this very much as a two way process: we like to think we can help understanding in the UK and help those who want to inform the UK about a country that's coming out from many years under a different regime and that has so much to offer. We'll try to maximise this and we'll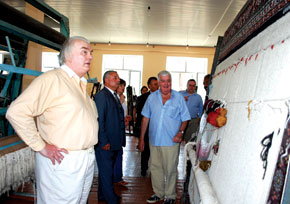 UK Guests visiting the Carpet Factory in Guba
all benefit.
Lord Kilclooney:
We have, in Parliament, the UK-Azerbaijan All party group, but it mainly restricts itself to political relations, and it's supposed to help Members of Parliament acquaint themselves with Azerbaijan, however, this particular organisation we're in here (TEAS- ed.) is much more effective, it's much more pro-active; it's covering a whole wide spread of interests in promoting knowledge about Azerbaijan to the public of the United Kingdom.
To be honest about it, if you ask the average man in the street where Azerbaijan is, they've never heard of it. That's nothing for Azerbaijan to be ashamed of, but it is a big task to make Azerbaijan known to the British public. Many people wouldn't even know that BP was here in Azerbaijan, so it's important that these things are highlighted and that there's more interest in the possibilities for trade, cultural relations, tourism and so on.
Lord Laird:
7 or 8 years ago Northern Ireland came here to play football and this caused a big fuss in Belfast, our capital. People were asking 'How do you get there? Do you take a bus or fly?' (laughs) In this changing world, when it's hard to decide whether nations are friendly or not, it's important to highlight the way that Azerbaijan looks west and that it's not part of the problem, but part of the solution....This country is a crossroads country, it's a pivot; you could go in any direction and there's a different culture. The views of the people here are important.
Lord Kilclooney:
Of course Azerbaijan is important in terms of energy, the oil is important, but the other important issue for Azerbaijan, as I see it, is that we have here a Muslim country that believes in democracy and is looking towards Europe and not towards fundamental Islamic states. Azerbaijan is a free society in the ordinarily accepted meaning of that term; it's a moderate Islamic country, like Turkey and I think countries like Turkey and Azerbaijan need the support of Europe, and should not be shunned, as France and Germany have sadly done to Turkey, which is really damaging to relations between Turkey and Europe. Politically, we should, in the West, be showing an interest in Azerbaijan, and not just because of oil.
Lord Laird:
That's a very important point. The European area cannot be seen in the future as a Christian man's club; that would cause problems in the future. We need Azerbaijan.... we need modern democracies that are not Christian. We need them to be Europeans.
To come back to Nagorno Karabagh, which is a major issue in Azerbaijan. At some point there has to be a resolution, people have to come together. You both come from Northern Ireland, with particular experiences of divided communities. How do you see progress on the Karabagh problem?
Lord Laird:
Well, John [John Taylor, Lord Kilclooney] has had very heavy personal experience of the conflict in Northern Ireland, and perhaps he could answer this best... but the problem has to be solved...
Lord Kilclooney:
The problem has to be solved.... I remember when Azerbaijan was applying for membership of the Council of Europe, it was decided in Strasbourg that they would bring in Armenia and Azerbaijan at the same time and they thought that.... this would help bring the two together, lead to better understanding and a settlement. But, of course, it has not done that whatsoever and Armenia is, in my opinion, still the guilty nation. And Armenia, in its relations with Turkey, is at fault. One of the problems for Azerbaijan, and Turkey, is that the Armenians have an incredibly strong lobby. You see this in France, where they have come down in favour of the so-called genocide, and in America in the House of Representatives, where they passed that resolution.
When it comes to Karabagh there has to be a settlement or there will be violence..... We had this experience in Northern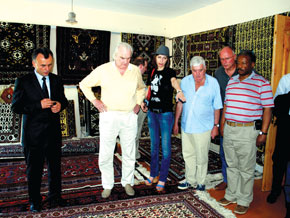 Ireland with the terrorist IRA organisation, which we refused to talk to. Once they agreed not to have any violence we met them and reached a peaceful settlement, which has been great for Northern Ireland. There are lots of benefits if you talk, but you have to get the conditions right for talking. We have to get the conditions for negotiations between Azerbaijan and Armenia which will lead to the freeing, the liberation of those areas of Azerbaijan which Armenia has quite improperly occupied and which has been condemned in the United Nations and elsewhere – they have no right to be there. But it does depend on some countries showing greater enthusiasm to bring about discussion.
There is an unfortunate impression here that the West perhaps favours Armenia.... because Armenia is Christian and Azerbaijan is Muslim, perhaps the West isn't terribly interested in bringing about negotiations. And that is totally wrong because, as I've pointed out elsewhere, we in the West have sacrificed the lives of young men to save Muslim countries like Bosnia or Kosovo against the Serbs, so there's no question of us not supporting Azerbaijan because it's Muslim. I'm a practising Christian myself and I've been a strong friend of Muslim countries like Turkey and the Muslim minority in Cyprus, and Palestine.
Lord Laird:
Timing is important when moving towards a settlement; there is a time, a moment, when a settlement is possible. We found in Northern Ireland that creating that climate is important and one of the things we can do to be helpful is putting the Azerbaijani case and creating a climate in which there is a possibility of a settlement. You must have both sides feeling that their views are being understood and accepted. If one side feels that its views are not being accepted in the same way as those of the other side then you don't get that level playing pitch in terms of opinion. We can help in that process.
Lord Kilclooney:
In Nagorno Karabakh, with Russia supporting Armenia and very much involved in Armenia in many respects, and with America, with so many responsibilities across the world and not being particularly interested in Azerbaijan, the lead here must come from the European countries, not necessarily the European Union, but individual countries like Germany and France, although again France is very much under Armenian influence, which is a handicap to any solution. I don't think we can rely on Russia or America, both of which are involved in the Nagorno Karabagh problem; I think Europe has to be the driving force here.
You will understand that there is frustration here with the Minsk Group of Russia, America and France - the problem has still not been resolved after nearly 20 years...

Lord Laird: I know it does seem unbalanced sometimes.... There is also frustration that the case is not being listened to - and that's where we can help. It's like a court of law: everyone is entitled to have their case well put, professionally put. It's important that people feel here that they have friends who can put their argument.

Lord Kilclooney: The Minsk Group is almost a recipe for stalemate. Sorry to say that, but that's my assessment. When you have countries like France and Russia involved, both of which are supportive of Armenia, I cannot see the possibilities. I think that's why it has to be widened in a European sense. You can't expect America to do everything.
The European Azerbaijan Society is promoting Azerbaijan. It is concerned with the Karabagh issue, with attracting business and there are also the cultural aspects. Do you think that the cultural side of Azerbaijani society can help in this process?

Lord Laird: Well, yes it can, it's all part of putting the case; culture is very important. Let's take our experience in the UK. What I find has not been identified, even to the minds of decision-makers there, is that specific Azerbaijan culture: mugham music and other forms. I would like to see the cultural aspects heavily associated with Azerbaijan, so that whenever there are Azerbaijan events, the culture is present. That builds up the case, asserts that the country exists and has got an interesting cultural base. One of the issues that might help politically is the development of tourism – as well as helping economically - getting people over here to see and take their holidays here.

Lord Kilclooney: It is important to get the country known and one way that helped in the UK was the Eurovision Song Contest – it certainly puts Azerbaijan on the map. Everyone in Europe sees how well Azerbaijanis are doing - and they beat the United Kingdom every time! (laughs) Culture, industry and tourism are all important and now this organisation (TEAS – ed) has been created and is so pro-active in promoting all these aspects of Azerbaijani life in the United Kingdom and hopefully getting the message over to people in Azerbaijan that the United Kingdom cares about Azerbaijan and is a friend of Azerbaijan.

Lord Laird: Yes, that's right, but before you can care and know, you've got to understand about the country and, again, that it's not part of the problem, but part of the solution.
What are your impressions of the people in the country? How do you feel about the society in general?
Lord Kilclooney:
The people are delightfully friendly; they're pretty proud of their country and, of course, they're very concerned about Nagorno Karabagh and the country has great wealth and natural resources. A developing, growing middle class is important –in a democracy you need a strong middle class.
The other thing that has astounded me every time I come here is the tremendous development of infrastructure, especially in buildings and roads. Now I'm a civil engineer and I would encourage this: there is nothing more important than the development of the road system in any country and Azerbaijan is doing this exceptionally well. And money spent in assisting education and health. One of the criticisms of America is that there is still a high level of poverty although it is a rich country; people don't have the quality of life of the United Kingdom which has a National Health Service, which doesn't exist in the United States, so poor people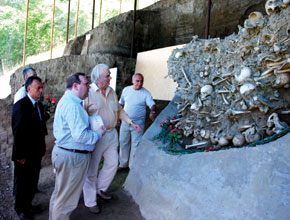 UK guest at the Genocide Museum
there are disadvantaged.
Lord Laird:
In the UK we meet a lot of Azerbaijanis who are highly intelligent, articulate and holding very important jobs – mainly young people in the UK. We've met them here as well – they're a tremendous resource - very, very clever and excellent thinkers. That's important, to the development not only of Azerbaijan, but of Europe. And they want to come back here, that's a tremendous pool of people who can help build the country and society.
Lord Kilclooney:
Going back to the visit to Guba and the Jewish community there that I first came across 16 years ago. I was pleased that they were so happy living in a Muslim society in total freedom. Yesterday they confirmed that they feel totally at ease here, and the Israeli attack on the ships that aroused animosity in so many countries didn't affect them in any way, everything was quiet there.
You're going to the Ministry of Foreign Affairs and the Milli Majlis (Parliament) among other places. What else would you like to see here?

Lord Kilclooney: Well, I've been up Maiden Tower in the old city, but I was out last night with some young Azerbaijanis and I saw that huge tower on the hill [TV and radio tower]. It's magnificent at night – it changes colour – I'd like to go up there. Thank you very much for meeting us and giving your insights. I hope you enjoy the rest of your stay.

Lord Laird: Thank you, that was great. I'm sure John is enjoying it as much as I am – very interesting...