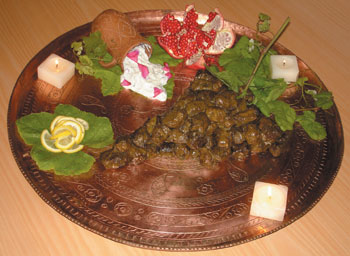 Pages 96-98
by Fiona Maclachlan with thanks to Ilkin
Ilkin, a top Azerbaijani chef, has shown me how to make yarpaq dolmasi, the classic original version of dolma.
Dolma roughly translates as ´something stuffed´ and is eaten throughout the Caucasus and eastern Mediterranean. However, as any Azerbaijani will tell you, Azerbaijan is home to the best dolma. Yarpaq dolmasi are vine leaves (yarpaq) wrapped around lamb, herbs and rice. Ilkin explains that rice came to Azerbaijan from India, and first arrived in the Caucasus in the Lankaran area, where it still grows to this day. Grape vines originated in the mountain valleys of Azerbaijan and so, Ilkin explains, this proves that dolma first came from Azerbaijan.
Dolma are traditionally eaten in the afternoon or evening, for lunch or supper. They are an everyday food, but popular at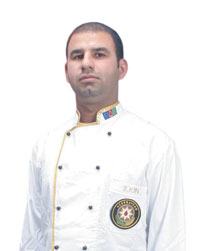 Ilkin, top Azerbaijan chef
parties as well and were once a traditional wedding dish. In fact, Azerbaijani people truly love dolma, and will often claim that their mother or grandmother makes the very best. Most families eat dolma once or twice a week. In Azerbaijan, families enjoy dolma as a main course, unlike in other nearby countries where it is often an appetiser. Azerbaijani dolma are round, while in other countries dolma have a different shape, e.g. the small, narrower cigar shape found in Turkey.
Another form of dolma, called cheating dolma, contains no meat. Consider it as a vegetarian option. Dolma come in many other forms - cabbage leaves can take the place of grape leaves or the meat filling can be stuffed into hollowed-out vegetables such as tomatoes, peppers or aubergines.
Usually women make yarpaq dolmasi, as they have the patience required to wrap up the many little parcels.
Try Ilkin´s recipe to make dolma at home. Bon appetit or nush olsun, as they say here in Azerbaijan!
Ingredients:
A selection of fresh herbs including dill, coriander, mint (the top part of the plant) and mountain coriander (known as dagh keshnishi, mountain coriander is available at Azerbaijani markets. Ilkin likes to use

Onions, red and white

Rice (basmati)

Vine leaves, preferably fresh, or those sold at the market in jars of salt water

Meat, usually lamb including some tail fat, but you can also use turkey

Garlic

Salt and pepper

Yogurt or a yogurt and mint mix ture to serve.
Method:
Put the chopped meat, roughly chopped onions, tail fat, garlic, generous salt and ground pepper into a grinder and mince them together.

Add the uncooked rice to the minced mixture.

Chop the herbs, mix them in and place the mixture in the fridge to chill (for half an hour or longer).

Take the grape leaves, put in a saucepan or bowl, pour boiling water over them and then rinse them with cold tap water. Remove the stems from the leaves, and lay them out on a work surface. Take the meat mixture from the fridge. Put one dollop of the mixture on each grape leaf and fold the leaf into a little parcel. Place on the bottom of a large pan. Keep going and when one layer is complete, start on the next layer. Finally put a plate on top and weigh it down with something heavy - Ilkin uses a stone from Cameroon - and add water to the same level. Cover the saucepan with a lid. Put on a medium heat to boil, then simmer for one to one and a half hours. Turn off the heat. Serve warm with cold yogurt.