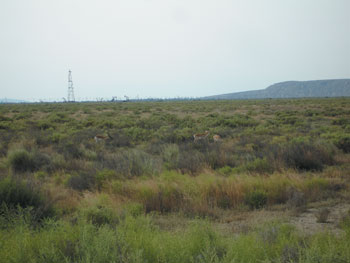 Pages 88-95
by Fiona Maclachlan
Shirvan National Park in Azerbaijan is home to 230 species of birds, 34 of them rare, but most people go to see the beautiful, delicate jeyran or Caucasian gazelle. In years gone by jeyran roamed over Azerbaijan, and could be found from the borders of Georgia along the Kura River to the Caspian Sea and in the Qobustan, Absheron, Shamaxa and Shirvan regions. However, the jeyran were hunted and in 1960 an aeroplane survey counted only 131 gazelles. In 1961 a protected area was set up (Bandovan, 4,930 hectares) and eight years later there were 400 gazelles. The rest is history, as the protected area increased over the years and gradually became the Shirvan National Park (officially named in 2003) that we know today with an estimated 7,000 jeyran in its 65,000 hectares.
A trip to the Shirvan national park

Head off on the coastal road south from Baku, past Crescent Beach, Sanqachal and Qobustan, and where the dual carriageway turns inland towards Ganja, take a turn to the left following the sign to Astara.

When a small hill appears ahead on the right and the desert seems slightly shrubbier, you know you are approaching the Shirvan National Park. Then there it is on the left (just over 100 kilometres from Baku).

Pay a few manats per person for tickets and you can take your car inside. I hope you left room for a passenger, because in jumps your guide to show you around. We are lucky to have friendly and informative Hikmet accompany us. To start with he tells us about the history of the park, when it was formed, how big it is, where its boundaries are. Hikmet is learning English very quickly. I have been to this park a number of times now – a good recommendation - and learn more on every visit.

In no time, we feel miles from the entrance on the main road, and Hikmet explains to us the importance of the park to jeyran (Caucasian gazelles). We catch our first glimpse of them and we´re hooked. These animals are beautiful and move across the open landscape with effortless elegance. Since they run at 20-25 km/hr (40 km/hr when racing), you have to be good with a camera to secure anything other than a blur. Sometimes they stop and stare and, with a good zoom camera or binoculars, you can admire their nervous but inquisitive faces. The colouring and shading of their elegant bodies are designed for maximum protection in this terrain.

We learn about jeyran food and examine the plants that they eat, learn about their breeding habits (usually one

We cross canals or drainage ditches that carry the water from the villages to the lakes. It is hard to believe there are lakes in this arid landscape, but suddenly a shimmering stretch of water appears like a mirage, and the car stops and we tiptoe quietly out through the reeds onto a covered viewing platform (bird hide) where the expanse of the lake becomes apparent and the reed-covered islets provide a habitat for many varieties of bird. Bring your own binoculars and who knows what you might see. I am always impressed at the different birds here from one visit to the next.

Hikmet points out footprints of wild boar and wild cats, fresh in the mud.

Onwards then to a park ranger´s house with a roof-top viewing platform, where in summer you can enjoy chay in perfect tranquillity, overlooking the reed-edged lakes.

In summer, when the ground is dry, take the time to traverse the 30 or so kilometres (38km from the road) to the coast. We drive on tracks through miles of fragrant grey green herbs, our windows wide-open to amazing insects. Once at the beach Hikmet reveals his educational background in geology to explain and point out the strata in the beach side rocks and small cliffs, caused by the combination of mud volcano activity and varying sea levels, and now exposed by erosion. You can camp here if you like, though there are no facilities, and a walk on the beach is relaxing after the long drive over the parkland.

Just offshore is an underwater town (or two?) called Bandovan, and we are told you can see streets and houses under the water on clear days. This would make an intriguing location for a spot of snorkelling or a trip in a glass-bottomed boat. The rising Caspian Sea covered these towns many years ago.

On the return journey, we always seem to see the wonderful jeyran a bit closer up. One time we meet up with Ashraf,
Whilst jeyran are the most obvious attraction, there is other interesting wildlife to look out for. Birdwatchers

Other options for a visit include taking your own bikes to cycle round and staying in one of the few holiday houses. Or take a picnic to enjoy in the picnic area. There are park rules, not unlike the countryside code in the UK or indeed the guidelines for any national park.

Hartmut, the park director, is an excellent and particularly enthusiastic source of information about the park. His international expertise shows. You will be warmly welcomed here and will have a wonderful and informative day out, whether you are a wildlife expert or a keen novice. Just a couple of kilometres further down the road from the park you will find a number of restaurants to satisfy your open-air appetite. We have a delicious meal of local yogurt, soups, salads, kebabs and chay before our return to Baku.