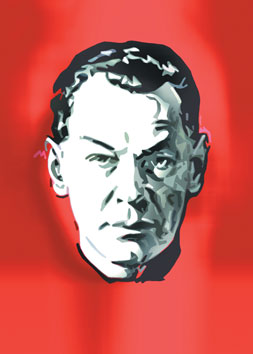 Pages 62-68
by Rovshan Didavari
The worldwide box office success of the 22nd James Bond film, Quantum of Solace, shows the enduring attraction of tales of espionage and heroism. One real-life hero was Richard Sorge, an intelligence agent who provided Moscow with crucial information in the war against Nazi Germany. Sorge's exploits brought him posthumous fame well beyond the borders of his native Baku.
Richard Sorge was born in the Baku suburb of Surakhany on 4 October 1895. His father, Adolf Sorge, was a German engineer who worked in the Baku oil fields and his mother, Nina Semenovna Kobeleva, was Russian. Richard spent his early childhood in Baku and the city remained dear to him until his death. His family moved to Germany when he was three. When he started school at six, Richard was nicknamed prime minister, as his interests and abilities ranged far beyond what was expected for his age.
Sorge became politically active in 1918 and later joined the German Communist Party. He studied political science at universities first in Berlin and later in Hamburg and gained a doctorate in state law and political science. He was invited to the Soviet Union in 1924 to work at a political science institute and was glad to accept the offer.
Sorge was very keen on academic research and provided accurate analyses of international policies and relations. This led to Sorge being offered a job in the Soviet intelligence service in 1929.
A career in the Far East
At the time, events were unfolding in the Far East that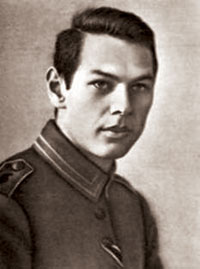 Soldier Sorge, (1916)
threatened to grow into a wide-scale war against the Soviet Union. The USA, Britain and Japan were trying to instigate China to start hostilities against the USSR. In order to prevent this, the head of Soviet military intelligence, Yan Karlovich Berzin, decided to send Sorge to China, and in January 1930 he left for Shanghai. His main objective there was to discover the enemy´s plans and to foil elements of a sudden attack.
After working in China for three years, in September 1933 Sorge was assigned another mission by the centre. An intelligence network was to be set up in Japan to target Hitler´s Germany. At the time, Hitler had just come to power, and the Nazis had started swift preparations for a war to establish global dominance. Hitler was preparing to launch an offensive on the Soviet Union from both the east and the west and was attempting to involve Japan in the war against the Soviet Union.
Sorge returned to Germany before leaving for Japan. There he established contacts with several pro-Nazi German newspapers and magazines and established a reputation as a leading expert on Japan. With his cover as Germany´s best informed journalist on Japanese affairs, Sorge gained the trust of German Ambassador Eugene Ott and was often at the German embassy in Tokyo. Ambassador Ott was unaware that the person sitting next to him was a Soviet agent and hid no secrets from him. Sorge helped the ambassador with reports and sending information to Berlin. At the same time, he supplied information to Moscow which helped to shape Soviet foreign policy. His intelligence reports were known for their accuracy.
The Ramsey ring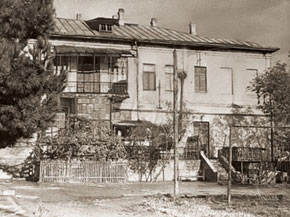 The house where Sorge was born in Sabunchu, Baku
In Japan Sorge established a network which he led under the code name Ramsay. The spy ring included Japanese citizens Hotsumi Ozaki and Yotoku Miyagi, an ethnic Yugoslav from America, Branko Vukelic, and German radio operator Max Clausen.
Sorge skilfully sowed discord among his enemies and distrust of Hitler amongst the Japanese and fomented clashes between Hitler´s supporters and Japanese diplomats. In nine years his network never failed in Japan. Sorge was extremely well organized, brave and tough. He strictly observed the rules of conspiracy and insisted that others observe them too. He carefully verified information through numerous channels before sending it to the centre.
One of the members of the Ramsay ring, Hotsumi Ozaki, gained Japanese Prime Minister Fumimaro Konoe´s trust. The first-hand information received on the development of Japanese-German relations was highly accurate.
Hitler´s attack on the USSR
When World War II was in full swing, Sorge´s ring had to find answers to three major questions: did Germany intend to attack the Soviet Union and, if so, when; if this
Sorge in Japan
happened, what would Japan´s position be; and what was the progress of talks between Japan and the USA.
Sorge soon obtained information about the deployment of a large number of German troops on Germany´s eastern borders. This was a clear signal of a planned attack on the Soviet Union. The date of the offensive was also known - 22 June 1941. Sorge immediately informed the centre about the time of the attack, the number of German divisions, the fact that the offensive would be launched along the whole of the front and that the major targets would be Moscow and Leningrad. However, Stalin doubted the accuracy of this information, because of the Molotov-Ribbentrop pact signed between Germany and the USSR on 23 August 1939. This "friendship" agreement was so detailed and comprehensive that Soviet leaders did not believe that Germany could break the agreement, so they disregarded Sorge´s information. As a result, Soviet troops incurred major losses during the first days of the war. Sorge said that despite Germany´s offensive on the USSR, Japan had guaranteed not to attack the Soviet Union in the Far East after 15 September 1941. The agent´s information that Japan was not planning to go to war against the USSR provided grounds for redeploying Soviet troops from Siberia and the Far East to the central areas.
The Ramsey ring is smashed
Disaster struck on 18 October 1941. Sorge´s spy network collapsed early that morning. The agents were arrested and put into Sugamo prison (Zhogaya). The Ramsay network ceased to exist as a single entity, but neither the judges nor the prison wardens could break the spirit of its members. The courts were unable to extract any information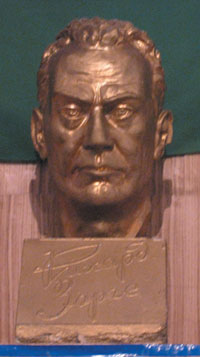 Sorge´s bust at Sorge School in Baku
from the determined agents. Sorge was sentenced to death in September 1943.
Sorge and another active member of the network, Hotsumi Ozaki, were executed on the anniversary of the October Revolution on 7 November 1944. After the execution, Sorge was buried in Tokyo´s prison cemetery. Police even set fire to his house so that nothing remained of the agent´s existence.
Sorge´s friends searched for his grave after the war. They identified him only by his false teeth and boots. There were other signs as well: for instance, Sorge had one leg shorter than the other as the result of a wound received during World War I.
Theories abound about ring´s demise
The Ramsay ring is one of the most daring and successful in the history of espionage. For nine years the agents operated undiscovered in Japan, providing invaluable intelligence to Moscow. It is still not known how Richard Sorge was caught. Some say that he was betrayed by a leader of the Japanese Communist Party that was operating underground, Ritsu Ito, while others write that he was discovered by chance through the radio signals sent by operator Max Clausen.
Interestingly, the Soviet leadership remained indifferent to the fate of Sorge´s ring after it was uncovered by the Japanese political police and its members arrested. Nothing was done to rescue the intelligence agent. On the contrary, a taboo was imposed on the name of Richard Sorge. Other theories suggest that Sorge was arrested and his intelligence network collapsed after the arrest of a high-ranking official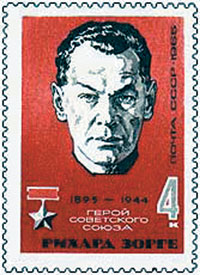 Russian postage stamp honouring Sorge
from the Japanese government, who passed valuable information to Ramsay.
Another theory for the ring´s demise is that after the head of Soviet military intelligence, Yan Berzin, who had recruited Richard Sorge to the intelligence services, was arrested and shot in 1938, his team faced the same fate. In 1940, a telegram was sent to Sorge from Moscow saying that he should urgently go on leave. Sorge, who was an experienced and brave intelligence agent, was aware of the peculiarities of Stalin´s regime and knew full well what lay behind this "concern" for his welfare. He declined Moscow´s offer, citing his heavy workload as the reason. Sorge said that he could go on leave after the war was over. Sorge´s refusal angered Stalin, who ordered that Ramsay´s funding be suspended. Sorge was not discouraged by the leader´s decision and spent his personal financial resources to ensure the continuity of the intelligence work. Japanese researchers have shown that Sorge could have been released from prison. The Tokyo government offered to exchange Sorge for a Japanese agent arrested in Moscow. Preparations were made for this exchange. Sorge had dentures fitted after he had lost his teeth in a car accident prior to his arrest, the prison conditions were relaxed and even a brand-new suit confiscated from his home was given to him. Stalin´s reaction to these preparations by the Japanese government was: "We would rather have Sorge dead than alive. He knows too much."
Joseph Stalin may have questioned Richad Sorge´s intelligence work and even considered him to be a "double agent". Sorge´s being half-German may well have played a role too. And the show trial and execution of Sorge´s main protector in Moscow, intelligence chief Yan Berzin, may also have had a bearing on Sorge´s fate.
Sorge´s story can be seen as the tragedy of a communist idealist, who provided intelligence that was sometimes doubted by Stalin´s merciless and brutal regime.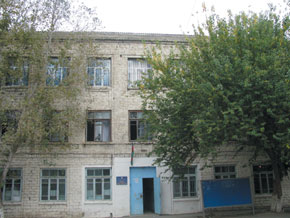 School No 90 named after Sorge in Yeni Ramana, Baku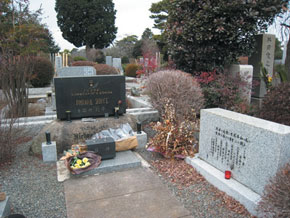 Sorge´s grave in Tokyo Tama Cemetery, Japan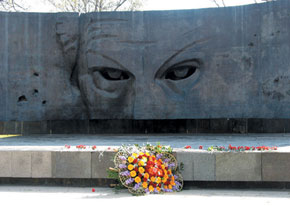 Richard Sorge´s monument in Baku
French film revives Sorge´s reputation
Sorge remained unknown both in Moscow and Baku until the early 1960s. How did he become so famous? It all started with the film Who Are You, Dr Sorge? made in France by Yves Ciampi in 1961. In the movie, Sorge was played by Thomas Holtzmann. The Soviet Main Film Distribution Directorate bought the film and showed it in the Kremlin to Stalin´s successor, Nikita Khrushchev. The secretary-general was impressed by the heroism of the Soviet agent and wondered who he was. It emerged that no-one knew Sorge in the Soviet Union; no-one apart from the "responsible agencies" knew who he was and what he had done in Germany and Japan. Khrushchev demanded that the position be rectified. The secret agent was awarded the title Hero of the Soviet Union on 5 November 1964, 20 years after his death. In addition his widow Hanako Ishii received a Soviet pension. She eventually died in July 2000 in Tokyo. Monographs, novels and many works have been written about Sorge, and a feature film describing his heroism has been made.

The then first secretary of the Azerbaijani Communist Party, Heydar Aliyev, played a special role in immortalizing Richard Sorge in his native Baku. It was on Aliyev´s initiative that in 1981 a park named after the agent was opened and an unusual monument to him, created by V. Chigal, was erected. The Azerbaijani people still honour the memory of legendary hero Richard Sorge - a central street in Baku and school No 90 in Yeni Ramana have also been named after him.