Muslum Maqomayev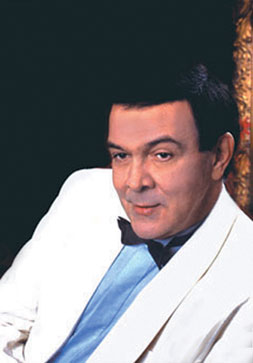 Pages 30-33
An idol of Azerbaijani, Soviet and post-Soviet culture, Muslum Maqomayev, died in Moscow on 28 October 2008 after a long illness, aged 67.
A great baritone, Muslum Mahammad oghlu Maqomayev, was born on 17 August 1942 in Baku. He was the grandson of Muslum Maqomayev (1885-1937), one of the founders of Azerbaijani professional music. His father was killed in the Second World War, when Muslum was three. As a child Maqomayev learned to play the piano and had voice lessons at 14. He studied piano and composition at the music school of the Azerbaijan State Conservatory (now the Azerbaijan State Music Academy) and in 1968 graduated from the Conservatory itself, having studied in outstanding opera singer Shovkat Mammadova´s class.
In 1962, at age 19, Maqomayev performed at the 8th International Youth Festival in Helsinki and appeared in Moscow, in the Kremlin´s Congress Hall, where he sang as part of an Azerbaijani Culture Week. "After performing Figaro´s aria on the Kremlin stage I woke up famous," Maqomayev recalled. It was the beginning of the Muslum Maqomayev era on the Soviet stage; he was more than a singer for the whole Soviet audience. Ayear later he gave his first concert in the Tchaikovsky Concert Hall and the following year became a soloist of the Azerbaijani State Academic Opera and Ballet Theatre, which he remained till the end of his days.
Muslum Maqomayev married at the age of 19 and a daughter was born, but the marriage did not survive more than a year. At present his daughter lives with her son Muslum in the USA. In
In 1964-65 Muslum was sent for training to Milan´s La Scala and upon his return turned down an invitation to sing in the Moscow Bolshoy Theatre. Muslum Maqomayev´s popularity in the Soviet Union was overwhelming: he quickly became a cult figure and gave three concerts a day, filling huge arenas, while his albums sold in millions.
In 1966 and 1969 Maqomayev performed at the Paris Olympia to great acclaim. The Olympia´s director offered him a contract, but the USSR Ministry of Culture did not grant him permission to stay. In 1969 Muslum received a MIDEM Gold Disc award in Cannes for sales of over 4.5 million albums. In 1971 he became a People´s Artist of Azerbaijan. Two years later, still only 31, Muslum was awarded the highest artistic title of the Soviet Union, People´s Artist of the USSR. Muslum Maqomayev was artistic director of the Azerbaijani State Symphonic Orchestra from 1975 to 1989.
Muslum Maqomayev was also a recipient of the highest honours of independent Azerbaijan: the Order of Glory in 1997 and the Order of Independence in 2000. In 1997 the Russian Astronomic Society named two planetoids in the solar system after Maqomayev and his wife Sinyavskaya. Maqomayev lived most of his life in Moscow, but remained a citizen of the Azerbaijan Republic. Muslum Maqomayev´s repertoire is full of popular classics such as Do the Russians Want War? and Buchenwald Cry, Russian folk music, Hajibayov´s Sansiz (Without You),
Muslum Maqomayev was buried in the Avenue of Honour in Baku, Azerbaijan. Thousands of people flocked to his lying-in-state in Moscow´s Tchaikovsky Concert Hall and later in Baku´s Muslum Maqomayev Philharmonic Hall, appropriately named in honour of the singer´s grandfather.
The last 40 years of Azerbaijani culture are unimaginable without Muslum Maqomayev.
Heydar Aliyev, President of Azerbaijan
I remember Muslum Maqomayev´s first success. Muslum conquered all before him in his early years and is still doing so. The masses of people in Moscow´s Triumfalnaya Square on 28 October and the crowded lying-in-state in the Tchaikovsky Concert hall are a sign that he will live on in people´s hearts. He was beloved of all Azerbaijanis all over the world.
Yuli Qusman, actor and film producer
A major era has ended with Muslum. His unique baritone charmed several generations. But Muslum was demanding of himself and left the stage early… he entered our life as a bright comet. Russia and Azerbaijan cannot divide
Svaytoslav Belza, music critic
It is said, do not make a sanctuary for yourself. But I made one when I was 14 years old. I don´t know what my fate would have been, had Muslum not been my sanctuary. The star whose name was Muslum did not go out suddenly, but was gradually extinguished and, ever since, nobody has been able to replace him. Muslum Maqomayev was a music genius and a prominent singer who did not manage to do all hat he could have done. He is a miracle that was lost.
Alla Pugacheva, top Russian singer
We can today speak about the Muslum Maqomayev phenomenon. Muslum Maqomayev won the hearts of millions. There are many stars in art. But Muslum Maqomayev was a real star. The songs he composed became symbols of Azerbaijan. We are very proud that Muslum Maqomayev was a member of the Azerbaijani
Franghiz Alizadeh, chairwoman of the Azerbaijani Composers´ Union
Muslum Maqomayev was a hugely popular Azerbaijani singer whose talents embraced traditional song, operatic arias and jazz standards and who rejoiced in being known as the "Soviet Sinatra".
The Times, London, 28 October 2008
Maqomayev was many things: a quintessential dandy who also happened to be a People´s Artist of the USSR; a trained opera singer with a Sinatra´s showman touch; a brilliant scion of a family of artists and musicians in an ardently "class-less" society; a globe trotting cosmopolitan performing at La Scala and to sell out crowds at the Paris Olympia whilst remaining a steadfast Soviet patriot who always came back; a consummate gentleman and a sex symbol in the officially sex-less Soviet Union; a "national treasure" moving in the poshest echelons of Moscow society, without giving up his deep ties to his native Baku.
Vadim Nikitin, writing in his Russia blog for the Foreign Policy Association and quoted by the Washington Post, 29 October 2008