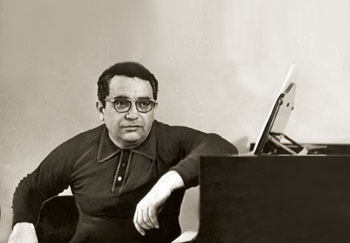 Pages 20-27
by Dr. Franghiz Alizadeh
Artists can be compared with ships that put out
to sea - in to the wide, the boundless,
the rough and the endlessly new -
while others lie quiet at anchor,
far from storms and danger
Qara Qarayev
Qara Qarayev combined the roles of outstanding composer, social activist, talented teacher, writer and scholar, like his great teacher Uzeyir Hajibayov. He devoted 45 years of his life to the art of music, composing many modern, progressive masterpieces. His ballets and symphonies are performed worldwide and the name Qarayev will always be associated with the rapid development of composing in Azerbaijan.
Qara Qarayev lived a wonderful life, filled with creativity and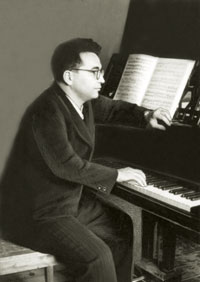 Qara Qarayev at the piano
adventure. He travelled far and wide and knew some of the most prominent figures in the 20th century music world, including Igor Stravinsky, Samuel Barber, Ahmed Adnan Saygun, Luigi Nono, Niyazi, George Balanchine, Yevgeniy Svetlanov, Rodion Shchedrin and Krzysztof Meyer.
Qarayev´s unique personality attracted the attention not only of musicians, but also of writers, scholars, poets, painters and producers. In close collaboration with many of them, he created operas and ballets, dramatic performances and films.
Two great musicians, Uzeyir Hajibayov and Dmitry Shostakovich, greatly influenced Qara Qarayev´s creative development. Hajibayov, who founded the school of classical composition in Azerbaijan, and Shostakovich were both Qarayev´s teachers and guiding stars in life and creativity. From them Qarayev inherited an interest in everything progressive, a thirst to understand the new, openness and the gift of teaching.
A promising debut
Qara Qarayev made his debut as a composer in 1937 at the age of 19. He performed a piece for piano, Statue in Tsarskoye Selo (Tsarskoselskaya statuya), at a recital in his hometown Baku to mark the centenary of the death of Russian poet Alexander Pushkin. The young composer´s talent developed rapidly, as he brought the boundless variety of the world with its joy and pain into Azerbaijani music. The late 1930s were especially fruitful, producing Poem of Joy, Song of the Heart, Sports Suite and Azerbaijani
Qara Qarayev and Jovdat Hajiyev, another prominent Azerbaijani composer
Suite.
The bright colours of the composer´s palette were soon replaced by grim, anxious tunes. World War II was a time of strenuous, thoughtful work for Qarayev; he conceived and realized large-scale projects, his First Symphony and the opera Vatan (Motherland), on which he collaborated with Jovdat Hajiyev.
At the initiative of Uzeyir Hajibayov, Qarayev was sent as one of the most gifted students to the Moscow State Conservatory to continue his education. By that time he had already become a member of the Composers´ Union of Azerbaijan.
Study at the Moscow Conservatory which began so successfully was soon interrupted by the outbreak of the war in 1941. Qarayev returned to Baku and was given a new commission as artistic director of the Philharmonia and head of the Composers´ Union of Azerbaijan. This was very demanding work for Qarayev, who was still just 24.
In December 1944, despite the privations of war, a Ten-Day Festival of the Transcaucasian Republics opened in Tbilisi. This is where Azerbaijan´s symphonic music began - the first national symphonies written by young Azerbaijani composers, Qara Qarayev, Jovdat Hajiyev and Soltan Hajibayov, were performed.
Shostakovich
When the war ended, lessons resumed at the Moscow Conservatory. The young composers´ dreams at last came true and they were admitted to Dmitriy Shostakovich´s class. This was the time when Shostakovich´s Seventh Symphony (Leningrad) was making its mark all over the world.
When he returned home in 1946, Qarayev took two diplomas with him, one as a graduate of the Moscow Conservatory and the other as a prize winner for his opera Vatan. But his most valuable acquisition of that period was his contact with Dmitriy Shostakovich. Relations between master and student turned into a great friendship. In the darkest years of Zhdanov´s cultural repression,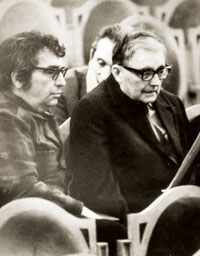 Qara Qarayev and Russian composer Shostakovich
when Shostakovich was surrounded by an intimidating vacuum, Qara Qarayev remained one of his most faithful and devoted friends.
The late 1940s and 50s saw an upsurge in Azerbaijani music. The art of symphonic music blossomed at this time in Azerbaijan with the delicate painting and symphonic mughams of Fikrat Amirov and Niyazi, the philosophical depth of Jovdat Hajiyev´s symphonies and the colourful sketches of Soltan Hajibayov. This was also the time that Niyazi began his creative work as a magician of the orchestra, an inspired interpreter and conductor, who gave life to many renowned scores. What place did Qarayev´s unique achievements take in this galaxy of musical talents? Where does the inimitable core of his music lie? First of all, in the all-embracing scope and versatile range of the characters he created, their expressiveness and vital power. Qarayev´s music presented to listeners life in its inexhaustible diversity.
Ballet
Qarayev´s aspiration to express in music the dynamics of life and its contradictions led him inevitably to musical theatre. In the 1950s in a single impulse of inspiration, Qara Qarayev created his best works, the ballets Seven Beauties and Path of Thunder.
The people of Baku welcomed the first performance of Seven Beauties in 1952 with an enthusiasm that is difficult to describe. The Opera House was full every night and each scene of the ballet was followed by a storm of applause. Qarayev´s name was on everybody´s lips.
Qara Qarayev needed the companionship of like-minded people just as he needed air to breathe. One such friend was Turkish poet Nazim Hikmet. They used to meet in Baku, Moscow and Leningrad, united not only by an affinity of soul and sincere friendship, but long creative collaboration. They worked together in Moscow on Nazim Hikmet´s plays The Eccentric and The Women´s Rebellion; in Baku they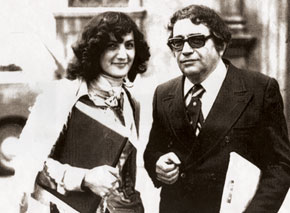 Qara Qarayev and Franghiz Alizadeh, Italy 1976
continued to work on the film The Pair from the Same Quarter. Hikmet went to Leningrad from Moscow to enjoy his friend´s success with his second ballet, Path of Thunder. Nazim Hikmet wrote: "The stage of the Leningrad Opera and Ballet Theatre has seen quite a few wonders. The greatest operas and ballets of Russian composers - classics were born here. The stars of Russian theatre, stars of the highest magnitude, have been shining on it. Now a new, modern creation has been produced here, the author of which is Azerbaijan´s composer Qara Qarayev. It´s wonderful!"
Indeed, Leningrad in 1958 became a place of genuine pilgrimage. Not only Qarayev´s students, but many Russian and Azerbaijani music lovers and intellectuals from the whole country went to the city on the Neva to see Path of Thunder. Shostakovich came from Moscow to see the performance of his former student´s work. After visiting the theatre, he wrote to Qarayev in Baku: "Dear Qarik, I´m writing this letter fresh under the impression of your ballet Path of Thunder… I heartily congratulate you on this fine piece of work…The theatre was full, some chairs were added and some spectators were standing. I liked both the orchestra and performers, and generally the whole scenic ensemble. But I liked your music, of course, best of all!"
Qara Qarayev was awarded the title People´s Artist of the USSR in 1958, in recognition of his outstanding services to the development of Azerbaijani music. He became famous internationally after Path of Thunder, which became part of the repertoire of the Bolshoy Theatre and was performed, in Czechoslovakia, Bulgaria and Hungary.
Music for stage and screen
Qarayev wrote music for 19 films and 20 theatrical shows. In many cases the composer was so carried away by his work for the cinema and stage, that he produced some independent pieces in the wake of one theme or another. This was the genesis of the suite A Tale about the Oilmen of the Caspian, the Vietnamese Suite, the Don Quixote symphonic sketch and the Goya symphony. Qara Qarayev collaborated with prominent film and stage directors, including Grigoriy Kozintsev, Konrad Wolf, Grigoriy Aleksandrov, Georgiy Tovstonogov and Viktor Kommissarzhevskiy. But his longest and best creative collaboration was with the remarkable film director, Roman Karmen. In 1953-57 they made five films A Tale about the Oilmen of the Caspian, The Conquerors of the Sea (Azerbaijanfilm), Vietnam, The Great Patriotic War and Grenada, My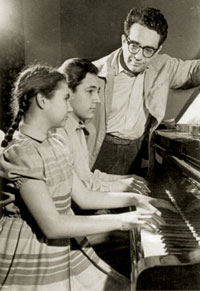 Qara Qarayev with his daughter Zuleykha and son Faraj
Grenada (Mosfilm).
Reminiscing about their collaboration on the film Don Quixote, Kozintsev wrote to Qarayev, "I was fond of your music for film before, but now that many years have passed, it seems even better to me. Your music has an astonishing quality of force and precision, a sense of the very essence of innovation. Nothing could be better. It must have coincided with something very personal for you, otherwise, no-one would be able to create in this way…"
These words are strikingly accurate. The character of Don Quixote was very dear to Qarayev, who shared some characteristics with the noble knight. This was confirmed in 1960 when a new work by Qarayev appeared, his symphonic sketch Don Quixote.
The main leitmotiv of this piece, one of the best works by the composer, is the theme of wandering, of a quest. This is full of symbolic significance. The 1960s saw new bold vistas and intensive searching unfold in Qara Qarayev´s creative work.
Qarayev can be considered one of those artists, who fearlessly set sail on the "stormy and endless" sea of modern music. A keen artist with a broad world outlook and erudition, Qarayev understood the artistic explosion in music in the second half of the 20th century. He was influenced in his work by the wealth of information that emerged in the humanities, the revolution in science and technology and social change. As a contemporary artist he had to be involved in the spirit of the age and not to hold himself aloof from the struggle for new ideas.
An Azerbaijani composer

At the same time, as a representative of Azerbaijani national culture Qara Qarayev was always aware of its wealth of musical traditions. Three branches of Azerbaijani music - mugham, ashig or minstrels´ music and folk song - brought powerful energy to Qarayev´s art. This association was never straightforward or accidental; it was a deeply understood synthesis of two entirely different fields. To deviate from tradition would mean to lose one´s roots, one´s identity. In the 1960s Qarayev faced a difficult dilemma and, as always, followed the line of greatest resistance. This was to take the approach of synthesis: to absorb music around the world and to forge his own creative power. He made a qualitative change in the development of Azerbaijani national music and in his own compositional style.
Creative legacy
His Third Symphony was premiered in April 1956 in the Grand Hall of the Moscow Conservatory and performed in Baku later the same year. In both cases the symphony was interpreted by the Moscow Chamber Orchestra conducted by Rudolf Barshai. In 1968, the Third Symphony was played by the Azerbaijan Chamber Orchestra, conducted by Nazim Rzayev. Since the late 1970s the Third Symphony has been in the repertoire of many chamber orchestras both in Azerbaijan and abroad.
Having started out on an unexplored path, Qarayev plunged into a new world of ideas and dimensions. He dedicated his more personal, delicate Concerto for Violin and Orchestra (1967) to one of the most famous Soviet violinists of the 20th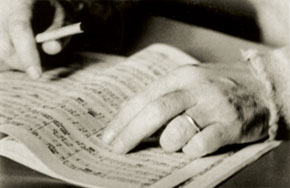 Qarayev working on a new piece
century, Leonid Kogan.
In the last years of his life Qarayev worked on some large pieces: he wrote fragments of the ballet Don Juan for the Bolshoy Theatre in Moscow and began a libretto for a musical synthesis Leyli and Majnun, combining the features of opera, ballet and dramatic action and based on seven Azerbaijani mughams. The composer was on the brink of new discoveries and achievements, but he was not to have time to complete them. Qara Qarayev died in 1982 in Moscow at the age of 64. Qara Qarayev´s creative legacy is large, encompassing some 110 works: ballets, operas, symphonies, symphonic poems and suites, cantatas, chamber-instrumental pieces, functional music, musicals, variety pieces, songs and marches. It may seem that music alone was enough to fill completely each moment of time, to satiate it with vigorous work and lofty meaning. Qarayev´s powerful talent was revealed in many spheres of musical life - in teaching and educational work and in writing about music. From now on, the music of Azerbaijan is measured by the high criteria of Qarayev´s art.
Qara Qarayev left a deep imprint on the musical culture not only of Azerbaijan, but the world as a whole. The light of his music shines out for all to see.
About the author: Frangiz Alizadeh is an Azerbaijani composer and pianist and chairwoman of the Composers´ Union of Azerbaijan. She studied composition under Qara Qarayev at the then State Conservatory of Azerbaijan. Mrs Alizadeh is best known for her work combining the musical tradition of Azerbaijani mugham and 20th century Western compositional techniques.