Leyli and Majnun was first performed on 12 January 1908 (25 January in the modern calendar). Ninety-five years later the opera remains a popular fixture in the repertoire of the Azerbaijan State Academic Opera and Ballet Theatre.

Uzeyir Hajibayov made Azerbaijani opera history when he composed Leyli and Majnun. The opera is based on Azerbaijani mugam and folklore, which gives it originality and endears it to audiences.
Birth of an Opera
Shusha, 1898: a 13-year-old boy watches a dramatization of the story of Majnun at Leyli's Tombstone. He is astonished at the performance of the amateur actors. That boy was Uzeyir Hajibayov. Remembering the occasion, the great composer wrote: "That performance affected me so much that when I came to Baku years later, I decided to write something like that." So, Leyli and Majnun was born in the heart of 13-year-old Uzeyir in 1898.

The opera's first director was Huseyn Arablinski and its first conductor was Abdurahimbey Hagverdiyev, a famous Azerbaijani writer. All the parts were played by men, as at that time women were not allowed to perform on stage.

As the first opera to be based on a synthesis of mugam and European classical music, Leyli and Majnun began a new opera genre. The story is taken from the poem Leyli

Changes have been made to the opera in its 95 years of performance. The first version of the opera consisted of five acts and six scenes, while the more recent version has three acts and six scenes. Famous Azerbaijani musicians have been involved with Leyli and Majnun over the years. In 1914 Azeri singer and composer Muslim Magomayev conducted Leyli and Majnun. Leyli and Majnun paved the way for many more mugam operas and musical comedies. Ashiq Qarib (1915), Shah Ismayil (1919), Nargiz (1935), Koroglu (1937), Khosrov and Shirin (1940), and many more. But since Leyli and Majnun was the first Eastern opera, I consider it to be equal to such classic European operas as La Traviata or Madame Butterfly.

After Leyli and Majnun, Uzeyir Hajibeyov composed seven musicals in four years. They are the musical comedies Husband and Wife and Mashadi Ibad, the operas Sheikh Sanan, Rustam and Sohrab, Shah Abbas and Khurshud Banu, Harun and Leyla, Asli and Kerem and the popular operetta Arshin Mal Alan.
Azerbaijan's Opera and Ballet Theatre
Uzeyir Hajibeyov is closely connected with Azerbaijan's Opera and Ballet Theatre. The theatre was built in 1910 in just 10 months by a well-known architect of the day, Bayev. The theatre is built in an eclectic style with baroque, rococo and Moorish features. The interior and balcony are impressive and ornate and the acoustics good. International stars, including Shalyapin and Sabinov, have performed at the theatre. The building was restored in 1988 and the theatre resumed its work. Fire damaged the theatre in the mid-1980s, rendering part of it unusable.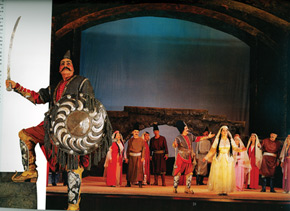 "Keroglu", opera by Uzeyir Hajibeyov.
"Keroglu"-Honored Artist of the Republic of Azerbaijan Adil Melikov


Leyli and Majnun has remained a mainstay of the Azerbaijan State Academic Opera and Ballet Theatre, with each production breathing new life into the opera. We believe that it will remain in the repertoire of the Opera Theatre for many years to come, bringing pleasure to new generations.