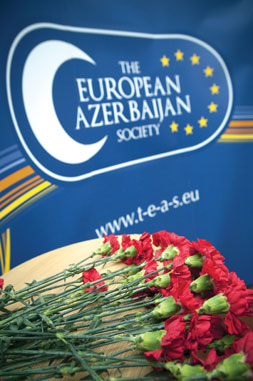 Pages 8-10
The Caucasus region is one of massive potential. Azerbaijan's oil and gas reserves have clearly been the main driver of the progress made in many areas since independence from the Soviet Union. However, there are still problems hindering the development of regional projects, and the biggest of these is the still unresolved conflict between Armenia and Azerbaijan over Nagorno-Karabakh. Armenia continues to occupy about 20 per cent of internationally-recognized Azerbaijani territory.
For Azerbaijanis, possibly the most painful event in the war was the massacre in the town of Khojaly, which took place on 26 February 1992. On that day the town's inhabitants were channelled into a single forces – and 'escape route' by invading Armenian they were then mown down slaughtered in the most brutal fashion. This event accounted for 613 of the war's estimated 30,000 fatalities.
Recently, there have been many attempts by different nations to achieve recognition of historical wrongs; Khojaly, however, cannot yet be consigned to history. As the town remains inaccessible to those native inhabitants who survived (now among the nearly one million refugees from the conflict) the pain and the memories live on. While this sore exists, regional progress will be fettered and so public events are held to commemorate the massacre and to seek a just resolution to the conflict.
The European Azerbaijan Society (TEAS) marked the anniversary in London with a solemn ceremony on the River Thames. Guests from the political, diplomatic, NGO and diaspora communities were invited to view a photographic exhibition depicting the events of that day. 613 carnations, the traditional flower of mourning in Azerbaijan, were cast upon the Thames. The same number of balloons was also released – each bearing the name of a Khojaly victim.
Tale Heydarov, Chairman of TEAS, said that it was an honour to organize the event together with the 'Justice for Khojaly' campaign. He also drew attention to the petition about Khojaly which TEAS had submitted to the UK Prime Minister's website. The petition will be open for one year and he urged all UK citizens to sign it and help raise awareness of the tragedy. The petition can be found on the Prime Minister's website at http://www.number10.gov.uk/ (go to 'communicate', then 'epetitions' and search for 'Khojaly').
The Rt. Hon. Lord Kilclooney, a member of the TEAS Advisory Board, spoke of his long association with Azerbaijan as an MEP, Member of the Council of Europe and Member of the House of Lords. He spoke of visiting refugee and IDP camps in the country and of being moved by their plight. He believed that the event would ensure that the massacre and frozen conflict would not be forgotten.
Fakhraddin Gurbanov, Azerbaijani ambassador to the UK, commented that events were being held around the world to commemorate "a black day" in the history of his people and his nation, but that those in London were unique and moving.