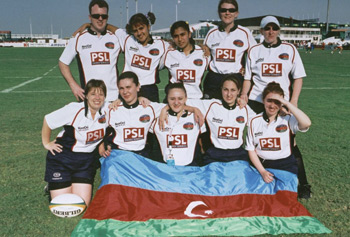 To many in Azerbaijan, the idea of rugby is a strange sport with complicated rules similar to American football. The reality however is fortunately very different. Once played in Baku over 30 years ago, rugby suffered a long hibernation until the summer of 2000 when a couple of expats discovered a handful of boys throwing a rugby ball around Neftchi Base Sports Complex. With barely enough players to make one 7's team (let alone two), no posts or pitch to speak of and no prospects of a game, the outlook was not promising.
Fortunately rugby attracts a certain type of enthusiasm and by the following year regular training sessions were taking place under the watchful eye of Bob Lambert. Within months Baku Rugby Club (BRC) was formed with a mixture of locals and expats. Add in some sponsorship from Barclaycard and Gilbert, the ball manufacturer following an article in the British Times and the club now had a kit and the means to grow.
With further sponsorship from SDL, GeoServices, Long Forest, Ace Forwarding, Xirdalan, Sterling and AZAL, BRC entered the Dubai Sevens the regions most prestigious tournament. With little match practice and no pitch to play on, the Baku boys certainly didn't disgrace themselves managing only one win, though fortunately for national pride this was against Russia.
This victory was hugely improved on the following year when the team reached the International Social Final only to lose in the dying minutes in front of 20,000 people. The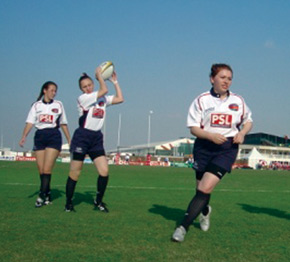 price for this achievement was to be bumped up a level the following year, though we managed to raise enough money to take two teams down thereby letting more Azeri boys enjoy the great Dubai experience. The Sevens team has now competed on the European Circuit for the last 2 years.
In fifteen-a-side, 2005 saw Azerbaijan recognised as a Federation and play its first full internationals against Bosnia including a memorable 11-8 victory on home soil. Azerbaijan is now ranked a respectable debut 34th out of 38 by FIRA.
From there rugby has gone from strength to strength as the team now competes on the international circuit and has teams at U-21 and U-17 level as well as an enthusiastic mini-rugby section in Orphanage N1 and the TISA Titans showing that the stars of tomorrow are receiving the training and support today. With sponsorship from BTC, the club employs a full-time coach and is spreading the game to the regions with rugby played in Jallibad, Sumgayit, Guba and Ganja. In addition, BRC has sent 2 players to British clubs and regularly attends FIRA training camps in Georgia.
Another highpoint has been the introduction of women's rugby, with European Champions Kazakhstan providing inspiration for our own Caspian Cats - although in their first year they have already competed in the Dubai 7s and as the turn-out at training improves, the sky is the limit. The highlight of the domestic season is our own Baku Festival with teams from Georgia, Russia and Iran taking part as well as Six Nation stars John Jeffrey, Derek White, Jeff Probyn, Paul Rendell and Norman Cowan.
With this rapid growth in Azeri rugby, it's no surprise that the ARF is always looking for sponsors - if you can help or would like to play or just watch the next international check out www.bakurugbyclub.com -Azeri Rugby Needs You.
Azeri Rugby Needs You - Enjoy the Season www.bakurugbyclub.com