The British invaded Baku in the 1990s. But this wasn't the first time the Brits had turned up in Azerbaijan. According to historical sources, back in the 16th century the Azerbaijani Safavid state built strong relations with Britain. Closer to our own time, in 1918 two British expeditions came to Baku. You can read more about them, and Britain's recognition of the independent Azerbaijani Democratic Republic, in Prof Qasimli's article.

With the creation of the Azerbaijani Republic in 1991, the old Soviet planned economy needed to be transformed into a market economy. Ramco was the first Western company to express interest in prospecting for oil in post-Soviet Azerbaijan, while BP was the first to
Strategic partners
Relations between Azerbaijan and Great Britain are based on the principles of equal partnership. The UK was the first West European country to recognise Azerbaijan's independence in 1991. The UK has supported Azerbaijan during hard times and worked to help integrate Azerbaijan into Euro-Atlantic structures. The UK's interest in Azerbaijan can be seen in the work of the British Embassy and a whole range of British companies and NGOs. Well-known British organisations such as the BBC, the British Council, British Airways and BP all work in Azerbaijan. An example of Azerbaijan's importance for the UK is that the BBC's Monitoring Service chose Baku as the location for its Caucasus Unit. According to the latest data, 27 Azerbaijani specialists are working at BP's head office in London.
The British lifestyle in Azerbaijan
In the early 1990s there were just a handful of Brits in Azerbaijan, mainly BP and embassy staff. Since then the British community has grown to over 1,000 and includes diplomats, businessmen, aid workers, journalists, engineers, teachers, lawyers, sportsmen and volunteers. The British bring to Azerbaijan both their ancient traditions and modern business practice.



When the Brits first came to Azerbaijan in the early 90s there were few facilities catering to their needs and tastes. Within a short time schools, exhibition halls, British pubs, British style shops, sports facilities and other infrastructure was available. Azeri readers might think that these facilities have been created to provide for the daily life and comfort of the Brits and have nothing to do with them. But these are facilities built in Azerbaijan, which means additional investment in the non-oil sector. Moreover, they provide a chance to get closely acquainted with British life, custom and traditions as well as culture.
Pubs
The English word "pub" comes from the word "public". It means a place where people can gather. People do not just drink alcohol and eat in pubs - they get together with other people and converse on all sorts of topics. Some talk to their friends and exchange the latest news, some read the newspapers, while others play billiards, darts or table tennis.

According to our observations the British living in Baku like to mark their holidays in pubs. St David's Day (1 March), St Patrick's Day, (17 March), St George's Day (23 April), Halloween (31 October), Christmas (25 December), and New Year's Day are often celebrated in the pubs. Pubs can have attractive names, which are displayed on a board outside. One of the pubs in Baku is called Chaplin's while another is Shakespeare's. Friendly conversations and quality British beer are what is most important in a pub. It is not obligatory to drink beer, but pub landlords say that beer is the cornerstone of the business. Beer is an ideal drink in pubs since it is served in large glasses and people can talk while they are drinking. In a nutshell, pubs can be seen as a British visiting card abroad.
Sport
The British community in Baku has contributed much to the promotion of traditional British sport in Azerbaijan. In the mid-1990s, on the initiative of a group of Brits working for British companies in Baku, the Baku Rugby Club was set up. The club developed and grew into the Azerbaijan Rugby Federation. It is true that there were rugby clubs in Azerbaijan in the Soviet era, but nothing practical was done to promote rugby to the professional level. Azerbaijani rugby has developed considerably in the past 10 years.

In 2001 a group of British, Pakistani and Indian citizens set up an

Azerbaijani readers might not know that the home of cricket is England and the game is one of the most popular in the former British colonies. International tournaments are held under the flag of the International Cricket Council, the ICC. Cricket is the most popular sport in countries such as India, Pakistan and Bangladesh, eclipsing even football.

The English will never forget the contribution of our compatriot Tofiq Bahramov to England's victory over West Germany in the 1966 World Cup Final. The referee did not think that the English shot had crossed the line, but linesman Tofiq Bahramov ruled in favour of an England goal. England went on to win the final, so English fans are happy to remember Tofiq Bahramov.
Family life
There is a common view that the British are cold and
Non-oil sector
The Long Forest Azerbaijani-Scottish joint venture has been running successfully for seven years now. The company's resort complex in the Quba-Khachmaz region has become a popular holiday destination for local and foreign visitors. Long Forest has also successfully set up business in the food industry and agriculture, as well as tourism, and exports produce to local and foreign markets.
Charities
On 24 June 2004 British citizen Gwen Burchell received a MBE from the Queen for her special contribution to education in Azerbaijan. She helps poor families care for their children at home, so that they do not have to place them in a children's home. Gwen Burchell says that it all began with a visit to a children's home. Not all the 8,000 children in state children's homes are orphans, contrary to what Europeans might think. Nearly 70 per cent of children have parents, but their parents are unable to look after them, either because they are divorced or poor, or because the children are disabled. Gwen Burchell set up the charity UAFA (United Aid for Azerbaijan) to help this category of children and their families Gwen told BBC Radio that she fell in love with Azerbaijan when she visited as a teenager. Her father was working at the time in Azerbaijan as a specialist in the oil industry.
Failing to get a positive response from British charities, Gwen Burchell decided to set up her own charity.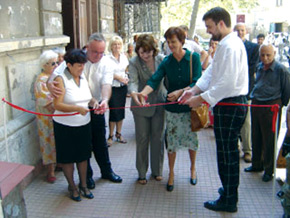 Mrs Quinta Woodward from Community Shield Azerbaijan
opening the Shelter for the Elderly & Homeless in Baku
She visited Azerbaijan in 1997, initially planning to work with refugees and IDPs (internally displaced persons). However, she soon realised that a small charity would not able to help the nearly one million refugees and IDPs and gave up the idea. After visiting a local children's home to distribute clothing, Burchell found her mission. She assembled the UAFA team which gives training to the staff of children's homes and helps families with disabled children. Now 33, Gwen gives practical assistance to the local authorities in developing their social security system.
The Brits in Azerbaijan are regularly involved in charitable work. Since the late 1990s the Anglo-Azeri Society and British Business Group have held a charity dinner during the week of the Caspian Oil & Gas Exhibition. The funds raised at the dinner are used for medical treatment for mentally and physically disabled children who live in the Saray orphanage.
One of the local charities, Community Shield Azerbaijan, was set up in November 2002 by a group of volunteers who worked at the Leprosarium at Umbaki. The charity continues to help the Leprosarium and also supports a number of other projects in and around Baku. For example, residents of the Rest and Labour Home for Young Invalids are encouraged to learn craft skills and helped in marketing their products.