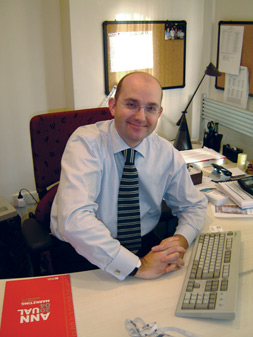 Andy Williams, director of the British Council in Azerbaijan, talks about the council's role and its work in education and culture in particular.

Andy Williams has worked for the British Council since 1992, in Poland, Syria, Thailand, the UK and since 2004 in Azerbaijan. He studied drama at university and worked for a while in the theatre in the UK. The British Council gave him the opportunity to travel and work in other cultures and he started teaching English in Poland in 1992. Since then he has worked in a variety of roles for the British Council and is currently enjoying the work in Azerbaijan.
The British Council has been working in Azerbaijan since 1993. We first started as a small Information Centre and gradually grew into a large organization working in a variety of fields. Present in 110 countries, 220 cities of the world, in Azerbaijan we work in three main areas, education, creativity and civil society. Our primary aim is to connect people in Azerbaijan and the UK through our work in these areas, and nurture lasting relationships between our countries.
Please tell us something about the most important events held with the support of the British Council last year in Azerbaijan?
There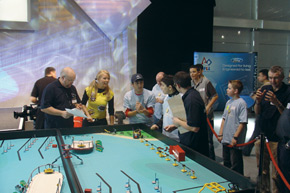 have been quite a number of events in the last year and it is difficult to talk about some while leaving out the others. Most of our events have an educational element to them, where we try to bring UK and Azeri partners together to share experience and learn from each other. A good example would be our Robotics project which by now involves eight secondary schools in Azerbaijan (not only in Baku but Ganja, Sumqayit, Agdash and other towns) and four in the UK. The Azeri and British kids, all aged under 16, have been very enthusiastic in working with Lego software to program robots, imitate space missions, share ideas through our website and do many other interesting things. Most recently the team from Agdash was named among the top five teams in the UK. Another example would be a series of TV shows in partnership with Space TV - a weekly programme called EU and Me. Young people discuss issues related to European identity, what the EU means to them and what challenges they think Azerbaijan might face on the way towards EU accession. I was struck with how analytical and forward-looking the young Azerbaijani students are!
We would like to know your opinions about the state of cultural and educational relations between Azerbaijan and Britain.
I am convinced that the cultural relations between Azerbaijan and Great Britain have been on a steady rise for the last five to 10 years. The UK pays a great deal of attention to Azerbaijan, and the same goes for your country which values the relations with Britain. I believe we can learn much sharing our experience, bringing our cultures together and drawing on each other's heritage. This is actually what the British Council is about – creating mutual understanding between people and societies. I am very optimistic about how our relations will continue to develop in the future!
What is the British Council planning to do in Azerbaijan in the future?
Our plans are ambitious. We want to be the first organisation that people would seek advice from about every aspect of the UK, whether that be education,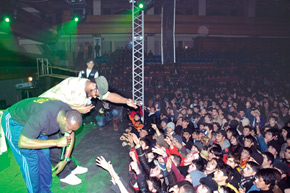 culture, human rights or arts. We will be striving to make our services available to as many people as possible through a range of means - traditional where people come to our building, online and interactive where you do not need to be physically present to use our services and can do so via internet or your mobile phone. We want to be closer to the people of Azerbaijan in terms of knowing what they want us to do for them and do it better and faster. The future of Azerbaijan looks very promising to me so we want to be there as partners for development.
We would be pleased to know your thoughts, as a Briton living in Baku, about Azerbaijan and Azeris?
The British Council works mostly with young people in Azerbaijan and I have been tremendously impressed with Azerbaijani youth. They have a thirst for knowledge and education and a commitment to develop their skills to enhance their careers (especially in English). In my social life I have found Azerbaijani people to be very friendly and helpful wherever I go. They are always interested in me (where I am from etc) and I always regret that I don't know enough Azeri to have longer conversations. Living in Baku is fascinating. I love the mix of architecture and especially the centre of Baku with its promenading and street life.
It is important for us to know your opinions about the magazine Visions of Azerbaijan & Britain which aims to promote bilateral understanding between Azerbaijan?
I applaud the work you are doing to launch this magazine and wish you every success. The British Council supports your aim to promote bilateral understanding between Azerbaijan and the UK and we look forward to helping in whichever way we can the magazine's success.
English teachers in Azerbaijan have always been respected. Have you got any projects to support them in their teaching process?
We have already been supporting them for almost four years. The demand for English is very high in Azerbaijan and will continue growing in the next five to 10 years. We can only satisfy a part of the demand through our English language courses but we do want to include as many people as possible. We have been running a joint teacher training programme with the Ministry of Education where we teach Azeri teachers of English new interactive methodologies, modern class techniques - all because we want them to be more professional and qualified to pass the knowledge on to their students. We have involved over 500 teachers so far and I look forward to that number doubling and tripling in the next two years!

"I was struck with how analytical and forward-looking the young Azerbaijani students are!"