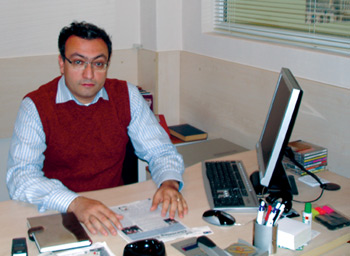 The Foreign Office and British Council run a programme of scholarships for one year's post-graduate study in the United Kingdom. The Chevening scholarships are aimed at young people who have the potential to become future leaders and decision-makers in Azerbaijan. The scheme operates in many countries and, since it started here in 1994, Azerbaijan has sent 44 scholars to the UK.
Farid Akhundov was one of the first scholars in 1994-95. He did an MBA in Business Studies at Salford University and is now one of Azerbaijan's leading banking specialists, running his own banking consultancy. Visions spoke to him about his time in the UK and its influence on his career.
You were one of the first young Azeris to gain a Chevening Scholarship. How did it happen?
In the early 1990s I studied at the Azerbaijan Economics University and also learnt English. I began to work as a specialist and translator at the Foreign Investments Department of the State Planning Committee. But I had always hoped to continue my education in England. In 1994 my dreams came true. I successfully completed business administration courses sponsored by the British Council and BP and took part in the competition for a Chevening Scholarship. I was successful in the examinations and got the chance to study for a master's degree in international business administration at Salford University in Manchester. There where four Azeris who won a Chevening scholarship.
Did the education you got in Britain influence your future activity in any way?
Of course, the knowledge I got in England had a positive influence on my future career. There are many positive aspects to education abroad. There were many problems in reforming the planned economy inherited from the USSR so that it could meet the demands of the market economy after Azerbaijan regained its independence in 1991. From this point of view there was a great demand for specialists who knew about the Western administrative system. Young people educated abroad helped to meet this demand. But since Azerbaijan had limited financial opportunities, it was beneficial for Azerbaijan to have stipendiums granted by foreign countries.

I have benefited from the opportunities given by the British government and the knowledge, academic experience and world outlook that I gained. I have maintained good relations and built my working life according to Western management principles. I also had the chance to learn about Britain's rich history, its political and economic structure, culture and life style. Meeting foreign students at the university was a great opportunity to learn about their countries and to improve my English, in a word, it was a dialogue of civilisations. I would like to take this opportunity to thank the British Council for their support.

In 1995 I finished my education in Britain and began to work at the Baku branch of HSBC Bank. I worked there till 2003, when the activity of the branch was frozen in Azerbaijan. Then I worked as chairman of the Administrative Board of Most-Bank Azerbaijan (currently Bank Standart). The two years I worked at the bank were a time of restructuring: not only did it change its name, it changed its internal procedures and became a new bank.

In August 2005 I established the FTF Consulting Services Company and work as a director. Obviously the company is very young. FTF Consulting is a company serving the banking sector. Our biggest contract was with the Asia Development Bank in Azerbaijan. Our collaboration includes banks' development projects in the private sector.
Was the Chevening scholarship tougher then than now?
Of course, there have been some changes in the competition in the past 12 years. The number of participants has changed, as have the rules of the competition. There were about 30 applicants in my day, but now hundreds of young people take part in the competition. And the levels of the applicants are also different. I think that the increasing number of Azeris trying to get an education in Great Britain needs to be taken into account. I think that both the Azerbaijani government and the British Council should look at increasing the number of students in the programme.
Have you participated in other British Council programmes?
I was an observer on management courses organised by the British Council and Nottingham Trent University in Baku in February-October 1993. The seven-month course, in which 17 young people took part, was sponsored by BP and the Norwegian oil company Statoil. The participants in these courses now work as managers. For example, Jeyhun Mammadbeyli is vice- president at Ata-Holding, Fazil Alekperov is the owner and manager of the Wayne's Coffee franchise in Estonia and Turxan Mahmudov works as a senior manager for strategic planning in the Moscow Office of British-American Tobacco.
We know that your interest is not limited to the banking sector, but also includes tourism.
You're exactly right. The FTF Consulting Services Company operates the RAENA Tourism Company. Our company is interested in health tourism and organises visits to Russian resorts in the North Caucasus. We organise holidays and treatments in Kislovodsk, Mineralniye Vodi, Pyatigorsk and other resorts with our partners in Moscow. Our company is the largest local company organising health tourism. Currently our tourism managers are on a business trip to Kislovodsk, where they are looking to develop new areas.
Have you ideas to attract tourists from Europe and elsewhere to Azerbaijan?
It is obvious that visits by foreign tourists have been gradually increasing in recent years. But the right infrastructure is needed to attract potential tourists to our country. Turkey's Antalya resort area is more attractive to Europeans than Absheron beaches, because of the very low prices. Tourism has to be on an industrial scale for prices to be kept low.
In Nabran beautiful and comfortable resort centres have opened with a high level of service and reasonable prices. It would be expedient to attract Russian tourists to the Nabran-Khachmaz region, since it is close to the Russian Federation. I think that work needs to be done in this regard.