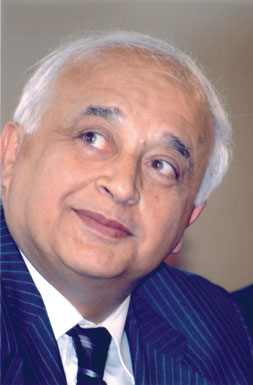 Pages 66-70
by Ian Peart & Saadat Ibrahimova
The theatre in Azerbaijan has its own dramatic history; 100 years ago Uzeyir Hajibeyov's first heroine had to flee for her life from moralists outraged by the appearance of a woman on stage. Writers also led a precarious existence during Stalin's supremacy in the Soviet Union. Drama and dramatists, however, are hardy species and flower quite willfully in the most challenging conditions; thus Azerbaijan boasts Misir Fatali Akhundov, Huseyn Javid, Jafar Jabbarly and Ilyas Efendiyev among others who have made their mark and whose works are still played.
Drama is perhaps the least familiar of the Azerbaijani arts to visiting experts, language often presenting a formidable barrier, but persistence usually finds its reward. It was one of those strokes of fate that, having just agreed to an exchange of information with university students - Shakespeare for Nizami - we saw an announcement for a new play by Elchin, called Şekspir (Shakespeare) - this also offered a first chance to visit Baku's new and elegant theatre and, perhaps, to meet again one of the country's most prolific and popular living writers.
Elchin is a man of many parts: professor and critic; novelist and writer of short stories (seven of which have been made into films); dramatist and translator of Moliere, Pirandello, Sartre and Beckett, among others, as well as a Writers´ Union official and, since 1993, a deputy prime minister of Azerbaijan. The son of Ilyas Efendiyev, he has more than upheld the family tradition and is a People´s Writer and recipient of the Istiqlal (Independent) medal - the country´s highest.
Elchin was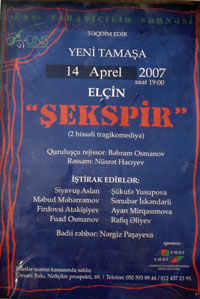 a late developer in producing drama, even though father Ilyas told him that in his prose he was, in fact, writing plays. It is true that he´d had a piece stifled by censorship in 1970, but he was 30 years into his career before he brought a play, Ah, Paris, Paris!..., to an audience.
"I don´t know why," he says, "but then nine more plays followed.... Inside, I am full of theatre, I am burning to write..."
Shekspir is Elchin´s 10th play in a period which more or less coincides with Azerbaijan´s revival as an independent nation; there is surely a connection.
Why turn to theatre after success with the more popular forms of novel and cinema? - His starting point is pride in his nation´s culture.
"Ours was the first country in the region to embrace theatre. At the end of the 19th century Shakespeare and Moliere were staged here. In the 20th century it is hard to name an Azerbaijani poet or novelist who didn´t write plays - the art of theatre is native to Azerbaijan."
And as for theatre being an old fashioned art:
"Theatre is s strong that it can´t be replaced.... Both cinema and theatre develop; cinema develops technically and so a 10-year-old film can look outdated and lose its appeal. The principle of theatre remains the same: writer, director and actor... The difference is that theatre is live, it is a ´warm´ art." Azerbaijan is, of course, going through another phase of rapid (oil) industrial growth and many might think that the economy rather than Shakespeare should be the focus of Everyman´s attention; well, yes, but...
"The foundation for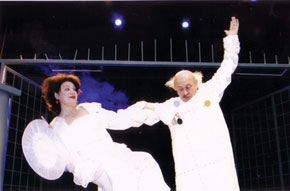 Sarah Bernhardt & Venusian in Şekspir
development is culture: this is the main idea behind Şekspir. Art dissolves national boundaries. Shakespeare symbolises the power of art to connect people. Just as Tolstoy is such a great writer for all nations because he could express so well the essence of Russian nationality, so Shakespeare is a great Azerbaijani writer because he is so good an English writer."
Şekspir
These themes are explored in Elchin´s latest play, which is both thought provoking and highly entertaining, especially when presented with the panache in evidence in the Üns theatre production. The combination of actors from the National Theatre (based in Fizuli Square) and the Russiaz n Drama Theatre (in Khagani Street) brought to vivid life a strange collection of characters to hilarious and dramatic effect.
What to make of a play set inside a hospital for the mentally ill whose inmates include an inhabitant of the planet Venus; a Husband/Wife; /13 (Slash Thirteen) from the planet Vanderprandur; Sarah Bernhardt and Joseph Vissarionovich Stalin? Şekspir is a joyous celebration of the wisdom and insight to be gained from play and imagination, especially when set against the prosaic plodding of the hospital staff. Sarah Bernhardt is shocked to hear that Slash Thirteen´s only experience of theatre is from reading research papers:
´My God!... What can you drag out of such desiccated material?... Theatre is a body alive! It is a constant turning! A feverish burning!... How can you survive this cold life without theatre?´ (our translation)
Thus she affirms her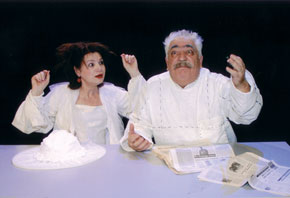 Sarah Bernhardt & Stalin in Şekspir
creator´s belief in the warmth of the art of the stage.
While the doctors struggle to cope with the daily grind, their "unfortunate" dependants are brought to life by Sarah Bernhardt´s passion for Romeo and Juliet; Juliet is "desire, the future, the purity of humanity", she says, on a stage which should show "imagination and dreams" and break away from "the Earth´s embrace.... into the sky".
A further clue to the play lies in the expression, "Many a true word is spoken in jest" or, as Shakespeare has it in King Lear, in which the Fool helps the old king to return to reason: "Jesters do oft prove prophets." Here, too, it is the "crazy" character who has the insight.
Slash Thirteen tries to explain to the chief doctor why his own highly developed planet does not have the wonderful theatre produced on this less than perfect Earth:
Slash 13 It may be because on my planet people do what they want to do and say what they want to say. Nobody hides what they think.
Doctor Everybody tells the truth.
Slash 13 You´re absolutely right. On my planet everybody speaks the truth, and that´s why we haven´t needed theatre.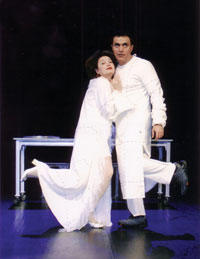 Sarah Bernhardt & Slash 13 as Romeo & Juliet in Şekspir
It means that they haven´t needed any other way to express what they think or feel. That´s my opinion. It´s a pity that there is a miraculous thing like theatre on the Earth but not on my planet. (our translation)
There are plenty of topical and familiar references to connect the strange world on stage with a Baku audience´s reality, provoking a lively response on the night we attended. It would be very interesting to see the play in a British theatre - we are sure Elchin would be happy to discuss this with any potential producer! As Şekspir comes to a surprise ending, we won´t spoil the fun for readers lucky enough to see a future production - especially if it is by the same company of actors. Enough to say that the finale is in the same spirit as another English poem:
He who binds to himself a joy
Does the winged life destroy;
But he who kisses the joy as it flies
Lives in eternity´s sun rise.´
(William Blake)
In this play the "crazy" patients are content to enjoy a friend´s release and seek their own way, while the doctors´ response is rather less confident; they are the dependant ones.
Refreshing indeed to watch a play written and presented with such breadth, spirit, imagination and energetic optimism, especially by (may we say?) such a senior man of letters. May Elchin´s wit and pen never run dry!