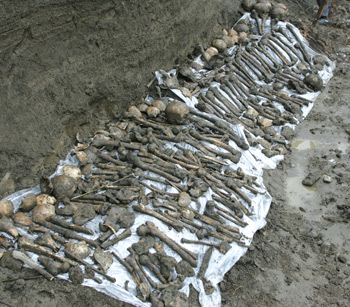 Page 37
by Rovshan Didavari
A mass grave has been unearthed at Guba´s central stadium in the north of Azerbaijan. Skulls and bones were dug up during reconstruction work at the stadium on 6 April. The remains found in the mass grave bear bullet holes or other signs of a violent death.
The grave is five metres long and four wide. Specialists from the National Academy of Sciences´ Archeology and Ethnography Institute are studying the remains.
In March 1918 thousands of Azerbaijanis and Jews were killed in Guba District when Armenians went on the rampage. The massacre was carried out on the order of Bolshevik leader, ethnic Armenian Stepan Shaumyan. Archive material and academic research confirm that 3,000 people were killed by Armenians in the city of Guba and 16,000 in the district as a whole, while 122 villages were wiped out. It is thought that the remains found in the mass grave may be those of some of the victims of this massacre.
Local people believe that the remains are those of the 1918 victims, as they heard of the killings from their parents and grandparents. Another mass grave is thought to have been found in the Davadabani area in Guba.
Semyon Ikhilov, the leader of the Mountain Jews´ religious community, wrote about the killings to the National Academy of Sciences´ Human Rights Institute: "In the 1980s I publicised information about the mass slaughter of Jews during the massacre of Azerbaijanis in 1918-19, which the community had not known about. According to witnesses and various documents, about 3,000 Mountain Jews were brutally killed alongside Azerbaijanis. It was possible to confirm from archive documents the names of only 81 innocent Jews, who were killed during the March 1918 events in Guba." During the Soviet era the problem of the Mountain Jews, or Tats, was studied as an ethnic issue without a religious dimension. The killings were, therefore, studied in the context of the massacre by Armenians of the Tat ethnic group.