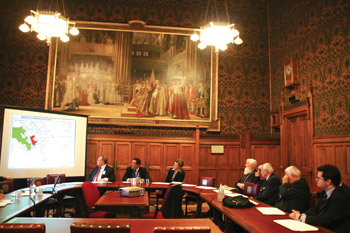 Pages 10-11
A group of British MPs has called for the Khojaly tragedy to be recognised as genocide. They were speaking at a ceremony to mark the 15th anniversary of the tragedy, held on 22 February at the House of Lords.
Opening the event, Azerbaijani ambassador to the UK Rafael Ibrahimov urged the British public and political circles not to remain indifferent to Khojaly. He provided information about the Karabagh conflict and the painful results of Armenia's aggression; special maps, video footage and photographs were shown, as well as shocking pictures of the Khojaly victims taken by Chingiz Mustafayev.
Mr Ibrahimov said that Azerbaijan would do its best to gain the recognition of the Khojaly tragedy as genocide by the parliaments of foreign countries, including the British Parliament. He also said that, in spite of these tragedies, Azerbaijan is eager to gain the peaceful resolution of the conflict. The ambassador also spoke about the contribution of the Baku-Tbilisi-Ceyhan oil pipeline to
For the first time, parliamentary officials from one of the world's leading countries called for the recognition of the Khojaly tragedy as genocide. Baroness O'Cathain provided comprehensive information about the tragedy; she said that the town had been wiped out by the Armenian army with the support of the post-Soviet 366th army and listed the dead, the missing and those taken prisoner. Baroness O'Cathain said that the Azerbaijani government did not regard the tragedy as a mass killing but as genocide. She said that the British media had covered the horrors of Khojaly and called on other MPs to support Azerbaijan.
Independent expert David Barchard spoke about Armenia's policy of aggression. He to gaiexplained this policy and spoke about the problem of refugees and internally displaced people in Azerbaijan. He called on the whole world to support Azerbaijan, whose refugees live in miserable conditions, and accused the European Union of indifference towards the Azerbaijanis' plight.