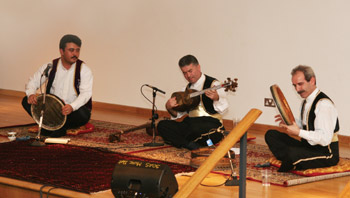 Pages 16-17
Londoners have enjoyed a rare opportunity to listen to a live performance of Azerbaijani mugham music. The Qadim Sharq mugham ensemble performed to a packed auditorium at London University´s School of Oriental and African Studies in mid-February and were also broadcast on the BBC.
Qadim Sharq consists of three musicians - daf player Mahmoud Salah, who is also art director of the ensemble, tar player Elman Sadiqov and singer Gochaq Askarov. All 280 seats were taken for their concert at SOAS´s Brunei Gallery Theatre and people were overflowing into the aisles as well. Qadim Sharq´s mughams, folk songs and instrumental compositions all went down well with the enthusiastic audience.
The concert was the idea of Dr Sanubar Baghirova, a UNESCO expert on oral and intangible heritage and specialist on Azerbaijani mugham. Keith Howard, director of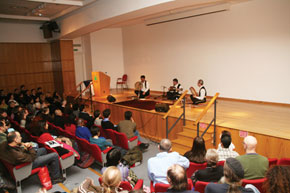 the Cross-Cultural Research Centre/Studio at SOAS, backed her idea and included the event in the university´s concert programme. The Azerbaijani Embassy in UK and London Azerbaijan Society also supported the project and an accompanying photo exhibition of work by Agdes Baghirzade, Salam, Azerbaijan.
The photo exhibition opened in the SOAS lobby before the concert and showed 52 images of Azerbaijan, its landscapes, architecture and people. The exhibition was as popular as the concert, with Keith Howard reporting that he is still getting "positive comments on the event".
Qadim Sharq also performed on BBC Radio 3's World Routes weekly programme, presented by Lucy Duran. After the programme was broadcast on 17 February, Sanubar Baghirova got an offer from a manager of a well-known UK company, Asian Circuit, proposing a 2007/08 concert season for the group.