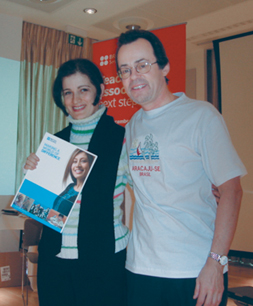 AzETA President Ragsana Mammadova with Prof. George Pickering at the Teachers´ Association Seminar in Cambridge, December 2006
Pages 58-62
by Ragsana Mammadova
The Azerbaijan English Teachers´ Association (AzETA) supports top quality English-language teaching and the professional development of English-language teachers across Azerbaijan. Established in 1995 and officially registered in 1996, AzETA is a not-for-profit, non-governmental organisation. The association has a strategy of supporting ELT through various activities and projects: teacher training, materials development, study tours, TV matinees, conversation groups, workshops and conferences, etc. Rather than supporting one or two individual institutions, this strategy enables AzETA to assist the professional development of teachers in secondary schools and universities throughout Azerbaijan, both in the public and private sector. The strategy has produced impressive results and builds networks of teachers, committed and empowered to implement the Ministry of Education´s Education Reform.
AzETA is managed by an Executive Board of 11 members who are elected by Conference every three years. AzETA is different from other organisations in that it has no paid staff. All the work is done on a voluntary basis, but all the members are happy to volunteer for AzETA, as through this experience they empower themselves personally and professionally. AzETA volunteers enhance their expertise in the modern requirements of ELT and acquire management, organizational and leadership skills which can be applied to any field in building civil society in Azerbaijan. For their volunteer work and dedication they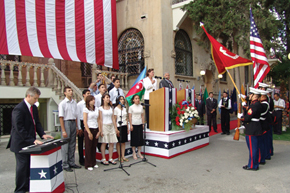 AzETA English Access Microscholarship Programme students sing the Anthem of America at the US Embassy Independence Day Reception on 3 July 2007
are given priority in selection for ELT programmes and get the chance to represent AzETA and Azerbaijan at different international events.
The association has spread across the country. So far, AzETA has branches in Baku, Ganja, Khachmaz, Mingechevir and Sheki. AzETA regularly organises: (a) study tours among the branches to enable them to share experience and information and to cooperate on joint projects; (b) grand meetings of individual branches to bring all the members of a particular branch together where the Branch Management Committee report on the work done and present their action plan for the next period; (c) regional conferences where the branch members are given an opportunity to give presentations on different topics related to ELT. This enables them to acquire presentation skills and gain confidence to apply to attend international events as presenters; (d) annual AzETA conferences where AzETA members have an opportunity to meet their colleagues from different countries, share experiences, learn new ideas and teaching techniques, etc.
Since its establishment, AzETA has carried out more than 100 small and big, local, regional and international projects. The projects are mainly funded by the US Embassy, the British Council, Hornby Educational Trust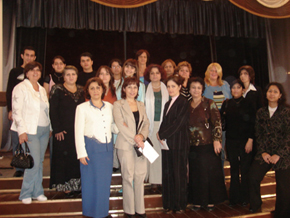 AzETA members after the EEC 3rd Conference, October 2006
and Open Society Institute.
Membership
At the moment AzETA has more than 600 members throughout the country. Membership is open to all English teachers who teach in the public and private sectors. Membership forms are available on the AzETA website (www.az-eta.org) AzETA creates an opportunity for its members to:
attend AzETA activities such as conversation groups, TV matinees, workshops, training, study tours, forums, debates and seminars
borrow teaching and methodology materials
share expertise and experiences with colleagues in workshops, special interest groups, mini-conferences, regional and annual conferences
attend AzETA annual conferences at special rates
join IATEFL (International Association of Teachers of English as a Foreign Language) at a special membership rate offered to AzETA
join special interest groups
attend training, workshops, seminars, conferences in Azerbaijan and abroad
co-operate with colleagues on different projects in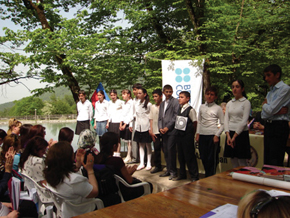 AzETA English Access Microscholarship Programme students demonsrate their English knowledge at AzETA Regional Conference in Qebele, 26 May 2007
Azerbaijan and abroad
build skills in organisational management, fund raising, project development, conference organising
develop personally and professionally
There are seven special interest groups in AzETA to date:
Adult Learning
Civic Education
Materials Development
Newly Qualified Teachers
Teacher Training
Testing and Assessment
Young Learners
AzETA members can join any or all of these groups.
Working with learners
Although AzETA is a teachers´ association, it closely involves learners in its activities. This gives the member teachers the opportunity to apply their knowledge in a safe environment which they might not be able to do in their workplaces. AzETA has different projects for different groups of children according to their backgrounds.
AzETA Enjoy English Club unites talented children from Baku´s secondary schools. The club was established on 8 September 2001 with the aim of helping members improve their level of English through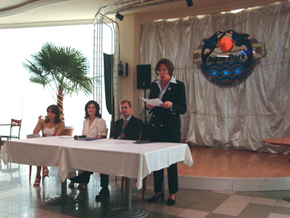 US Ambassador Mrs Anne Derse makes opening remarks at the AzETA 3rd International ELT Conference. Next to her is former British Ambassador Dr Laurie Bristow
debates, discussions and conversation. They are also actively involved in organising different events for children and assisting AzETA at conferences, charity activities and summer camps for orphans. This strategy helps the children acquire management and leadership skills to make them the future builders of civil society in Azerbaijan. Club members have organised four children´s conferences to date. Club members are as confident as their teachers in organising events and making presentations in English. Club members have given presentations and had debates on topics such as You and Others, Say "No" to Bad Habits and Education in Our Life. The club produces a quarterly newsletter in which club members write about different issues. For more information on the work of the club, contact Mrs Dilara Bunyatova at: d_bunyatova@azeta.org Orphans who study at Qizildash Vocational Educational Lyceum No 8 are brought together under the AzETA Qizildash English Language Programme.
AzETA was introduced to these orphans by Community Shield. When CSA became involved with this orphanage a few years ago, the first priority was to improve these kids´ living conditions. The need for other assistance soon became clear and the volunteers tried to think of different ways to particularly improve the employment chances for these young people. A very useful skill to have is to know English so CSA approached AzETA to see if AzETA could assist. Thus, AzETA started a project in Qizildash with the finansial support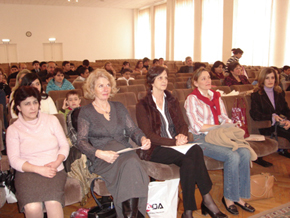 Quinta Woodward of Community Shield Azerbaijan at AzETA Novruz holiday celebration for orphans, March 2006
of the British Council and AzETA Young Learners special interest group in October 2004. An impact study showed that the project was a complete success and returned outcomes far beyond what was expected. Now BP provides transport for teachers to continue the project. AzETA organises summer camps with the support of various trust funds. The children have an English-speaking environment at the summer camp where they have different daily activities focused on civic education and basic hygiene rules that help improve their English skills and raise their awareness of their rights. The children are also taken to visit historic sights nearby. AzETA continues classes in Qizildash during the school year and organises activities such as celebrations of national and international holidays to help the children integrate into society and contribute to building civil society in Azerbaijan. If you are interested in the work of the programme or would like to make a contribution towards the activities, please, contact Ragsana Mammadova at: Ragsana.Mammadova@fco.gov.uk Children from vulnerable families who prefer madrasas (religious schools) benefit from the English Access Microscholarship Programme (EAMP). AzETA launched the programme with the financial support of the US Embassy in Baku. The beneficiaries of the project were children between the ages of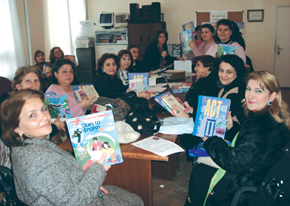 AzETA members gets book donation from English teachers in California, US
14-18 from vulnerable families who prefer religious schools. The aim was to teach them English in the 2006-07 school year. At the end of the project, a non-residential one-month summer camp was organised followed by a one-day end of project forum. The project took place in Baku, Lenkaran and Qebele. In order to encourage the programme students to learn English better, AzETA organised different events to mark New Year, Martyrs´ Day, Novruz and the International Day of Defence of Children. Many of the students were awarded several certificates, including in English proficiency, which was a great surprise to them all.
Cooperation
AzETA closely cooperates with ACCELS (American Council), Baku Slavic University, the British Council, Community Shield Azerbaijan, IREX, the Ministry of Education, the Open Society Institute-Assistance Foundation and the US Embassy in Azerbaijan. It also has relations with organisations abroad such as the British Council´s London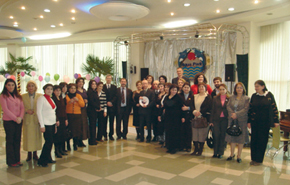 AzETA members with the former British Ambassador Dr Laurie Bristow at the farewell reception organised by AzETA in honour of Brian Maguire, English Programmes Manager of the British Council
office, the Hornby Educational Trust, the UK-based IATEFL (International Association of Teachers of English as a Foreign Language), English Teachers´ Associations of Brazil (BrazTESOL), Georgia (ETAG), Hungary (IATEFL-Hungary), Pakistan (SPELT), Russia (OmELTA), Turkey (INGED) and Uzbekistan (UzTEA). AzETA is a member of RENTA (the Regional English Teachers´ Association which consists of eight Teachers´ Associations from Central Asia, the South Caucasus and the Russian Federation), the ACE (Azerbaijan Civic Education) Coalition and the NGO Forum of Education Related Organisations of Azerbaijan. Since October 2005 it has also been an associated member of IATEFL (International Association of Teachers of English as a Foreign Language).
Library
AzETA has one of the richest libraries in Azerbaijan of ELT-related books published in the UK and USA. The majority of the books were donated by the US Embassy, British Council and Peace Corps.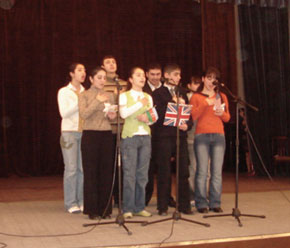 AzETA English Access Microscholarship Programme students sing the Anthem of the UK at the Programme reporting event in March 2007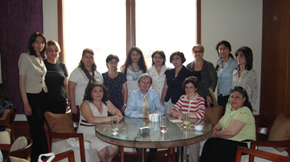 AzETA Executive Board members and activists with the former British Ambassador Dr Laurie Bristow at the farewell reception in his honour in collaboration with AUKAA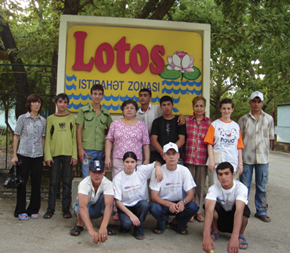 AzETA Summer Camp for Gizildash Orphanage
Individual donations have also been made by HE Mr Reno Harnish, former US ambassador to Azerbaijan, Mrs Quinta Woodward, spouse of former BP Azerbaijan President David Woodward, and Mrs Judith Tucker, spouse of the former British ambassador to Azerbaijan, HE Mr Andrew Tucker. Through the US World Vision organisation Mrs Leslie Harnish, the former US ambassador´s spouse, donated about 200 books on different subjects to AzETA. AzETA members can borrow a book for one week at a time. The library also has a rich collection of ELT-related audio and videotapes.
Future
AzETA is going to hold the fourth ELT Conference on 10-11 November 2007. Plenary speakers will be from the UK, Turkey and USA, with presenters from Georgia, Iran Turkey, the USA and Azerbaijan. Branches of the Enjoy English Club are to be established in five regions of Azerbaijan with the support of the US Embassy. The EAMP and NQT projects will also be continued. More information on all the above can be obtained from AzETA news bulletins on the website at: http://www.az-eta.org/bulletin.php