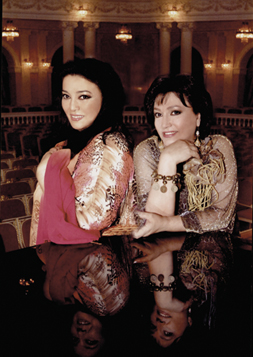 Pages 28-31
Interviewed by Tanya Krivitska
Azerbaijan´s fame, brought about by its abundance of black gold, has reached even the remotest parts of our planet; drawing thousands of people from all over the world to this mystical land of fire. But the most valuable resource of any country is its people and Azerbaijan can certainly be proud of theirs. Fidan and Khuraman Kasimova are acclaimed opera singers, whose talent has impressed not only audiences in the former USSR but has gone far beyond its tightly-closed borders. A talent such as theirs needs space, it has to get out and show itself to the world. These two sisters were early swallows who broke through the iron wall of the Soviet Union and shared their talent with European audiences. Their records sold at the speed of light, their posters could be found in every Soviet home and invitations kept coming from acclaimed European maestros. These beautiful and talented women had it all - spectacular singing careers, fame and admiration. Nowadays they continue to bring the joy of bel canto singing to the public in Azerbaijan and abroad.
They also generously share their talent with the younger generation by teaching master classes around the world, but their heart stays in Baku, where they nurture new talents at the Conservatory.
I recently had the pleasure of interviewing these amazing divas.
How did you become passionate about music and singing?
Khuraman: When I was at school I didn´t think of becoming a singer - I wanted to be a journalist. But destiny had everything designed otherwise. Our father had a great voice, which we´ve inherited and I did enjoy singing when I was a child. I was in many choirs. I was always a soloist and I suppose that singing was a big part of my life. Then my sister Fidan became involved in music and singing so she became my role model.
As well as being an Opera Diva, you have starred in a number of films - how did that come about?
Khuraman: My film career started early and was quite successful. I was a child then, I was chosen by many film directors to star as leads, usually playing girls of my own age. My second film was the top hit in the whole Soviet Union at the time!
After I graduated from high school, my Mum advised me to study singing professionally, as I was singing at home non-stop. I entered the Conservatory and became really absorbed in my studies, learning the secrets of the art of signing. I was lucky to have my sister who already studied in the Conservatory, so I wasn´t afraid; I got a lot of help from her.
You simultaneously studied at two departments of the Conservatory vocal and violin. Was it hard a hard choice to make - which path to follow more seriously?
Fidan:
I became the first student at that time to study in two departments. I loved the violin, but I had to make a decision. The desire to sing was stronger, so I continued to pursue singing as my career. When I became more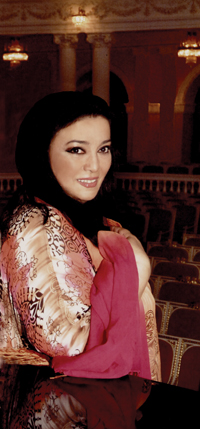 Fidan Kasimova
deeply involved in voice, I was very grateful that I had studied music, it made my life easier - I was able to learn my parts much more quickly.
Was your family a musical one?
Khuraman: Our father was an electricity engineer but he was very artistic and talented, he painted and sang as well, so we were lucky to get the talent from him just as he got it from his father.
Fidan: And our father´s grandfather Abdu Salam Akhundzade was the first Sheikh of all the Caucasus, i.e. he was the leader of all Muslims in the region. He lived in Tbilisi and was a cofounder of the Gori teaching seminary (from which Stalin later graduated).
Uzeyir Hajibeyov, acclaimed Azerbaijani and Soviet composer, conductor, scientist, publicist, playwright, teacher, translator and public figure was another well-known graduate from Gori teaching seminary.
Khuraman: Our grandfather Alibek Kasimov also graduated from the Gori teaching seminary, where he concentrated on Russian studies and became a famous educator of his times. As well as teaching he translated a number of world famous literary works from Russian into Azerbaijani, among which are works by Lev Tolstoy. While studying and translating his works, Alibek Kasimov noticed that Tolstoy´s depiction of the Muslim religion was not always correct, so the young man decided to point out the mistakes to the 70-something writer. He wrote him a letter in which he explained the discrepancies in Tolstoy´s work about Islam. Alibek Kasimov´s letter got to Yasnaya Polyana, Tolstoy´s residence, and the legendary Russian author wrote back to our grandfather and expressed a desire to meet him. Alibek Kasimov and his two friends spent two months visiting Lev Tolstoy at his residence. There they discussed Islam and other religions and philosophical matters, as Tolstoy was always searching for the Truth.
Since your predecessors were famous educators, is it easy for both of you to teach your own students?
Fidan and Khuraman: We do enjoy teaching, in the last few years we have trained nine winners of international competitions. But our mission here is to be singers. Before we were even born, our mother was hoping we would sing like our father. It is a shame she cannot see us now.
Ms.Khuraman, in 1981 you won a grand prix in Athens and a gold medal at the Maria Callas competition. After that you were invited by the great Tito Gobbi to study in Florence but couldn´t make it. Why not?
Khuraman: That competition was a great victory, it really was. The first step was to win in Moscow, and there the competition was always very strong; so winning at the level of the Soviet Union was already a major achievement. Then I was sent to Athens to compete against other singers from all over the world. My sister and I were the first to participate in international competitions. At that time it was unthought-of to go to another country at all! So when the great Tito Gobbi, (a prominent Italian opera singer and soloist of La Scala) offered me a scholarship to study in his academy I was beside myself! When I came back home our mother had just died and it was 1981, so leaving the Soviet Union was almost impossible. I was devastated that I was missing such a tremendous opportunity, but decided to brace myself and continue with my development here to the utmost. The Soviet media was trying to encourage me, comparing my skills to those of the Italian opera singers, I was thrilled of course, but going to school in Florence would have been very useful.
Ms.Fidan, you received the title Honoured Artist of the Soviet Union in your early 30s - a very young age! How did it feel?
Fidan:
I was very thrilled to receive the award from Moscow signed by Gromyko and Georgadze. It was a big honour for me, as only a few people could represent their country in this way. We are hoping that our children will carry the torch of art throughout the years and will make this world beautiful with their talents and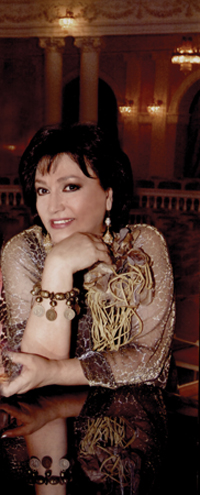 Khuraman Kasimova
creations. My son Farid is already a composer and performer of his own music. He composed his first song when he was 11, and I am proud to watch him grow and develop into a professional individual.
What does it take to become good at what you are doing? Is it possible to achieve great heights with just hard work and perseverance?
Fidan: Hard work and determination are definitely necessary but the talent comes from above.
Have you thought about performing together with a world rock or pop star?
Fidan and Khuraman: It would be great to sing with some rock or pop stars. We enjoy singing jazz, symphonic jazz, etc. We are multi-faceted singers; we don´t just concentrate on opera. At the moment we are planning a jazz concert where we´ll perform compositions by Gershwin.
Where else would you like to perform?
Fidan and Khuraman: In Italy, to show that Azerbaijan also has followers of the bel canto school and in London´s Royal Albert Hall.
Bel canto (beautiful singing) is an Italian musical term that refers to the art and science of vocal technique which originated in Italy during the late 16th century and reached its pinnacle in the early part of the 19th century during the bel canto opera era.
Bel canto singing characteristically focuses on perfect evenness throughout the voice, skilful legato, a light upper register, tremendous agility and flexibility, and a certain lyric, "sweet" timbre. Bel canto emphasizes technique rather than volume: an exercise said to demonstrate its epitome involves a singer holding a lit candle to her mouth and singing without causing the flame to flicker.
What is a good audience for you?
Fidan and Khuraman: Just the fact of being on stage is fantastic. Any audience that appreciates listening to us is a good audience. We have found a common language with people in all the countries we´ve been to. The language of music is clear to all nations.