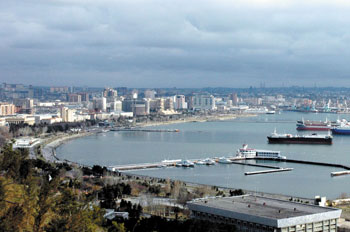 A view of Baku bay
Pages 4-9
by Dr. Yoko Hirose
Azerbaijan occupies a very important position geopolitically because of its oil and gas resources and because of its strategic location between Christianity and Islam, between eastern and western civilizations. Dr Yoko Hirose, associate professor at Tokyo University, looks at Azerbaijan´s role in the region, both political and economic. Throughout history Azerbaijan has been invaded many times by its larger neighbours. While these invasions caused much suffering and hardship, they also enriched Azerbaijan´s culture. For example, the Azerbaijani language has many words from Arabic, Persian and Russian, while Azerbaijani cuisine has absorbed various cultural influences to produce the rich and varied dishes it has today.
US and Russia compete for influence
Azerbaijan has grown in strategic importance in recent years.
First, Azerbaijan´s position between east and west, bordering on Russia and Iran, has made the country more significant since the collapse of the Soviet Union. Although the cold war has officially ended, cold war thinking still persists and cold war heritage, such as NATO, remains. The United States has always tried to decrease Russian influence over former Soviet and Eastern bloc nations.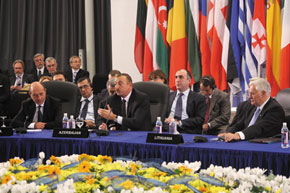 Azerbaijani President Ilham Aliyev holds discussions at the Energy Security Conference in Vilnius in 2007
Azerbaijan´s rich resources are a big reason for the United States to want to secure Azerbaijan as a special partner. In addition, as a neighbour of the USA´s sworn enemy Iran, Azerbaijan acquires more importance as a regional ally for the United States. Azerbaijan is close to the Middle East and Central Asia, including Afghanistan, both regions of strategic concern for the USA. Azerbaijan, therefore, occupies a very important position as a strategic base and a buffer zone.
The USA and Europe would like to see Azerbaijan renounce the old communist model and smoothly attain European standards and democracy, serving as an example to other former communist countries.
Second, Azerbaijan is important as a base in the war on terrorism. After the 11 September 2001 attacks on the World Trade Centre, preventing the proliferation of terrorism in the Middle East and Central Asia became central to US policy. Because of its geographic location, Azerbaijan has, therefore, became an essential partner for the USA in promoting joint counter-terrorism policies. It has been said that the Qabala radar station in Azerbaijan was used for the USA, when they attacked Afghanistan.
The Bush government began
Azeri-Chiraq platform in the Caspian Sea
major multilateral assistance, including military assistance, after the US Congress lifted Section 907 to its Freedom Support Act. Section 907 had prevented the US government providing aid of any kind to the Azerbaijani government. Its repeal showed that Azerbaijan was now more important to US policy than satisfying the strong Armenian lobby in the USA. Azerbaijan has been able to receive a large amount of assistance in infrastructure, social security, quality of life, military affairs and other areas, although the Azerbaijani president always declares that Azerbaijan would not cooperate with the US in the event of a US military operation against Iran.
Most of Azerbaijan´s population is Muslim (about 70 per cent of people are Shia and 30 per cent Sunni). However, the Islamic factor is not strong in Azerbaijan, as the Soviet Union practised an anti-religious policy. Azerbaijan´s Islam is still managed by the Islamic religious bureau that administered the faith in the Soviet period. Therefore, radical Islamic movements have been suppressed in Azerbaijan, which makes the country a more suitable base for the USA.
However, Azerbaijan has become much more important for Russia, too. Relations between Russia and Azerbaijan during Russian President Boris Yeltsin´s time in office were very strained. Russia tried to make Azerbaijan unstable in many ways including by supporting Armenia in the Nagorno-Karabakh conflict, and helping the coup d´etat to remove Azerbaijan´s second president, Abulfaz Elchibey. He and his Popular Front government were known for their nationalism and policies in favour of Turkey and the West and against Russia and Iran. Both countries subsequently changed their presidents. Heydar Aliyev became Azerbaijan´s third president, while Vladimir Putin became Russia´s second president. Both shared origins in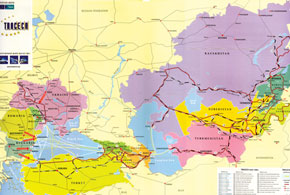 the KGB. Under the two presidents the bilateral relationship improved. However, 9/11 made a definite change to the relationship.
Russia tackled many problems between the two countries, including use of the Qabala radar base, with compromises to Azerbaijan. The bilateral relationship grew much closer, although some problems have remained, such as the price of gas.
Azerbaijan as an energy source

Third, Azerbaijan is important as a source of oil and natural gas. To begin with, energy security, including the diversification of energy supply sources, is now very significant in the national security policies of all countries. Instability in the Middle East means that many European and former Soviet countries are reluctant to depend too much on that region for their oil supply. A mistrust of Russia means that these countries are even more reluctant to depend wholly on Russia for their oil and gas. This has increased interest in Azerbaijani hydrocarbons. Azerbaijan´s international clout has been further boosted by the surge in the oil price in recent years. At the same time, Azerbaijan has stated its support for the Extractive Industry Transparency Initiative. This was launched by the then UK prime minister, Tony Blair, in September 2002 to increase transparency of payments and revenues in the oil and gas and mining sectors in countries heavily dependent on these revenues.
Azerbaijan´s role in regional cooperation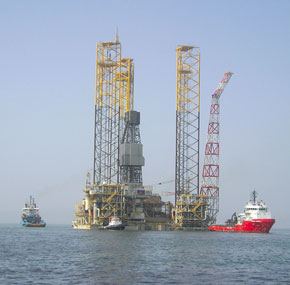 Shahdeniz gas field
Needless to say, Azerbaijan makes a significant impact on regional cooperation. The European Union has adopted various policies for Central Asia and the Caucasus. These include TACIS (Technical Assistance to the Commonwealth of Independent States), INOGATE (Interstate Oil and Gas Transport to Europe), TRACECA (Transport Corridor Europe-Caucasus-Asia), and now the ENP (European Neighbourhood Policy). Azerbaijan plays a major role in all these policies, especially on energy supply, energy transport routes and transport hubs.
In addition, Azerbaijan´s role is really important in regional organizations such as GUAM (Georgia, Ukraine, Azerbaijan and Moldova) and BSEC (Black Sea Economic Cooperation). Regional neighbours such as Poland and Lithuania are working to establish a pipeline, bypassing Russia, to import Azerbaijani fuel and avoid dependence on Russia. The construction of international road and rail links, which have hubs in Azerbaijan, is also important for regional development and stability. Work is under way on a new railway which will start in Baku, go through Tbilisi in Georgia and onwards to Kars in Turkey. Furthermore, Azerbaijan is a keen supporter of many BSEC projects. Azerbaijan is working in the following three areas especially:
1. Promotion of good economic policy with mutual benefits. The reliability and effectiveness of the BSEC organization need to be improved. Activating the potential of the transport and energy sectors is the key to economic cooperation, which should be established as soon as possible. In addition, not only economic and energy cooperation should be considered, but also cooperation in communications, tourism, agriculture, environmental policy, infrastructure maintenance and so on, all of which are potentially extremely profitable for the region. It is especially encouraging that construction has begun on significant projects, such as the Black Sea ring highways, the Black Sea roads, and so on. In addition, the BSEC Project Development Fund could be a really important tool for BSEC regional cooperation because it demonstrates the capacity to wed the resources of Black Sea trade with those of the financial systems of Europe and Asia, showcasing the function of BSEC before the international community.
2. Activation of the regional economy. The Black Sea Trade and Investment Promotion Programme (BSTIP), a cooperative project between the United Nations Development Programme, and the BSEC Project Development Fund, aims to improve regional cooperation. BSTIP is primarily a programme to promote intraregional trade and investment in all sectors. In addition, BSTIP cooperates with the EU and the World Trade Organisation, and assists small and medium – sized enterprises.
3. Cooperation to solve the energy problem. This should be at the centre of regional cooperation. The future of the energy problem depends on the policies of energy-rich countries, such as Russia and Azerbaijan. Swift progress is of pressing importance because energy security and the increasing necessity to diversify energy supply sources via pipeline construction is now a very serious problem, not only for the Black Sea countries, but for Europe as well. Many projects relating to the energy sector have been planned and some of them have been completed, such as the BTC (Baku-Tbilisi-Ceyhan) oil pipeline. However, it is necessary to fulfil the spirit of the 2003 Baku Declaration on Energy Cooperation in the BSEC Region as soon as possible. It is especially important to get "the Black Sea electric power ring" up and running through the leadership of Russia, Bulgaria and Turkey, as it could improve energy cooperation in the region.
Azerbaijan has a really important role and great potential in the region. The international community has shown a keen interest in Azerbaijan in recent years, expressing various, significant expectations for the area´s future. In conclusion, I can say that Azerbaijan should act on the multifaceted appeals from the international community and build effective cooperation within and beyond the region.