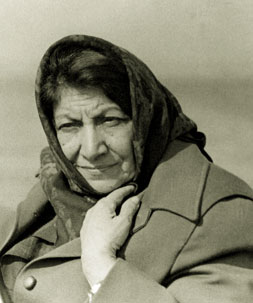 Pages 84-87
by Aydin Kazimzade
Gamar Salamzadeh played an important role in the development of Azerbaijani cinema. She was the first woman film director not only in Azerbaijan and the South Caucasus, but in the whole Middle East. To mark the 100th anniversary of her birth, cinema expert and Azerbaijani Honoured Arts Worker Aydin Kazimzadeh looks back at Gamar Salamzadeh´s career.
Gamar Salamzadeh was born on 2 May 1908 in Nakhchivan, where she spent her childhood. Her father Aligulu Gamkusar (Najafov) was an Azerbaijani poet and writer and a close friend of Jalil Mammadguluzadeh, founder of the satirical magazine Molla Nasraddin. After her mother´s death, Gamar Salamzadeh moved with her father to Tbilisi. In Tbilisi, as in Nakhchivan, the Najafov home hosted musical evenings and debates on the topics of the day. Gamar first met the well-known Azerbaijani dramatist, Jafar Jabbarli, when he visited her home in Tbilisi.
After Aligulu Gamkusar was killed by opponents of education and enlightenment in 1919, Gamar came to Baku with her cousin. She began to study at the Pedagogical Institute in Baku. Gamar recalled that while she was a student, she attended amateur dramatic groups at the institute. Once she even performed the role of Gultekin in Jafar Jabbarli´s Aydin at the Drama Theatre. However, she did not become an actress, as she was more interested in film-making. On Jafar Jabbarli´s recommendation, Gamar went to work at the film studios in Baku.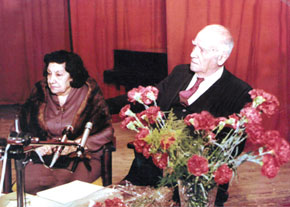 Gamar and Salam Salamzadeh on S.Salamzadeh´s birthday
She was sent to Moscow to study at the Cinematography Technical School together with the first professional Azerbaijani film director, Samad Mardanov. When they studied in Moscow Samad Mardanov had a scholarship of 35 manats, while Gamar, as the first Azerbaijani woman student, got 70 manats. She studied in famous Russian film director Lev Kuleshov´s group and attended lectures by director Sergei Eisenstein. She was taught acting by actress Alexandra Hohlova.
Gamar remembers: "As soon as I came back to Baku I was appointed assistant director on the film Attack on the Mountains (Daglara Hucum). Then I worked on Igor Savchenko´s Handless Men (Elsiz Adamlar). Igor Savchenko had left Kiev in the early 1930s, because of alleged formalism in his work, and come to Baku."
In 1935 Gamar Salamzadeh directed the children´s film Dancing Gardeners (Reqs eden bagbanlar) together with A. Popov; the film was based on poet and script-writer Abdulla Shaiq´s tale The Playing Tortoise (Oyunchu baga).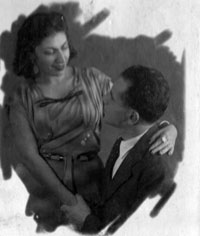 Gamar Salazmadeh with her husband Salam Salamzadeh, prominent Azerbaijani painter. They enjoyed a loving marriage till the end of their lives
Two years later the two directors made the comedy The Gang of Jokers (Dejel deste), based on poet Yuriy Fidler´s script. Gamar Salamzadeh made the documentaries The Agricultural Exhibition (Kend teserrufati sergisi) in 1940 and Healing Song (Shefa Negmasi) in 1944, independent commissions for the Moscow Film Department.
Gamar Salamzadeh was the second film director on the full-length film Honoured Azerbaijan (Ordenli Azerbaijan) in 1938 and assistant director on the films Sabuhi in 1941 and A Family (Bir aile) in 1943. She was also involved in dubbing into Azerbaijani a great number of Soviet films and the Baku film studio´s feature film Submarine T-9 (Sualti qayiq T-9).
Gamar Salamzadeh appeared on the cover of Rabochiy Zritel (The Working Audience) magazine´s 35th issue in 1930 with the caption: "Gamar Najafova, Azerkino´s first assistant director" (Najafova was Gamar Salamzadeh´s maiden name).
Gamar Salamzadeh had an advanced training course at Mosfilm, the Moscow film studios. Her daughters still have certificate No 628, which she was awarded on completion of the course.
Gamar Salamzadeh was also involved in Alexander Dovzhenko´s film Michurin. The prominent Ukrainian director kindly supported his young colleague. When she returned to Baku, Dovzhenko wrote a reference for her: "I highly appreciate Gamar Salamzadeh´s working style in production, her artistic opinion and views expressed during her daily work as well as her very polite manner. I have great pleasure in providing this reference. I am also very glad to have had the opportunity to help a professional from a fraternal nation. A.P.Dovzhenko"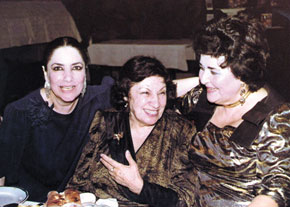 Gamar Salamzadeh with well-known Azerbaijani art workers
Gamar Salamzadeh had a happy family life with Azerbaijani painter Salam Salamzadeh. Back in the 1930s, she provided a positive answer to the question whether film directing was a woman´s profession. Other Azerbaijani women have followed in her footsteps: Zeynab Kazimova, Gulbeniz Azimzadeh, Firengiz Qurbanova, Nina Mustafayeva and Mehriban Alakbarzadeh. Azerbaijani filmmaking will have more woman directors in future too and they will be very successful. But Gamar Salamzadeh will always remain Azerbaijan´s first woman film director.