(Abridged from the memoirs of Jeyhun Hajibayli, co-author of Leyli and Majnun)
Pages 74-77
From an early age my older brother Uzeyir and I were interested in music. Karabakh´s scenery, and especially its picturesque capital Shusha, were full of romanticism and creative inspiration for lyrics and poetry.
The most talented singers and musicians are from Karabakh. They include singers Haji Husu and Karyaghdi oghlu and tar player Sadigjan who can even be considered to be geniuses. There were many amateur singers and musicians, whose voices and playing were in no way inferior.
Our relatives on our mother´s side - cousins, uncles and so on – included four singers and three tar players who performed for eminent personages.
My brother Uzeyir and I had pleasant voices and through practice alone we soon learnt all the nuances of classical music (mugam and dastgah), not to mention tesnifs (rhythmic singing).
I should say that the vocal exercise necessary to maintain the voice did not come easy to us, as we were ashamed to sing before our father and especially our strict uncle, whose unfortunate family circumstances gave him little cause for merriment…
We first learnt about the theatre at school, taking part (vocally) in the first, amateur staging of Abdurrahim Bay Haqverdiyev´s Dagilan Tifaq (The Destroyed Home). We sang in the wings and when we went on stage had to run towards the corpse of Najaf Bay´s son, then run away. "Oh no, there´s a dead man lying here!" ("Vay, burda bir olu var!") This wasn´t so difficult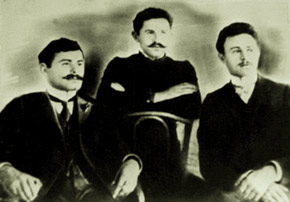 Hajibeyov brothers. From the left: Zulfugar bey, Jeyhun bey, Uzeyir bey (1918), Hajibeyov House Museum
and we played our roles very successfully (plenty of compliments). This is what brought us to the theatre. Thanks to the tireless Hashim Bay Vezirov, during the summer when most of the teachers came on holiday, plays by Mirza Fatali Akhundov, Tolstoy, Madatov and others, besides Dagilan Tifaq, were performed in the school building (a wing of the Khan´s palace) and Khandamirov´s only auditorium. On another occasion at a musical evening, two students performed the roles of Majnun and Leyli as an idyllic duet. Before we reached school age we already knew the subject of this romantic poem by Fizuli, so this brief performance made a deep impression on us.
What a rich subject this is for our public!
But at that time we could not clearly formalise this vague idea.
The idea acquired a more realistic shape in Baku when we saw for ourselves opera performed by Russian and Italian troupes.
Romeo and Juliet, Tristan and Isolde, La Traviata, Tosca - they all have a common theme, the same as Leyli and Majnun - and made a deep impression on us.
Sentimentality is in the Karabakh people´s nature, together with a romantic inclination. Before we moved from Shusha to Baku my brother Uzeyir had studied musical notation and the violin at the Gori Teachers´ Seminary. When he came to Shusha for the holidays, he would practise his playing with such commitment that he acquainted me with elements of European music and allowed me to learn certain opera motifs and romances. For my part, I told him about new developments in our native music and reminded him of different mugham forms.
After we had become more familiar with opera performance in Baku, the vague idea conceived in Shusha reappeared in Baku and belonged to my brother. He shared ideas with me and asked my opinion about the venture, firstly in general terms, then in more detailed creative terms.
We took up the work in spring 1907. The circumstances were right: Uzeyir and I lived alone in the Ismailiyye Hotel, while our family was in the provinces with our brother Zulfuqar. We worked on the text, taking the lyrics mostly from Fizuli and including them in the main script that we worked on ourselves.
We used mughams for the individual vocal parts (Rast and Chahargah for Majnun´s father, Shikesteyi-fars, Bayati Shiraz, Segah etc. for Majnun) or tasnifs adopted from folk music or original motifs.
My brother notated the latter elements and gradually introduced polyphonic trends for choirs. Our music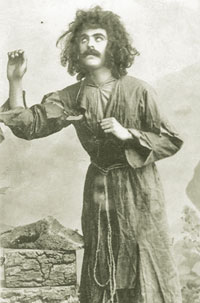 Huseyngulu Sarabski playing Majnun, Baku, 1908
and oriental music as a whole is known not to have polyphony, enjoying only unisons and octaves. The use of polyphony was perfected by my brother who is, therefore, the pioneer of this important form.
The most valuable of the few friends who knew about our venture was Abdurrahim Bay Haqverdiyev. As he himself was familiar with European music and notation, he gave us valuable advice. He once even replaced Uzeyir at the podium.
The work progressed imperceptibly and in a few months the score was already finished. It was time to think about the staging, choose the orchestra and find the right actors.
For the opera we had to find actors who could sing. We did not have such actors at that time. There were drama and comedy actors who had no voice at all, while it was also difficult to find true singers as none of our mugham singers had appeared on stage. Moreover, the part of Majnun was not an easy one; it required some complex acting.
It was also difficult to find the right Leyli; at that time Muslim women did not perform on stage.
At last after a long search and consulting friends we found our Majnun in the person of Mammadhuseyn Sarabli; he was a servant of the city council, had a very pleasant voice and had performed several times in amateur dramatics. In short, he could perform on stage.
We assigned the role of Leyli to our cousin Ahmad Badalbeyli; his slender waist, short height and delicate, high voice could create the illusion of femininity (of course, he was dressed for the part).
At Uzeyir´s insistence I had to play the role of Ibn Salam, Leyli´s fianc?, although I felt no predilection for the stage.
On the contrary, we found quite a "colourful" character to play Majnun´s father - Mirza Mukhtar, an old teacher and native of Karabakh, with an excellent knowledge of mugham, who retained some traces of his once rich voice…
The role of Leyli´s father was taken by the then still young and amateur Imran Qasimov, a contractor by profession, who took an active part in our venture…
It was also difficult to train the choristers to maintain balance during performance of their parts and to train the fighters - the production had them too - not to get carried away during the battles and to match their kicks to the tempo of the music.
It should be said that my brother Uzeyir played a huge role in this rehearsing. He would sit up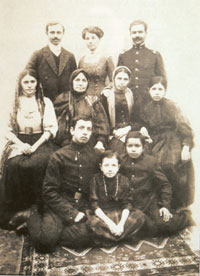 Hajibeyov family
until two or three in the morning and with angelic patience and perseverance try to create a harmonious whole on stage. I helped him as much as I could.
Meanwhile, our initiative to put the first Azerbaijani national opera on stage attracted enthusiasm and support from some progressive elements (not to mention Abdurrahim Bay Haqverdiyev) who gathered around the Nijat enlightenment society. When they saw the seriousness of our initiative, some of its members began to play a closer part in creating the first national opera.
One of the leaders of the organisation who was especially active in the fate of our venture was Isabay Ashurbayov, a member of the Ashurbayov family, renowned for its influence and wealth. Isabay was financial patron of the Irshad newspaper, the editor of which was the well-known Azerbaijani-Turkish essayist and politician Ahmad Bay Aghaoghlu.
We were friendly with Isabay through the Irshad newspaper, where my brother Uzeyir was a contributor (and where I started my journalistic work too) and Isabay was the publisher. He therefore tried to help us in any way he could.
At last the famous day or, more likely, evening came. Everyone was anxious, the authors most of all. Almost the whole burden fell on Uzeyir who had tirelessly been holding rehearsals, fraught with difficulty, until this time.
I recall neither the date nor even the season, only the year - 1908…
Uzeyir took up the conductor´s baton and the performance began under the tense curiosity of the audience who had packed into Taghiyev´s theatre.
The audience who were usually noisy at the theatre fell "hermetically" silent throughout the whole performance, not daring even to applaud. Only the tears of the more sentimental spectators and concern at the adamant refusal of Leyli´s father to give his daughter in marriage to Majnun were perceptible. Applause came only at the end of the performance when the restrained audience could at last express its satisfaction and pleasure at this new show.
So began and ended the quasi-amateur performance of the first Azerbaijani opera.