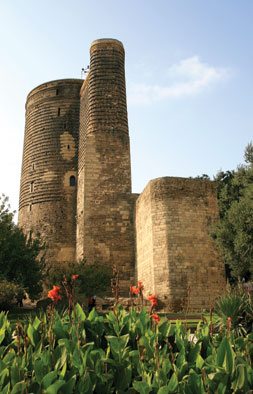 Pages 16-23
by Rovsan Didavari
In the globalizing world tourism is a lucrative part of the economy. It makes a great contribution to the budget of most countries. The experience of Turkey, Spain and other countries that make revenues from tourism also shows that it is impossible to rapidly develop tourism without state support at the stage. Tourism now has global importance; it regulates social economic relations, creates reciprocal ties between countries nations, and expands business. At the end of the last century, over 450bn dollars in revenue were obtained from tourism globally, and average annual growth was over 4.3 per cent. Estimates suggest that by 2020 tourism will reach its peak of development and the number of tourists will exceed 1.5bn that year.
Azerbaijan should not lag behind in this development, because the country has all the natural and geographic potential of a tourist destination. The shores of the Caspian, the Mugan, Karabakh, the Mil plains, the mountains, forests, rivers, springs, lakes, summer recreation areas, and historical monuments are headline tourist attractions. Azerbaijan enjoys nine of the world's 11 climate zones, adding to the range of destinations on offer. As entrepreneurship grows stronger, the opportunities for the development of tourism centres grow.
The Azerbaijani government has made developing tourism a priority. New tourist facilities are being built in the regions, and cultural and historical reserves are being set up or restored. The state has undertaken to create infrastructure in the regions. Tourism can help to tackle the serious problem of unemployment in the country, and has a positive impact on the development of all sectors.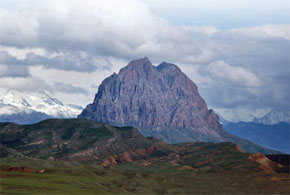 Ilan-dag Mountain, Nakhchivan
Beyond Baku
As for the Azerbaijani regions, the dynamics of tourism development vary there. Development depends upon the number of facilities in a region, the proximity of the region to the capital, the pace of development of entrepreneurship and the overall level of economic development. The western region of Azerbaijan has not kept up with other regions in terms of tourism development. There are several reasons for this. First, the western region is a long way from Baku and the roads are only just being repaired. Azerbaijan's Culture and Tourism Ministry is working on a programme to develop tourism in the western region in an attempt to keep tourism development on a par in all regions of the country.
Tourists visiting Azerbaijan tend to be interested in every sphere – from historical and cultural sightseeing to leisure. According to a report released by the Culture and Tourism Ministry, about 15,000 expatriates live in Azerbaijan.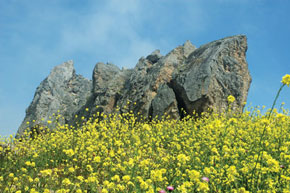 Beshbarmaq (Five finger) Mountain in the Siyazan District. The remains of a 3-5 century defence fortress are still seen at the top of the mountain. Khidirzinda Sanctuary is currently situated on the mountain
They visit Azerbaijani regions more than the local population does. Officials at the ministry say that advertising and promotional work help foreigners get to know Azerbaijan better. Foreign tourists take great interest in the Lahic History and Culture Reserve, which was set up in 1980, and the high-mountain village of Xinaliq, located in Quba District. Ministry specialists believe that every foreign tourist visiting the country counts, because those that come and stay for even one day pay money for accommodation and services. However, in comparison with Soviet times, the number of visitors coming in groups and going sightseeing is low. Efforts should be made to increase interest in all tourist attractions in Azerbaijan.
The main challenge in developing tourism is to increase the number of recreation centres and hotels. A lack of awareness in the regions impedes the development of tourism. Every zone needs a plan of infrastructure and tourism should be developed in line with the plan. An increase in the number of recreation centres and hotels will not only improve the quality of service but also lead to a drop in prices.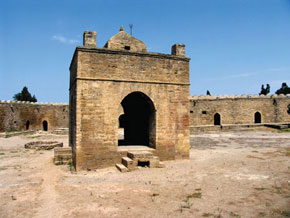 Atashgah - a fire temple in Surakhani, Baku
Hotels: are they good enough?
In the Middle Ages, caravanserais sprang up along the trade routes in the East. Housing travellers and their horses and camels, caravanserais were important staging posts in Iraq, Iran, Turkey, Afghanistan and Azerbajan. They have now been overtaken by hotels and guest houses, but visitors can still stay at a caravanserai in Sheki or dine at converted caravanserais in Baku's Old City.

Hotel chains are now global businesses and have not passed Azerbajan by. Baku has 165 hotels, some chains, some independent, while there are over 500 hotels in Azerbajan as a whole. The Hyatt Regency, Grand Hotel Europe, Radisson SAS Plaza, Park Inn and Excelsior, all in the capital, are part of the global chain of four and five-star hotels.

Azerbajan does lack, however, affordable, mid-price hotels. Although Baku is known worldwide nowadays, it does not have many hotels that meet European standards. The Hilton-Baku is under construction.

It is not that easy to obtain a famous hotel brand, as a number of lengthy procedures have to be gone through first. The country where the hotel is to be built and the hotel's owner must first be accepted by the chain. Hotel groups such as Hilton and Sheraton would never have given Azerbaijan the brand, had they not seen the current development in the country.
Do hotels promote Azerbaijan?
Research shows that in comparison with other CIS countries, the hotel business is currently better developed in Azerbajan. First, this is because of Azerbajan's economic development.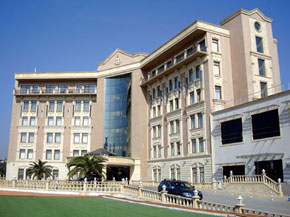 Excelsior Hotel Baku
The development of tourism and hotels gives an opportunity to present Azerbajani culture, history and values through design and service.
Hotels should promote Azerbajan's culture and lifestyle. They need to have publicity about the country, restaurants with national cuisine and photo galleries. Azerbaijan can learn from the experience of other countries. Most of Dubai's five-star hotels, for example, have descriptions of the way the Arabs used to live in the desert.
This is promotion, after all.
Hotel service and Eastern hospitality
The West learnt hospitality, eating culture and cleanliness and many other values from the East. Visitors to Azerbajan comment on the hospitality they receive -"your people are very hospitable" or "we've not seen this kind of hospitality anywhere else" and they talk about the richness of Azerbajani cuisine.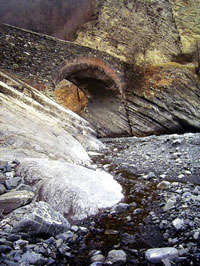 Sulu tapa (Wateryhill) bridge, Qakh District
But do the hotels that operate in Azerbajan manage to show real hospitality to visitors? Does the quality of service meet European standards at all? This seems to be the point where things start to fall down. Many travel experts believe that not all hotels are capable of providing high quality professional services.
Most hotels prefer to work their own way. But where does the problem actually stem from? Experts believe that the main reason is a lack of professional hotel managers. Staff working in hotels should know the principles of the hotel business, while were the top managers should have studied hotel management. There is an unwritten rule in the hotel business that "we should train our staff ourselves".
What can Azerbaijan offer tourists?
With more and more tourists visiting Azerbaijan, demand is increasing for souvenirs.
Other countries have special souvenir shops and gifts that are presented to important visitors reflecting the country's history, culture and state attributes. A variety of workshops make souvenirs in Baku and the regions, but they are not supervised by any specific body. The workshops make small souvenir carpets, traditional scarves known as kalagayi and other items. Some experts say the Souvenir Factory that used to operate in Baku should be and in any mountain village amateur collectors can find good quality traditional items and souvenirs.
Lake GoyGol, Goygol District. Its mysterious natural beauty makes Goygol a popular eco-tourism centre in Azerbaijan
Business development
Tourism is part of the economy and creates a strong foundation for small and medium-sized business, helps create jobs and better infrastructure. All of this, certainly, is in line with the main provisions of the programme for the socio-economic development of Azerbaijan's regions and the programme to tackle poverty. In many districts in Azerbaijan, the local people know how foreign tourists should be treated, what they want to see, what traditions and customs they want to learn about, what Azerbaijani food they prefer and so on.
Laws "On the attraction of foreign investments into the country" and "On the repatriation of funds", the state programme for socio-economic development and other important state documents help in the development of tourism. They have made it possible to attract foreign investors and businessmen into the local market.
German, British and Turkish investors are actively involved in Azerbaijan's tourism market, constructing tourist facilities, mainly hotels, with 100 per cent foreign or shared ownership.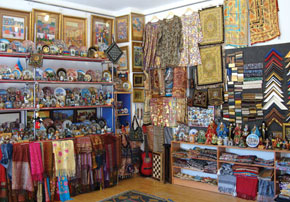 Souvenir shop
Speciality tourism
The Culture and Tourism Ministry has now identified the regions that are involved in tourism. For example, Azerbaijan is building a major winter sports complex in the north-eastern Qusar District. Specialists from France and Austria are working alongside Azerbaijanis on the project, which will have a 30 km ski run and 9 km cableway. Major investments are also to be attracted to create new infrastructure along the Caspian coast. Seven national parks have now been set up in Azerbaijan with leisure zones identified for tourists. There is a great interest amongst travellers in this kind of phased development of ecological tourism. Visitors from France and Germany, for example, are keen to see Azerbaijan's forests. A number of technical issues need to tackled here. Technical staff need to be trained and additional money brought into the sector.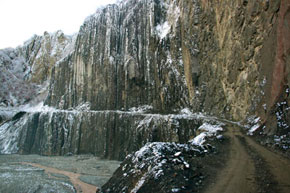 Mountain road to Lahij District
Modern tourism encompasses a variety of travel experiences, including active holidays and exotic leisure.
Hunting tourism is an example of the more active and exotic type of holiday which is growing in popularity. Three organizations in Azerbaijan offer hunting trips to foreign visitors. There is hunting for Dagestani turs (mountain goats), wild boar, hares, woodpigeons, quail, partridge, fowls (geese, ducks, coots), curlews, woodcocks and chamois. Fishing trips can also be arranged. The Azerbaijani Culture Ministry, for its part, is creating a legal basis for the development of this type of tourism.
Health tourism
Azerbaijan has a wealth of locations that can be developed for health tourism, not least those sites rich in minerals and mud. In the Soviet era, Azerbaijan was famed for its natural springs and had several spa resorts. Nature's most valuable gift to Azerbaijan is of course oil.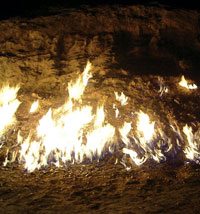 Burning Mountain in the village of Mahammadi, Baku. Natural gas escaping from the ground burns constantly
But the oil of the highest value is the medicinal oil of Naftalan. Naftalan oil has both restorative and curative properties.
Providing a variation on the concept of bath oil, Naftalan is used both externally and internally. Doctors say Naftalan relieves joint and bone disease, cures psoriasis, calms the nerves and beautifies the skin.
The medical significance of Naftalan was known not only among the local population but also far beyond Azerbajan. People came for treatment from China, India, Afghanistan, Iran, Turkey and Central Asia. When they left Naftalan, they took some oil to continue treatment at home. Archaeological finds of gold and silver coins in the region and written documents of the 12th century show how the oil was used medicinally. A group of merchants formed later and sold Naftalan oil in Iran, Asia Minor and elsewhere in the east. Azerbaijani poet Nizami (1141-1209) mentions Naftalan oil in his poem Khamsa. He describes Naftalan oil being taken from the village of Seficurd by caravan. Traveller Marco Polo who visited Azerbajan in the 13th century also refers to Naftalan oil in his writings about Great Tatarstan. Many chemists have studied the properties of Naftalan oil, including the father of the Periodic Table, Dmitriy Mendeleyev, and more than 1,600 scientific articles have been written about it.
The resort town of Naftalan, some 50 kilo-metres south-east of Ganja and 320 km from Baku, has a population of 6,500. Patients stay in sanatoria and holiday hotels to take different Naftalan oil treatments.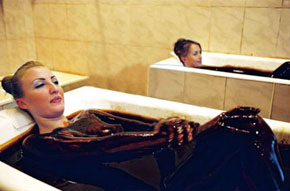 Treatment procedure in Naftalan Sanatorium
Naftalan oil is very effective in the treatment of skin, neurological, urological and gynaecological complaints, the liver, joints and soft tissue and the musculoskeletal system.
Taking the waters in Nakhchivan
The Nakhchivan Autonomous Republic is rich in recreation potential. Nakhchivan's clean air, medicinal plants, numerous sites of historical and natural interest and rich medicinal waters make it an ideal location for international tourism. Professor A. Asgarov rightly called the Nakhchivan Autonomous Republic "nature's museum of mineral waters". Naxcivan has over 250 mineral water springs in its 5,500 square kilometres. Most of these springs are in Shahbuz, Ordubad, Sharur and the Nakhchivan River valley. The springs vary in terms of their chemical content, and they are used domestically, industrially and for medicinal purposes.
The first chemical tests of Nakhchivan's waters were done in 1843, but full analysis didn't come until the 20th century. Nakhchivan has been found to have six types of mineral waters, 16 classes and 33 kinds. Most, 98 per cent, of the waters are said to be carbon gas and hydrocarbon waters. The temperature of most of the mineral waters is 8-22 degrees Celsius. Waters have been found in drilled wells in Daridag that have a temperature of 50 and over.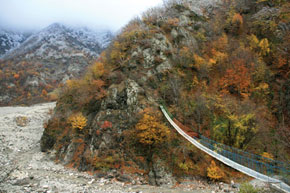 A suspended bridge over the river in Lahij, Ismailli District
Seven of the mineral water sources have been studied for their medicinal significance. Sirab, Badamli, Vaykhur, Nahajir, Narzan and Boyraksuyu are said to be the more significant natural table waters. The Bahasu mineral water spring is in Sadarak District, on the banks of the Araz River. The Bahasu spring is believed to be the only mineral water with hydrocarbon and magnesium in Nakhchivan. Although Nakhchivan does not have a direct land link with the rest of Azerbaijan, it has several mineral water bottling plants and sends water to the rest of the country. The Badamli mineral water deposit is 3 km northwest of Badamli village in Shahbuz District, 1,274 m above sea level. The deposit is a cluster of several springs which produce around 1,070 cubic metres of water a day. Water from Badamli's well No 5 is similar to the Russian Federation's Arshan spring water. Badamli water is good for those suffering from gastrointestinal and liver disease. The Sirab mineral water deposit is in Babak District, 3 km north of the village of Sirab and is 1,100 m. above sea level. Sirab water was famiver disease.
The Daridag mineral water deposit is 8 km north-east of the town of Julfa, on the slopes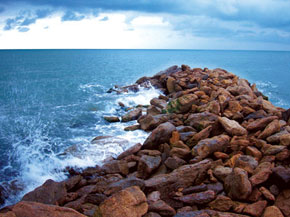 An autumn morning on the Caspian Sea
of Daridag, 800-900 m above sea level. It consists of five springs and 32 explorations wells. The chemical content of the waters has been studied and they contain carbon gas, arsenic, highly-mineralized chlorine, hydrocarbons and sodium, similar to the waters in Kudowa (Poland), La Bourboule (France), Durkheim (Germany), and Sinegorsk (Sakhalin). However, in terms of the ratio of mineral salts in the content of the water, Daridag water surpasses them all. Its temperature is 53-57 degrees Celsius and the reserves have been estimated at 4,507 cubic metres per day. Daridag water is used to treat various diseases, including, since the 1930s, malaria. A new building has been commissioned at the Julfa Daridag medical centre, which can now provide a range of services.