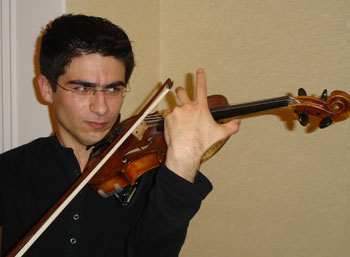 Pages 78-82
by Ian Peart & Saadat Ibrahimova
We first met Gudrat Amrahov at a distant relative´s - Azerbaijan really is one big family - but we were totally unprepared for the revelation that took place at the Baku Philharmonia in mid-April.
The 20-year-old had seemed a ´normal´ Azerbaijani lad and, to be honest, we put his family´s declarations that he was a great violinist down to the fierce family pride that is the rule in these parts. A couple of weeks later they told us he was playing in a concert and so, perhaps more out of family obligation than enthusiasm, we felt we should not miss it.
The Uzeyir Hajibeyov Symphony Orchestra opened the concert and, directed by the drive and emotion of conductor Fakhraddin Kerimov, they immediately raised the spirits - this was far better than average. The shock, though, came when Kerimov brought out the guest solo violinist. The vision of Gudrat Amrahov on stage was very different from that of a fortnight before. Here was a young man clearly confident of his place before the orchestra: posture, expression and glance to the conductor - like that of an experienced actor - assured the audience that it was in safe hands and could relax into appreciation of the performance. The firm conviction of his very first stroke in Azer Rzayev´s Violin Concerto confirmed this belief and we witnessed a wonderful display of control over the instrument and a soloist´s total commitment to the ideas expressed in the music. The second piece played, with just cello and viola accompanying Amrahov, was the lively and humorous Chocolate Blues, a new composition by Tahir Ibishov. The jauntiness of the playing belied the fact that the musicians had only laid eyes on the music two days before and had enjoyed just one rehearsal together.
The contrast in the two pieces, and the pleasurable risks taken in both creation and programming, were clues to the philosophy and engaging personality of this outstanding young musician. The concert was a pleasure to hear and a joy to watch; the audience was completely caught up in the excitement of the solo performance and gave the artist a rapturous reception. The only pity was that there were not more present; publicity departments in Azerbaijan, as well as the concert halls and theatres, need a thorough overhaul. The appetite is clearly there and it is a desperate shame that there were empty seats at a concert of this quality. This was one of those events that leave you thirsting to know more about the skill on display and so we went back to the relatives and found that the story behind that skill was almost as astonishing as the performance it produced.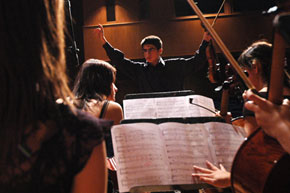 Musical childhood
It would be easy to classify Gudrat Amrahov as a child prodigy and leave readers with the comforting and, perhaps, jealous belief that he was just lucky to be blessed with a God-given talent. After all at eight he was a winner at the Rotary International Competition for Young Musicians in Turkey; at nine he was playing Mendelssohn´s Violin Concerto with the Bilkent Youth Symphony Orchestra and at 10 he was awarded the Grand Prix in a competition for violinists aged 10-24 by the Turkish Ministry of Culture and played at Italy´s Bari International Music Festival. This, of course, would be to omit the work which has to be put in to reach such standards - never a minor consideration, least of all in this case.

There was the advantage of a musician father; at first, however, Amrahov senior did not encourage the young Gudrat – perhaps understanding the difficulties of carving out a rewarding career in music. The boy was keen but, later, roles were reversed and it was his father´s persistence that prevented the initial enthusiasm from fading; Gudrat remembers him saying, ´When I die, I don´t want to answer to God - Why didn´t you make him a violinist?´

And now the debt is acknowledged, ´I owe most to my father´ - and practice of at least three hours a day is part of normal life.

The violin is often associated with a gipsy existence - it is very portable, after all - and Amrahov has carried his on extensive travels. His first five years were spent in Besh Mertebe (Fizuli Square) in Baku, before his father´s career took the family to Turkey. In 2001, aged 13, he was awarded a scholarship to study at the Manhattan School of Music in New York. By 2003, Gudrat was back in Turkey, finishing school and going on to the Conservatoire High School, before entering Bilkent University in 2006. He has also played concerts in the USA, Turkey, Germany, Spain, France, Russia and Switzerland, as well as back in his homeland.

In case you are thinking that this was all a very smooth and easy passage, it´s as well to remember that artists are human, too, and live in the same world as we do, with all its vagaries. Thus Gudrat recalls that in 2005, just 17 years old, he arrived in Spain for the prestigious Pablo de Sarasate Violin Competition - but his luggage did not...

´I had my violin, so I borrowed a shirt and got through the first round. Unfortunately the second round involved playing a piece from a score, and the score was in the luggage... I had to play from memory and made two or three mistakes and did not get through to the final.´

So, no success that time, but the quality of his playing was acknowledged when the jury awarded him a special prize. He also remembers the embarrassment when each contestant, and his violin, was introduced.

´They all had Stradivarius´s or other famous violins, but mine had to be announced as "unknown".´ His ´unknown´ violin had even created problems before the stunning concert we witnessed in the Baku Philharmonia. There was a brief panic as his bowstrings refused to tighten, only doing so at the moment conductor Kerimov came back to lead him on stage. None of this was apparent to an audience who revelled in his confident professionalism.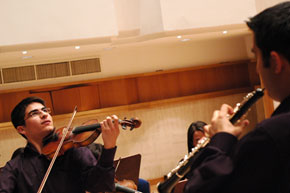 ´You´ll never play again´
These incidents are as nothing, however, compared to the trauma of 2006. In an incident at university, his left hand was horribly slashed and a seven-hour operation left it encased in plaster for six weeks and, thereafter, his third and fourth fingers bound together – the advice was that he would never play again. He returned to his roots in Baku and could do nothing for six months - dwelling only on the past and what might have been:

´.... all the talent and ability required of a musician.... the appearance of a bright new name in Azerbaijani culture.´ - Professor Arif Melikov, People´s Artist USSR and Azerbaijan ´ .... a gifted violinist with great musical potential.... remarkable technique.´ - Vladimir Spivakov, Artistic Director, Moscow Virtuosi and Russian National Philharmonic Orchestra ´Exceptional potential.... we expect great things of him.... can be among the leading artists of his generation.... most deserving of sponsorship....(which)....will be an important contribution to future musical culture.´ – Manhattan School of Music, New York

The family rallied round and brought him back from despair. His Uncle Vagif in particular, pushed him towards the positive and Gudrat finally cut open the dressing and began to manipulate his fingers himself. He regained belief in the possibilities and, within a month, was using the fingers again - against all the odds, they are now back to full function, as we saw and heard in April. He says that this whole episode strengthened his belief and taught him to live more responsibly:

´I am trying to do everything in a philosophical way and not simply through the emotions.... my music comes from the heart, but it is filtered by the brain - the fingers and violin connect ideas to their resonance.´

Out of that period of enforced reflection Amrahov developed a system of practice which he swears is a sure-fire philosophy of work - revealed here for those seeking the secret of creativity: ´First I have an idea, then I have to work to really believe in it. Once I´ve done that I visualise it - I have to "see" it - and then I share it with someone, to double the energy. I have to write it down in some form, so as not to forget, and only then can I put it into practice.´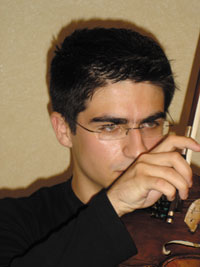 ´I want to play around the world with good musicians, come back to Azerbaijan and help here´
In September last year Gudrat entered the Conservatoire in Baku and is looking for sponsorship to develop and broaden his experience. While in Bilkent, aged only 17, he created and organised a 20-string chamber orchestra. He did everything: from organising transport and setting out the chairs, to running rehearsals, conducting and introducing the orchestra to audiences. This experience, and his restless energy, gave him a taste for conducting, which he may pursue:

´I want to play around the world with good musicians, come back to Azerbaijan and help here. I believe it will happen.´

Unlike the sometimes scary image of the prodigy driven fanatically in one direction, Gudrat is refreshingly eclectic in his tastes. He´ll listen to any music ´with quality´, this includes Queen, Pink Floyd and jazz as well as the classics - he played Gershwin at a recent memorial concert for Azerbaijan´s pioneering jazzman, Vagif Mustafazadeh. And his revelation that ´I can sleep before a concert, but not before a Galatasaray game´ gives some idea of the balance in his life which injects a human perspective into his musical interpretation.

Beyond the idea of being violinist, conductor and then, perhaps, establishing a virtuoso ensemble in Baku, Gudrat lives with the simple aim of ´looking for something interesting in life´. He´s not too keen on detailing a plan for a career, but realises that ´in the real world you have to organise tomorrow´. Despite his considerable achievements - at the age of 20 - and despite the testimonials of acknowledged experts, he is still somewhat reticent about seeking support outside the family. As the Manhattan School of Music were quick to recognise, sponsorship would be ´an important contribution to future musical culture´. - Let´s hope he finds it and that many more can enjoy the exciting talent of Gudrat Amrahov.