In 2019, the 650th anniversary of Azerbaijani poet Imadeddin Nasimi (1369-1417) will be celebrated in the country and President Ilham Aliyev has declared 2019 a Year of Nasimi. The poems of this great writer are remarkable not only for their brilliant masterfulness, but also for a deep meaning and profound sincerity that makes people contemplate the mystery of existence and touches the deepest layers of the soul.
The first Nasimi Festival took place in Azerbaijan in September 2018. As part of the festival programme, there was a performance by renowned singer Sami Yusuf, who is originally from south of the Araz river that currently divides the historical lands of Azerbaijan into the Republic of Azerbaijan in the north and Iranian Azerbaijan in the south.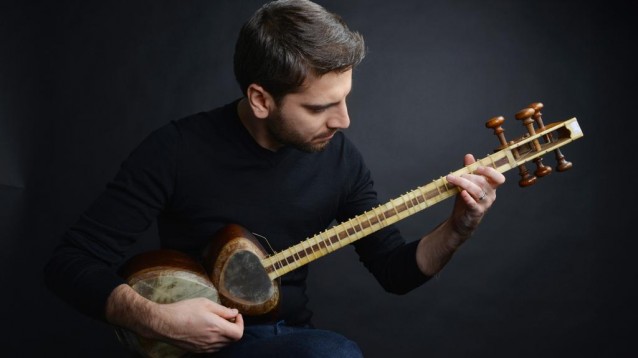 Sami Yusuf is a British musician and composer who is at the forefront of a new global music genre (a blend of Eastern and Western styles with religiously inclusive spiritual lyrics known as spiritique – Ed.) that is drawing in millions of listeners. His grandparents were originally from Baku, but his family migrated to Tabriz and Sami was later born in Tehran. When he was three years old, Sami's family moved to the UK. He grew up in London and learned to play several instruments in his youth, acquiring his musical education from the prestigious London RADA School.
It is no coincidence that Sami Yusuf was part of the Nasimi Festival. There is a metaphysical reason for this. Both Nasimi's poetry and Sami Yusuf's songs are about Divine love, and Sami's lyrics are taken from the poems of the great thinkers of Islamic poetry. In his speech that preceded the festival concert at the Heydar Aliyev Centre, Sami Yusuf said:
I'm here tonight at the gracious invitation of the Heydar Aliyev Foundation and the Ministry of Culture, which it was my honour to accept. And I'm here to pay tribute to the legacy of Imadeddin Nasimi. I'm privileged to share the same roots as Nasimi, to be connected to him through blood, language and culture. But his legacy goes far beyond this one nation. The words of this remarkable man reverberate today not only throughout Azerbaijan, but also in other parts of the Islamic world, and among people everywhere who know the inner meanings of Sufi poetry.
Nasimi was a great sage and a significant figure of Islamic civilization. While his ecstatic sayings were misconstrued by some, like other great Sufi poets, he spoke a different language – one that not everyone understood — he spoke the language of love.
Nasimi is remembered to this day, not only because he is one of the first poets to write in Azerbaijani, but because he made that language a vehicle to speak of the human quest to touch the Divine. His mystical poems have guided seekers across the centuries. And today, as we gather here in his honour, his message of spirituality, with its emphasis on love and tolerance, could not be more relevant and more urgently needed. The essence of Nasimi's faith came from his inner experience of the truth and beauty of the Divine. And his words ring out across time to tell us that such experience is ours if we but seek it.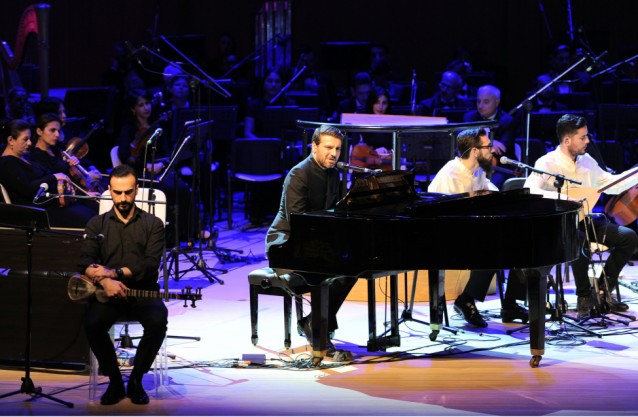 With over 34 million albums sold to date, the influence of the music of Sami Yusuf cannot be understated. He has been featured on ABC, BBC, CNN, France 24 and many of the major outlets throughout the Middle East and Asia. BBC Newsnight acknowl- edges Sami Yusuf as "a mega star." Sami Yusuf always finds time for humanitarian causes in partnership with various UN agencies through performing benefit concerts. The United Nations appointed him Global Ambassador Against Hunger and Ambassador for the UN World Interfaith Harmony. The positive message of Sami Yusuf's lyrics gives voice to a collective yearning for peace and harmony and his use of global rhythms and melodies united by spiritual vision captivates listeners worldwide.


Today, Sami Yusuf joins Alim Gasimov as the world's most famous Azerbaijani singers
His music features an inspiring collection of one thousand years of traditions from Azerbaijan, Andalusia, Arabia, North Africa, Central Asia and China. Every note, every component and melody that make up Sami Yusuf's songs touches the heart and soul of the listeners. Like Nasimi's poetry, Sami's songs are very inspirational and engaging for millions. One need only listen to tracks such as Hasbi Rabbi, Ilahana, Mast Qalandar, Ashegan, Sari Gelin, to feel the pull that captures the hearts and minds of audiences. Listening to Sami's songs causes you to be hit with a wave of inspiration, an incredible, benevolent force that motivates you to create something of value.
Today, Sami Yusuf joins Alim Gasimov as the world's most famous Azerbaijani singers. The latter has played a great role in spreading Azerbaijan's musical heritage in the world through the genre of mugham. Both of these men's performances conjure up passion and devotion, contemplation and incantation.

I have been blessed to have had the opportunity to host Sami Yusuf during the Nasimi Festival in Baku to discuss his future plans to promote Azerbaijan's rich cultural heritage. We met at the house of Parichehr Deghati, the sister of the world-famous Azerbaijani photographer Reza, who works with National Geographic. This historical house adjoins the 15th century UNESCO-recognized Palace of the Shirvanshahs and the mausoleum of Azerbaijani philosopher Seyyid Yahya Bakuvi, whose distinguished life played out in the Middle Ages. The roof commands a spectacular view of the capital city.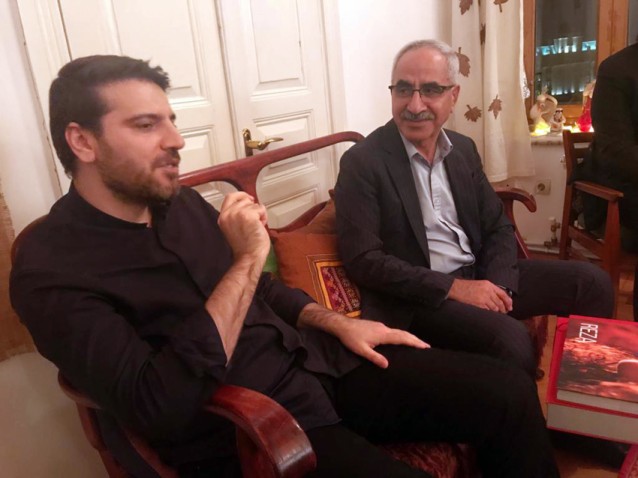 Sitting in Peri khanim's house, Sami Yusuf talked about collaboration opportunities with the homeland of his grandparents. He hopes to make a journey fired by traditions stretching from East to West, with an emphasis on the rich legacy of Azerbaijan's poetry, musical and artistic heritage. He draws inspiration from the lines one of Nasimi's poems:
Both worlds can fit within me, but in this world I cannot fit
I am the placeless essence, but into existence I cannot fit
He was speaking the language of love, Sami said at the festival in Baku. He conveyed that Nasimi's message of spirituality, love and tolerance is desperately needed worldwide.
Sami Yusuf's future plans include a special Azerbaijani mugham segment in a new album in conjunction with Alim Gasimov. Sami says this is a very important project for him and hopes to launch it in a beautiful venue in London later this year. Sami Yusuf also plans to hold solo concerts in collaboration with Alim Gasimov in Baku, including a traditional Azerbaijani national dance performance.
About the author: Guivami Rahimli joined BP in 1995 as a government relations expert. Since then he has held various managerial positions and currently serves as Senior Government Affairs Advisor for BP Azerbaijan, Georgia and Turkey region. He is also an associate professor at the faculty of international relations at Baku State University, lecturing in energy security and multilateral and regional diplomacy.