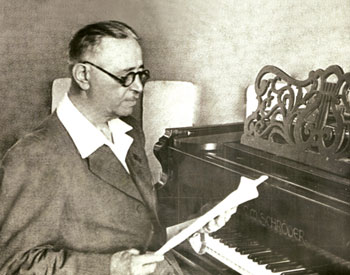 Pages 44-48
by Prof. Ramiz Zohrabov
"Every nation wants its composers to write in a language that is close to them, in their native musical language, although this is very difficult."
These are the words of Uzeyir Hajibayov, the founder of Azerbaijani written music and author of the first opera in the East. Hajibayov was close to traditional Azerbaijani music and sought to maintain its best features in his own compositions.
Biography
Uzeyir Hajibayov was born into an educated family in the village of Agjabadi near Shusha in Mountainous Karabagh. The town's rich traditions in the performing arts played a special role in Hajibayov's musical education, although his family left Shusha in 1885.
Hajibayov was educated at Azerbaijani-Russian school. He then studied at the Gori Teachers' eminary in Georgia in 1899-1904. At the seminary he mastered the major works of classical music and learned to play the violin. He arranged folk music for the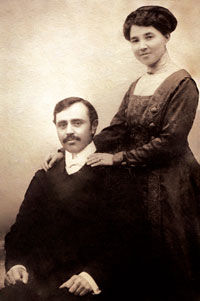 Uzeyir Hajibeyov with his wife Meleyke khanum
students' choir and erformed in the choir himself.
After graduating from the seminary, Hajibayov taught in Karabagh's Hadrut district and then in the Bibiheybat workers' district in Baku. He frequently wrote articles, topical satire and satirical cartoons for Molla Nasraddin magazine, Kaspi and other newspapers. His material tackled political and social problems and the need for education.
First opera in the East
On 12 January 1908 the opera Leyli and Majnun was staged in Baku. It was the first opera in the Muslim East. Uzeyir Hajibayov based the libretto on the poem Leyli and Majnun by 16th century Azerbaijani poet Mahammad Fizuli. The music of Leyli and Majnun is based on traditional folk music and dance, musical genres that relied on oral traditions. Hajibayov uses mugam (modal music, both vocal and instrumental) and tasnifs (romantic songs), arias and recitals to convey the drama of the story.
In his fusion of traditional Azerbaijani music and European classical opera Hajibayov created a new musical genre, merging eastern and western culture.
Leyli and Majnun soon brought Hajibayov success and set a new direction for Azerbaijani music. (For more about Leyli and Majnun, see the first issue of Visions magazine.)
The success of Leyli and Majnun, which drew huge audiences, encouraged Hajibayov to write more operas, fusing eastern and western styles. He wrote Sheykh Senan, Rustam and Sohrab, Shah Abbas and Khurshudbanu, Harun and Leyla, and Asli and Karam. Muslim Magomayev wrote Shah Ismayil, Zulfugar Hajibayov Ashig Garib and in the late 1970s Shafiga Akhundova wrote Galin Gayasi. These operas remain a popular part of the repertoire of the State Academic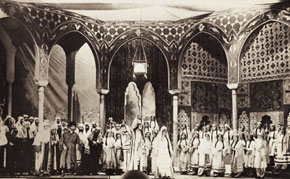 Scene from Leyli and Mejnun, 1938, Leyli - Heqiqet Rzayeva, Mejnun - Elovset Sadiqov
Opera and Ballet Theatre.
First musical comedy
Uzeyir Hajibayov also wrote Azerbaijan's first musical comedies. His three operettas Husband and Wife, O olmasin, bu olsun (If not that one, then this one) and Arshin mal alan (The Cloth Peddlar) have lost none of their relevance today. Their sharp satire and delicate humour still draw audiences. Hajibayov said of his operettas: "I tried to describe in the musical comedies the ideas that bothered the most advanced of Azerbaijan's intellectuals of that period. I dedicated the comedies to modern events."
Hajibayov wrote Arshin mal alan in 1913 while he was studying at the St Petersburg Conservatoire. He wrote to famous actor Huseyngulu Sarabski, "I am studying and writing Arshin mal alan at the same time. But it will be a very strange operetta."
The same year on 25 October Arshin mal alan was premiered. It was an even greater success for Hajibayov than Leyli and Majnun. It was performed in many cities, from Moscow to New York, London to Peking, and translated into about 60 languages, including English,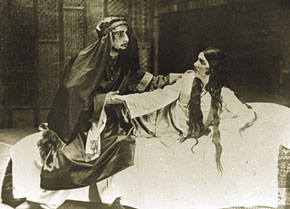 Scene from Leyli and Mejnun, Leyli - Mehbube Pashayeva, Ibn Sina - Khanlar Haqverdiyev
Chinese and Arabic. The first film version of Arshin mal alan was made in 1916. More versions followed in 1917, 1945 and 1965. In 1957 a film version of O olmasin, bu olsun was recorded.
Political activist

Uzeyir Hajibayov played an active part in the formation of the first democratic republic in Azerbaijan (1918-20). He was the editor of the official newspaper Azerbaijan and wrote the national anthem of the Azerbaijani Democratic Republic. Under Soviet rule he eventually wrote another anthem for the Azerbaijan Socialist Republic (1945). The independent Republic of Azerbaijan officially readopted Hajibayov's first national anthem in 1991.
First orchestra of traditional instruments
Uzeyir Hajibayov was the first Azerbaijani composer to write music for orchestras of traditional instruments, chamber orchestras and choirs. Popular music was developing as a distinct genre in 1920-40 and Uzeir Hajibayov wrote many popular songs and instrumental pieces. Gizil Asger, Chagirish and Doyushchuler marshi are
Scene from Koroglu, 1964. Koroglu - Lutfiyar Imanov, Nigar - Firengiz Ehmedova
popular songs of Hajibayov's from that era. Another of his songs, Qara goz, is still a favourite today.
Hajibayov's Ashigsayagi sonata was the first Azerbaijani music to be written for piano, cello and violin.
Hajibayov established Azerbaijan's first Folk Instrumental Orchestra in 1931 under the aegis of the Azerbaijan Radio Committee. This orchestra of traditional string instruments such as the tar and kamancha performed composed music, as well as traditional improvised music. Their repertoire included compositions by Mozart, Chopin, Schubert, Bizet and Glinka.
Azerbaijani choral music was also developing at a remarkable pace in the 1930s. Hajibayov is credited with establishing Azerbaijan's first polyphonic choir under the aegis of the Azerbaijani State Philharmonic. The choir's repertoire included many of Hajibayov's songs such as Lalli, Karabagh Shikastasi and Aman nana.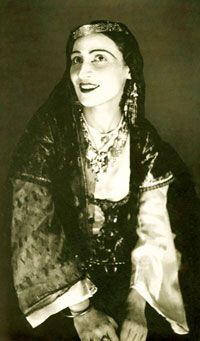 The first performer of Nigar, Gulare Isgenderova
Hajibayov also wrote songs to mark events in the nation's life, such as Motherland and Front during World War II.
Hajibayov was also closely involved in the creation of the Azerbaijan State Symphony Orchestra which was named in his honour after his death.
Koroglu opera
Azerbaijani opera reached a peak on 30 April 1937 with the premiere of Hajibayov's Koroglu (The Blind Man´s Son). Considered an operatic gem in Azerbaijan and the whole Soviet Union, Koroglu is a classical opera complete with arias, choruses and ballet, but like so much of Hajibayov's work it also includes traditional rhythms and melodies.
The plot is based on a Turkic epic tale of a people's struggle for liberation. The large choir conveys the unity of the people and glorifies their rebellion. Hajibayov uses the rhythms of Azerbaijan's Yalli dance in the choir's singing to reflect the strength of the people and their yearning for freedom.
Koroglu is not without love interest. The hero's beloved Nigar is a reflection of the high ethical and aesthetic ideals of the people. Koroglu and Nigar's hatred for the enemy contrasts with the purity of their love for one another.
The orchestral language of Koroglu is interesting and expressive. Hajibayov included folk instruments such as the tar, zurna (pipe) and nagara (drum) in the orchestra to heighten the sense of place.
The most famous part of the opera is the overture. In it we can hear the victory of the nation and the triumph of Koroglu and Nigar's love for one another.
After the first performance the author wrote: "I don't doubt that the opera Koroglu will become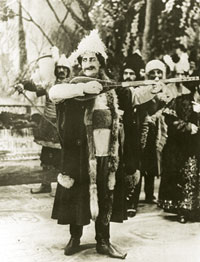 The first performer of Koroglu, Bulbul
a favourite." Hajibayov was not mistaken. The opera quickly gained popular acclaim and was performed widely.
In 1934 Uzeyir Hajibayov founded the Azerbaijani Composers' Union, which he led until his death. Hajibayov was the first composer in the entire Soviet Union to be named "Peoples' Artist of the USSR" (1941). He also received the coveted Lenin Award (1938) and two Stalin Awards (1941 and 1946). He was a founding member of the Academy of Sciences (1945) and among its first Academicians. He served as a deputy to the All-Soviet Parliament in the late 1940s.
Musicologist

Uzeyir Hajibayov was also an out standing musical scholar and founded Azerbaijani musicology. His Principles of Azerbaijani Folk Music, published in 1945, was the culmination of 25 years of research into traditional Azerbaijani mugam music.

Hajibayov was working on the opera Firuza in his latter years but did not manage to complete it before his death. Young composer Ismayil Hajibayov finished the piece.

Hajibayov brought to Azerbaijani music the genres and forms of European composition, while at the same time opening up the perspectives and aesthetic principles of Azerbaijani and Oriental music. He founded an original musical style, fusing traditional song and dance and the oral traditions of mugam and the ashigs.

Russian composer Tikhon Khrenikov described Hajibayov as "the father of Oriental music". His traditions are continued today and enrich world music.