The Azerbaijani government is continuing measures to develop the non-oil sector in order to improve the efficiency and competitiveness of the country's economy. As a result, exports from this sector are gradually increasing. In the period from January to August 2018, goods worth $12.9 billion were exported from the country, of which just over $1 billion were non-oil products. This figure is $131 million or 14 per cent more than in the same period of 2017.

Given that the country is blessed with favourable land and climatic conditions, special attention within this diversification of the economy is being paid to agriculture and reviving traditional agricultural industries, which for multiple reasons had fallen into decline. One of those is winemaking – one of the country's most profitable and traditional industries.

Winemaking has historically played an important role in the Azerbaijani economy and the country's wine has long been renowned for its beautiful, unique fragrance and quality. In the 1980s, there were 210 wineries in the country, which employed over 151,000 specialists and workers and produced 56 sorts of wine, as well as 10 cognacs, four champagnes and other products.


In the former Soviet Union, Azerbaijan provided a high share of overall wine and cognac production. Along with their quantitative growth, the quality of wine products also steadily improved and their range expanded. In 1984, 2.1 million tonnes of grapes were harvested in the country while over 100 million decalitres of raw materials, over 10 million decalitres of wine, 1.4 million decalitres of cognac and 1.5 million decalitres of champagne were manufactured. By the end of the USSR, Azerbaijan had 181 wineries with a total capacity of 1.8 million tonnes working mainly for the Russian market.


Soviet leader Mikhail Gorbachev's anti-alcohol campaign which began in 1985 dealt a major blow to this industry in Azerbaijan
In Soviet times, there was a separate State Committee for viticulture and winemaking in Azerbaijan. It included 256 private sovkhozes (state-owned farms – Ed.), 97 sovk- hoz plants, eight independent wine processing plants and 10 wine reprocessing plants. More than 300,000 people were employed at the committee's enterprises and revenues from vineyards made up 40 per cent of the republic's budget. The total share of agriculture in the Azerbaijani state budget was 60 per cent. By comparison, the oil and gas sector currently accounts for over 90 per cent.
However, Soviet leader Mikhail Gorbachev's anti-alcohol campaign which began in 1985 dealt a major blow to this industry in Azerbaijan. More than 130,000 hectares of very productive vineyards were destroyed and infrastructure built over many years was ruined. Then, as a result of Armenian occupation from 1988 onwards, over 45,000 hectares of vineyards in Karabakh remained unattended.
Overall, almost 180,000 hectares of vineyards were lost in Soviet times. The remaining 80,000 hectares of vineyards were destroyed in the early years of Azerbaijan's independence. In the 1990s, wineries couldn't sell their products as relations with Russia had been severed and not enough grapes were being supplied. As a result, vineyards were destroyed as farms chose to cultivate grain and other plants instead.
An ancient industry
Viticulure and winemaking, one of the most important branches of Azerbaijan's agrarian sector, almost became a thing of the past. But while this industry in Azerbaijan was very advanced under Soviet rule it is actually thought to have existed in Azerbaijan since the Bronze Age. Grains from a grape vine belonging to the Vitis Vinifera species – the oldest grape species in Iran and the South Caucasus – were found along with a number of plant residues in a layer dating to the middle of the second millennium BC in the ancient settlement of Uzarliktapa in the district of Aghdam. However, winemaking in Azerbaijan may date back even further.
In the 19th-century, German colonies played an exceptional role in the development of the Azerbaijani winemaking industry. The Germans became famous in Helenendorf (now Goygol) in the mid-late 1800s for cultivating grapes and producing wine. Until then the local population had cultivated several varieties of grape but only to eat them. Thanks to the services of German settlers Christopher Vohrer and Christian Hummel, Azerbaijani wines gained worldwide popularity.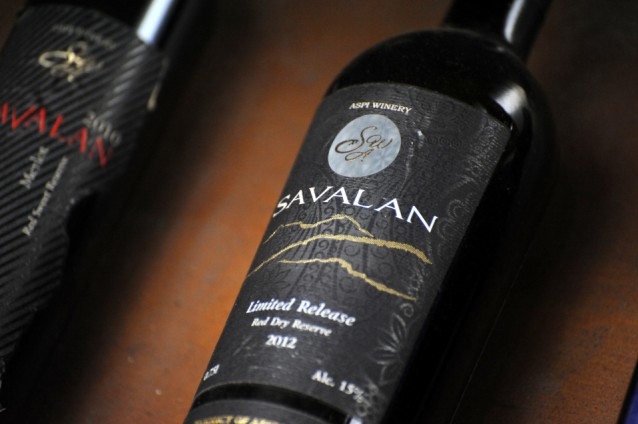 Christopher Vohrer, like all colonists, had seven dessiatins of land (a dessiatin was a land measurement used in tsarist Russia. One dessiatin equalled approximately 1.1 hectares – Ed.) and planted grapes for his family on one dessiatin and made wine from some of the produce. As the story goes, in 1856 French silk manufacturers were buying silkworm seeds in Sheki and spent a few days in Ganja on their way back. They wanted to taste some wine after eating local dishes but it was impossible to find any from the Muslim residents. In Ganja the French were advised to go to the nearby colony of Helenendorf. They came to Vohrer's house, tasted the wine and commented that it was similar to their wine in Burgundy before leaving with enough for the entire journey. This remark by the French gave Vohrer greater confidence in his work and from that moment on he dedicated himself to the very difficult and troublesome, yet attractive and interesting business of winemaking.
Two years later, in 1860, Vohrer founded Azerbaijan's first major winery and from that year forth he began to sell wine. In the beginning, he owned 18 dessiatins of vineyards but two years later he created the Vohrer Brothers company and set about expanding them.
Although only six per cent of vineyards belonged to the Germans at the time, the Vohrer and Hummel brothers, based in Helenendorf, reportedly produced 58 per cent of the wine produced in the whole of the Caucasus. This was because local farmers cultivated vineyards from north to south, whereas the vineyards owned by the Germans were cultivated from west to east, which meant the wind passed through them easily, causing little damage to the grapevines.
According to the International Organization of Vine and Wine (OIV), of which 46 countries are members, including Azerbaijan, over 2.7 billion decalitres of wines are produced annually in the world. Major manufacturers include Italy, France, Spain, the USA, Australia, Argentina, China, South Africa, Chile, Germany and Portugal. In recent years, wine production has dropped by one to two per cent with most international studies suggesting this is due to abrupt climate change.


Exports of wine and wine products globally are about one billion decalitres. The average price of wine is quite different depending on its country of origin. For example, while the average FOB price of one tonne of wine exported from France, the world's biggest wine exporter, is about $6,300, in Italy it is $3,000, in Azerbaijan – $1,200 and in Moldova – $800.

Taking into account the importance of viticulture for Azerbaijan's economy and society, the revival of winemaking in the country has been considered essential for several years now. According to the newspaper Azernews, currently there are roughly 10 wineries in Azerbaijan spread across the main winegrowing regions of Shamakhi, Ismayilli, Ganja, Qabala and Tovuz.
Given that the quality of wine products depends largely on the features and quality of grape varieties, attention is being paid to correctly selecting and servicing the grapes used in different regions based on the local soil and climate. The country is famous for high-quality local grape varieties such as Bayanshira, Madrasa, Shirvanshahi, Khindogni, Hamashara, Malayi, Kharji, Gara Aldara and Davagozu.
In order to strengthen the legal framework of the winemaking industry, state programmes have been developed in Azerbaijan, price, credit and tax systems have been improved and licensing and certification rules have been revised.
Documents such as the State Programme on the Social and Economic Development of the Regions of Azerbaijan in 2004-2008 and the State Programme on Poverty Reduction and Sustainable Development in Azerbaijan in 2008-2015 have helped to develop viticulture. At the same time, the President has stressed during his visits to the regions that viticulture is a priority.
The most important measure, however, has been the State Programme on the Development of Viticulture in Azerbaijan between 2012 and 2020. This document is aimed at increasing grape production, meeting domestic demand and improving supplies for wine and grape processing plants.
The results have not been long in coming. According to the statistics for 2015, the total area of grape cultivation in the country was 16,100 hectares and the production volume was 157,100 tonnes. Every year, hundreds of hectares of modern vineyards are being created as the Ministry of Agriculture is pursuing a policy of creating new vineyards in traditional vine-growing regions. These areas are expanding by about 200 hectares every year.
In May 2018, the State Programme on the Development of Winemaking in Azerbaijan in 2018-2025 was endorsed. This aims to ensure the sustainable development of winemaking in the country by increasing state support, introducing modern technologies and raising interest in the production and export of wine. It is hoped that this will in turn raise employment levels among the rural population.

Azerbaijan has also begun opening wine houses abroad to promote the nation's brand which should give a big boost to wine exports. The first Azerbaijani trade house opened in Belarus in 2017. Others have since opened in Ukraine and China and more are scheduled to open in the UAE, Poland, Kazakhstan and Russia by the end of the year.
Wine houses are already operating in several countries. There is great interest in our wine. We have carefully analyzed all the issues related to winemaking. Azerbaijani President Ilham Aliyev said at a meeting of the Cabinet of Ministers in early October, where he also stressed:
We are restoring and revitalizing the former glory of viticulture and winemaking. This is a very profitable sector for farmers. By restoring this sector, we are both expanding our export opportunities and creating excellent conditions for farmers and villagers. In addition, viticulture improves the panorama.
Production of wine products in Azerbaijan exceeded one million decalitres in 2017. 375,000 decalitres were exported, mostly to Russia (338,000 decalitres) and China (27,000 decalitres). The volume of production is still much lower than the actual potential of the country's wineries, which is primarily due to the high cost of grapes although this should be addressed by current measures being taken by the government.
As a result of those, compared to the first five months of 2017, wine exports increased by more than 80 per cent in the same period in 2018 and should exceed 100 per cent by the end of the year. Although the main markets for Azerbaijani wine exports are Russia (85 per cent) and China (seven per cent), the country also exports to the European Union, Belarus and Kyrgyzstan. The number of export countries is increasing because by 2025 exports of Azerbaijani wine should increase fivefold according to the state programme.
Suffice to say that great efforts are being made to revive the Azerbaijani wine industry.
About the author: Parviz Heydarov is an independent journalist specialising in economic analysis.