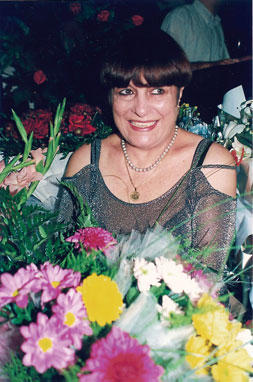 Sara Manafova
Pages 58-63
Modern miniatures, restful seascapes, attention-grabbing Punks - Sara Manafova's work reflects her rich range of interests. She paints on canvas, on paper, even levkas and wood in the tradition of icon painting, to suit her themes.
Sara Manafova took part in her first exhibition in 1962. A graduate of Baku's State Institute of Fine Arts, she went on to study at Tbilisi's prestigious Art Academy. Her work has been shown around the world and can be seen in galleries in Baku, Tashkent and Moscow.
Tunzala Qahraman spoke to Sara about her work, her inspirations and her hopes for the future.
Can you describe your life now?
I live how I can and I draw how I live. Seriously though, all the time I want to understand, to understand myself, to understand others, to learn how to live in harmony with myself and the world.
Can this be learnt? If so, how?
In the course of life, in the endless hustle and bustle, we often forget simple, common truths. Looking at books, holy scriptures, philosophical writings such as Feng Shui, the Avesta, the lives of outstanding people in different walks of life, can help us not to lose our way in this complex world.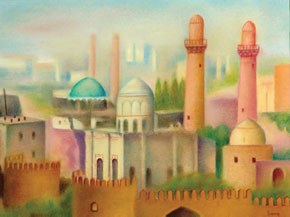 Old City
Paolo Coelho puts it very simply in The Alchemist, "Man creates and builds, the wind blows away the clouds, the sun shines, the rain falls, the flowers grow..."
Everyone has their purpose, their journey in life, we have to try to find it and not get knocked off course, however difficult this may be.
And it's most important to underan Azerbaijani artist's vision stand that it will never be easy, neither today, nor tomorrow. And to believe that if you really want something, then it will happen. The whole Universe will help you.
How do you understand good and evil?

Good and evil are relative concepts. Often they are one and the same. To feed the hungry is good. To force someone who is full to eat is evil. Every person has these two beginnings. It is important to make the right choice. To turn your face and heart towards good.

It is written, 'Hurry to do good.'
You once said that you have no past. What do you mean?
Dale Carnegie is better placed to answer that question. You shouldn't be thinking endlessly about the past, which has already gone, or about a bright future which you know nothing about. Does anyone know what will happen to them in a minute, in an hour, in a year? It
Light at the End of the Tunnel
is wiser to live in the present. I think that I have too little time to get stuck in the past. What was good in the past brings up sadness and regret that it has gone, while what was bad prompts unpleasant associations. And I don't like old photographs, I see myself only as I am today.
Perhaps my only regret is that my much loved daughter and grandsons live a long way away and that I don't see them every day, I don't see them growing up. But I accept this: 'It's all God's will.'
At the end of the 19th century Dostoevsky said 'Beauty will save the world.' What do you think?

Famous French designer Yves St Laurent, who created beauty when he saw people destroying this beauty through war and strife, said in despair, 'Beauty itself needs to be saved.'

When I see how mercilessly and soullessly they are destroying our city, which God loves, without respect for the memory of those who loved and built this city, I have to agree with Yves St Laurent.
You cover many topics in your work: sport, war, classical literature (Nizami, Fizuli), contemporary miniatures and finally, the Outrageous. Can you tell us more about your themes, for example, war. Do you differentiate between your own war and someone else's war?
There isn't someone else's war, just as there isn't someone else's pain. These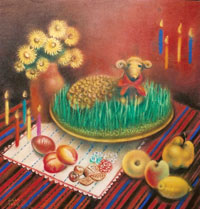 Novruz bayrami
wars that wreak destruction, kill children, women, old people they pass as pain and suffering through our hearts. Back in the 1970s I saw photographs in a newspaper of the tiny village of Songmai in Vietnam, which had been burnt by the Americans. These terrible photographs showed murdered children, women, old men. And I was shocked. I had a small daughter myself. So I dedicated a cycle of pictures to the memory of the children of Songmai. Some of the paintings are in our State Art Museum and some in the Oriental Museum in Moscow.
And then war came to us too. The same terrible photographs of Khojaly, Karabagh, innocent people killed.
To this day I still cannot comprehend what happened to us. That terrible day - 20 January. I am still haunted by the carnations scattered everywhere, on the streets, in the metro, like drops of blood.
How could this have happened, all this horror? We used to live together, in a great country. Where is this hatred from, this evil that swamped our country? Whose evil intent was this? Was it because we forgot God and began to worship invented idols, like pagans?

I draw the tragedy of my country -Khojaly, Karabagh.

I suffer and fear for us all, as I did back then in the 1970s.

I think it my duty and my mission to preserve the memory of those who gave their lives so that others might live, so that the next generation does not forget. This is very important for me.

We are all in their debt.
Can you explain contemporary miniature? I thought miniatures were masterpieces created in the Middle Ages by eastern artists.
This idea was raised in the early 1980s by our late President Heydar Aliyev who loved and supported the arts. A new idea is always interesting.
Artists seized on this idea with enthusiasm and off it went. Of course, we artists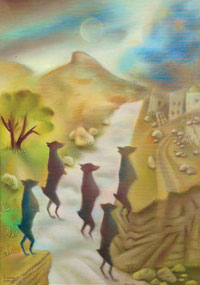 Land Laid Waste, Part 3 of the Karabakh - My Fate triptych
hadn't grasped the idea of contemporary miniature completely. Our primary sources were books of miniatures, illustrations of our great classical works by Nizami and Fizuli.
None of us at that time brought anything new to the idea. Some simply began to paint the walls of old buildings with scenes from these miniatures, using their style of composition but often distorting them by bringing them to gigantic proportions, forgetting that they had been created as illustrations, which was why they were called miniatures. Eventually they all disappeared either because the wrong techniques for wall painting had been used or because no-one needed them. Of course, I did not draw on walls. I looked at Nizami's Seven Beauties which turned out not to be my childhood fairy tales but didactic works in story form where Nizami tackles such eternal concepts and values as treachery, jealousy, betrayal, knowledge, good, evil and love. And what interested me most was that Nizami himself gave every tale a colour (treachery is black, good is green, love is white, etc.). Although I did not use the forms of the old miniatures in my work, perhaps their influence can be felt.
But I did not abandon the idea that the president had raised. Two decades have passed since then. Ideas that at that time lay in my subconscious have gradually begun to take real shape. When I began my new works, I didn't know myself what they would be like. And gradually new works appeared: Old City, Lines of Fate, women in the forms of birds or shells. Art critics recognise them as contemporary miniatures, maybe because they have no classification, although eastern culture lies at their heart.
How did the Outrageous come into your life?
The Outrageous came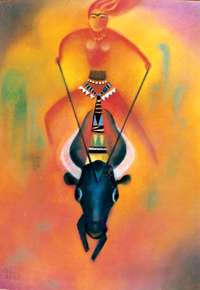 Fighting a bull
not only into my life, but into all our lives. We who were born in the last century now live at the beginning of the third millennium. The art of tattooing has an ancient history. People have always loved to dress up. But they have done this differently at different times. Long ago North American Indians painted their faces, made necklaces of animal teeth, wore complicated headdresses of feathers - this was part ritual. Modern youth, especially in Europe, like tattoos, piercing -probably they want to stand out from the crowd. At the same time it's a kind of protest against boredom and the banal. I am interested in everything in this world. Maybe I am interested in them because I too don't like the banal, greyness. That's how the new cycle Outrageous Models appeared.
Are you happy?

It is very difficult to give a one-word answer to that question, but since through God, through books, I came to know myself, I under stood that I must count my blessings, what I have, what I have achieved.

I have my family, my daughter, three grandsons, friends whom I love and I hope that they feel well-disposed towards me.
What do you hope for yourself and all of us?

For myself and all of us I hope there will be no war, I hope that our land will be returned, that there will be no poverty, not so much loss, that we never part from those we love, that children will not be orphans and old people abandoned, that the light of salvation from loss and disappointment will always shine, the light that we call love.