Baku is a quaint old city located at the crossroads of East and West. It rests up against the Caspian Sea and is buffeted by the raging Khazri and Gilavar winds. It is a peculiar place with narrow streets, beautiful homes and delightful people whose nature harmoniously combines the wisdom of Asia and the creativity of Europe. Baku is a marvelous city, and its inhabitants, with their unfading responsiveness and warmth, are the main characters in this beautiful fairy tale.
The hero of our article is also someone otherworldly and his workshop – part of the fairy tale of this grand city. He is a brilliant storyteller, a wizard who can create something out of nothing, someone who leaves a deep mark and nurtures generations. He is Elchin Hami Akhundov.
Elchin muellim was born in Baku on 7 February 1948. He studied at the Azim Azimzade Azerbaijan State Art School (1968) and Lviv Polygraphic Institute (1978). He has been working in the film industry since 1966 as a creative artist, animator and producer. From 1994 to 2012, he was an artistic supervisor and later became the director of the animation studio Azanfilm. He held this position from 2000-2012, during which time he was the winner of the Golden Lamp and Unforgettable Cinema film festivals.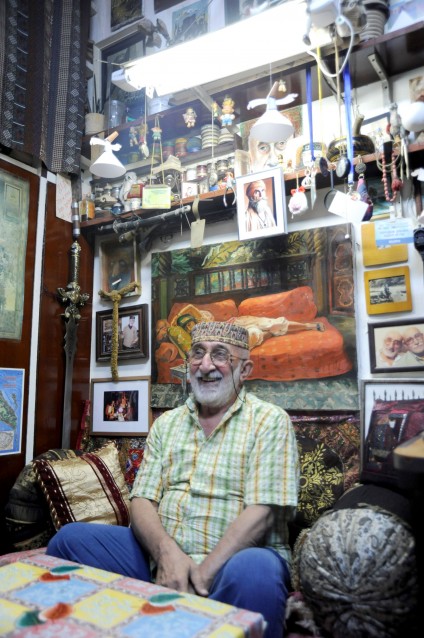 On 18 December 2000, he was awarded the title of honoured cultural worker of Azerbaijan in recognition of his contributions to the development of cinematography. He is currently the production director, designer and founder of Gurama, the first children's animation studio at Integrated Boarding School No.11 in Bilgah, where for years he has worked with children with disabilities free of charge.
A native Bakuvian, he was born in Icherisheher, where he still enjoys taking nightly strolls and looking at the monuments of antiquity which haven't yet been touched by destructive human hands. These are just a few strokes on the portrait of this sensitive man, a teacher, master of his trade, and real patriot.


The hero of our article is also someone otherworldly and his workshop - part of the fairy tale of this grand city
He cares deeply about both local and global issues, and makes his voice heard. As a man of wisdom, he feels things from the bottom of his soul and unravels problems through the prism of cause and effect. For example, a video he made about Icherisheher is based on historical facts and sheds light on the bitter realities that have created the current appearance of the Old City. The relevance, laconicism and artistic quality of this minute-long animated film dedicated to the protection of Icherisheher received the attention it deserved and Elchin muellim received a prize from Rast Production.
Soviet-Azerbaijani Animation
The production of animated films in Azerbaijan began in 1933, beginning with technical animation, Elchin muellim says. In 1935, the first animated feature film Ahmed's Misfortune was shot before the outbreak of war suspended progress in this genre. Later, the film Jirtdan was filmed in Baku in 1969 and after this Elchin and his team worked in a separate animation workshop within Azerbaijanfilm. In 1991 Azerbaijanfilm was divided into several smaller studios, including Azanfilm – from the words "Azerbaijan," "animation" and "film."
Elchin muellim's interest in art began in his early childhood. Along with attending school, he also did extracurricular activities at the House of Pioneers. After finishing the ninth grade, he entered the Azim Azimzade Art College (plastic anatomy), where his teachers were Tahir Salahov, Vajiha Samadova, Eldar Isakulov and others.
Elchin muellim was accepted onto one of these courses and two years later created the film Jirtdan with a group of fellow students. This was followed by many more films:
In 1975, I started working on films as an art director. The first film was "Jujalarim," which was shot in 1975. Next was the film "The Girl, the Boy and the Lion," which featured the lion belonging to the Berberov family. Then came "The Shah and the Servant," "Sing My Saz," "The Hedgehog and the Apple," "Toral and Zari." In all, Elchin Hami Akhundov has made 36 films.
In 1981, the USSR State TV and Radio commissioned a national cartoon for the series "Tales of the Peoples of the USSR," he continues. So we produced the film "About the Giant Jirtdan" in Russian for which I was the production designer. I didn't like the basis of the script and so I suggested my version of the film. The cartoon was a success, and we were commissioned to produce a second part.
During the Soviet period Goskino organised two sets of two-year animator courses to produce new animators for the studios and people attended from all of the Soviet republics. Elchin muellim was a course teacher in 1974 and in 1988 he led the courses.
We invited a brilliant animator from [the Soviet animation studio] Soyuzmultfilm named Anatoliy Arsentyev to hold master classes. Applications were submitted by 82 people, among whom were architects, doctors and people of other professions who all wanted to be animators. In the beginning there was a natural dropout (many didn't endure the fine details and scrupulousness involved in working as an animator). About 15 people were left that we worked with and they became professional animators. But in the 1990s we couldn't provide them with work and they dispersed to studios in other countries.

Animators are actors with good acting skills
The end of the Soviet Union was a turning point in Azerbaijani animation. Whereas the studio was producing about five films every year during Soviet times, only six films were made in the 1990s. Nevertheless, around this time Elchin muellim made the film Mirror, which was of a political nature, Walk by the Sea, and Hope, based on the Ahmad and Maleyka tales by Suleyman Sani Akhundov. In 1994 he made a film called The Fruit Controversy to mark the anniversary of the 15th-century poet Muhammad Fuzuli.
The Karabakh Conflict also made itself felt: The war in Karabakh, destitute people, children who lost their childhood and were at war helping soldiers with whatever they could. This couldn't but touch true citizens and patriots. So the animated film "Javanshir" was shot (in 1992) and released in 1997. It was about a small boy who lost his parents and home, found himself in the epicentre of war and fought the enemy without any fear. The film, built on a dialogue between the past and the future, is also interesting in its style of execution and background.
The Digital Age
In 2000, Azanfilm began purchasing computers and making films in electronic format, illustrated using animation software such as Photo-Paint, Photoshop and Adobe Premiere. Applied animation is done using Adobe Flash and stop motion with Maya and 3D Max.
Elchin muellim's students at the boarding school do flash animation. In September 2016 the Gurama studio opened at the school, whose director is Gulnara Abdullayeva. The school itself is a boarding school for children from disadvantaged families and those lagging behind in development. The children come up with their own themes, type their own texts, write scripts and voice the roles. Elchin muellim thoroughly enjoys teaching them how to animate. The first cartoon was filmed by a boy who wanted to grow up to become a soldier and write letters home.
As Elchin muellim points out, animators are actors with good drawing skills. They must have good acting skills and also be able to create dramaturgy. He has taken part in festivals in a number of countries (Russia, Kazakhstan, Belarus, Egypt) where children's studios have also been represented – in 2003, children's studios already existed in Kazakhstan, Russia and Egypt, where children shot films on simple subjects, but did so quite expressively.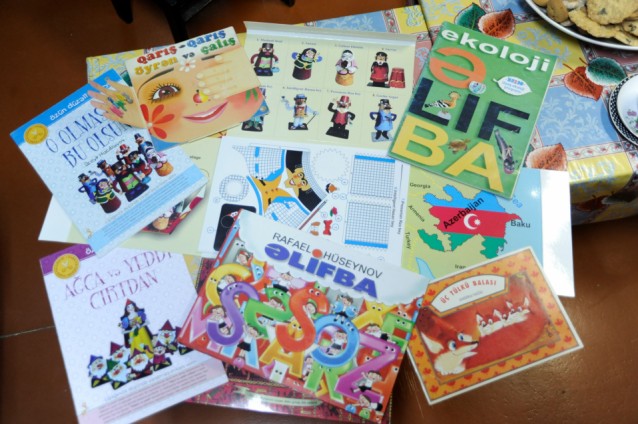 He has also illustrated a number of books, including one on our national alphabet, as well as an environmental dictionary and interactive books from the series Do It Yourself.
Every good fairy tale has an ending in which one can find the prerequisites for a new story. Likewise, loving what you do should also bring some form of benefit, something of moral and educational value. This is probably why different forms of art, including fairy tales, share a certain optimistic spark. This can be seen in a series of books by Elchin muellim, published by Ganun Publishing House, which not only talk about a number of Azerbaijani national cultural treasures, but also allow the children reading them to become active participants in the story – they read and create puppets with the help of sketches.
Elchin Hami Akhundov is a man full of ideas and interesting stories from the history of our city and country and its many heroes and traditions. He loves to answer questions and help young artists and animators, offering guidance and advice and setting them on the right path. And he does all this in a way that makes one feel like they are taking part in a fairy tale – you never want to leave and return to the real world. And you shouldn't. Just stay as you are, with a pure soul and an innocent smile. Maybe then beauty and justice will triumph over lies and hate, and the world will become a better place for all.
About the author: Nigar Bunyatzade is a freelance editor and writer.